Have Yourself a Honey Holiday
Whether you're a baking traditionalist – sugar cookies only, please! – or prefer to mix things up – honey apple cranberry pie, anyone? – you can substitute sugar with honey in your baking for a yes-to-seconds holiday season.
Because honey contains complex sugars, our bodies take longer to break down the sugars, meaning fewer calories are accumulated. Not to mention it creates a moister texture, a golden crust and it's just as sweet as sugar. It's a not-so-secret baking hack that plenty of bakers have vouched for.
But before you preheat the oven, know these things:
Use less honey than sugar: Because honey is sweeter than sugar, you'll need less of it. The general rule is, for every 1 cup of sugar, use 1/2 to 2/3 cup of honey. You can use a 1:1 substitution ratio for most yeast breads, muffins, pancakes and waffles.
Reduce liquids: When substituting honey, you'll need to subtract 1/4 cup of other liquids because honey naturally contains water.
Add baking soda: Even if the recipe doesn't call for it, add ¼ teaspoon of baking soda for every 1 cup of honey. Baking soda helps balance honey's natural acidity and allows baked goods to rise properly.
Lower the temp: Honey caramelizes faster than granulated sugar, and therefore burns faster, so reduce the oven by 25 degrees.
Okay, now you can preheat the oven and start mixing one of these tis-the-season treats:
Holiday Honey Cookies
This recipe is Santa-approved. We checked … twice.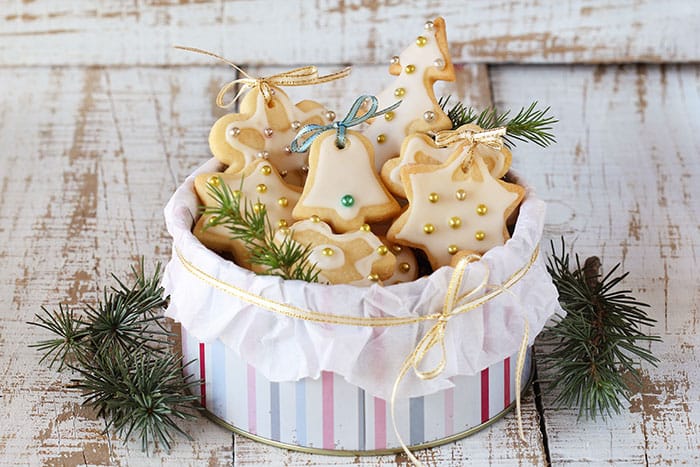 Irish Cream Cheesecake
For a grand finale to your holiday meal, serve this delectable Irish Cream Cheesecake.
Honey Gingerbread Cookies
Run, run as fast as you can! These gingerbread cookies are usually gobbled and gone as soon as they're off the pan.

Sue Bee® Honey Coconut Snowballs
Stage a new kind of a snowball fight: Whoever makes the most the fastest, wins!
Honey Chocolate Covered Pretzels
Gather your guests and spend an afternoon making these sweet and salty Honey Chocolate Covered Pretzels.
Now that sweet scents are wafting through your home, curl up by the fire and enjoy the coziest season of all. These moments are memories in the making, or as we like to say – memories in the baking.
Find more recipes here. Then share with us on social using #HoneyHolidays.