Road (and Ocean) Trip
Sioux Honey travels to assist those affected by Hawaii's Kilauea volcano eruption
When Mt. Kilauea erupted on May 3, we immediately thought about David Thomas, a beekeeper on Hawaii's Big Island who is a member of the Sioux Honey Association Co-op. He is based out of Keaau, which is just 8 miles from the current lava flow in the eastern rift zone near Kapoho in the Puna district.
The next thing we thought of: How can we help?
We called David and learned that he had to rush to relocate 41 of his nearly 100 locations, which held about 2,200 of his 5,200 hives. Since he moved those hives, 14 of the 41 locations are now covered with lava. David also lost one location – about 130 hives – in the devastated Leilani Estates area, which was destroyed by the lava flow.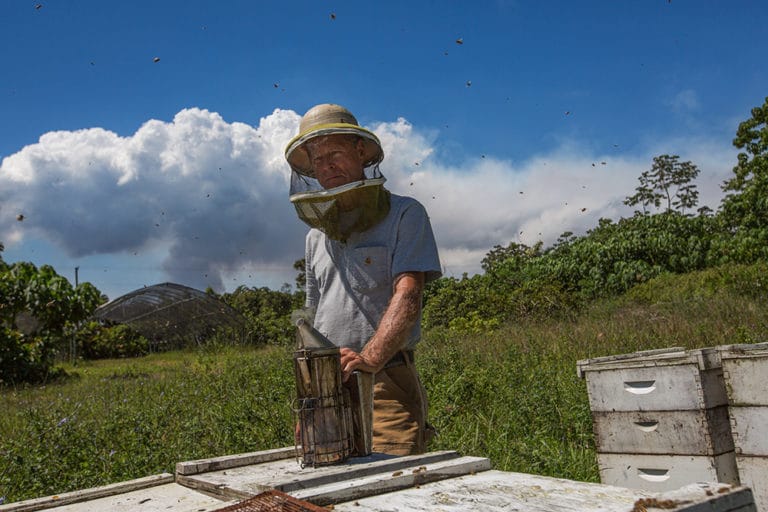 "The bees that we moved were in an area of Hawaii that is a very good area for honeybees," David told us. "They produce good honey, and they produce wonderful bees."
"We pretty much lost that area, so now I'm in the process of trying to find new locations to put the bees where they can have some reasonable chance of making a honey crop."
While Mother Nature knows best, there's no arguing that the lava flows are wreaking havoc on the current ecosystem. Many of the areas devastated were vital food sources for David's honeybees. Unique fruits and, consequently, unique honey flavors were often harvested there – lychee, longan, coffee plants and macadamia tree.
David is currently in the process of trying to find new locations. And, with a little ingenuity and some extra help, his honeybees should be happily producing honey and pollinating again soon.
We have lots more Hawaii stories to tell, and you can read them in our upcoming special edition of HIVE! It's free and it's delivered right to your email inbox each month. Sign up at SiouxHoney.com.
Here's a sneak peek at the topics we'll cover in the July 2018 edition of HIVE:
Our "Share Sweetness" initiative in Hawaii, including food bank partnerships, honey donations and ongoing fundraising efforts to support those affected by the lava flows.
An overview of how the Kilauea eruption has affected the ecosystem on the island, including the destruction of vital food sources for honeybees.
An interview with David, who talked to us about his move to Hawaii six years ago from Louisiana and the difference between being a Sioux Honey beekeeper on the mainland and producing honey in Hawaii.
Interviews with local farmers who rely on David's honeybees to pollinate their crops – from native fruits like lychee and longan, to coffee plants and macadamia trees.
Interviews with honeybee researchers who are working with David to develop of a breed of bees that are resistant to fatal Varroa hive mites.