Sue Bee® Honey Mustard Cheeseburgers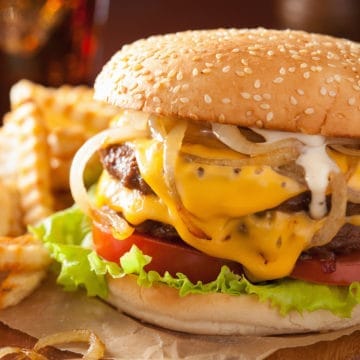 Ingredients
1 pound lean ground beef
4 teaspoons onion, diced
1/4 teaspoon dried oregano
salt and pepper to taste
4 slices American or Cheddar cheese, optional
4 lettuce leaves
4 tomato slices
4 hamburger buns
Honey Mustard Sauce
1/4 cup Sue Bee® honey
6 Tablespoons Dijon mustard
1/4 teaspoon dried oregano
Directions
Combine mustard, honey and 1/4 teaspoon oregano to make sauce.
To the ground beef, add 2 tablespoons of the honey mustard sauce, oregano, onions, salt and pepper.
Mix together lightly but thoroughly.
Form into 4 burgers.
Grill burgers 4-5 minutes on each side for medium.
When burgers are almost fully cooked; top each with one slice of cheese and remaining Honey Mustard Sauce.