Sue Bee® Honey Grilled Chicken
Glazed with honey and lemon, this delicious grilled chicken is a crowd pleaser and ready in 20 minutes.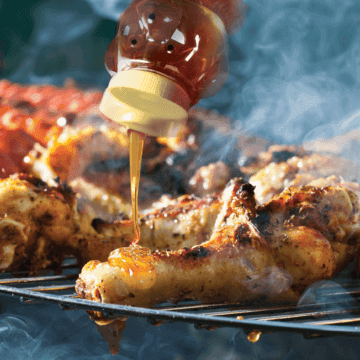 Ingredients
1/3 cup Sue Bee® Honey
2 tablespoons butter or margarine
1 clove garlic, chopped
1 tablespoon lemon juice
2 pounds chicken (breasts, legs, thighs or wings)
Directions
Directions
Heat grill to medium heat.
Melt butter in a skillet over medium heat, stir in chopped garlic and cook until fragrant, 1-2 minutes.
Whisk in honey and lemon juice.
Brush half the mixture on chicken, reserving half for basting.
Lightly oil the grill grate and place chicken on the grill.
Cook for 12-16 minutes, turning frequently.
Baste often during the last 5 minutes.
Chicken is done when the meat is firm and juices run clear.