Sue Bee® Honey Roasted Pumpkin Seeds
Classic honey roasted flavor with just the right amount of crunch. Scoop out the seeds when carving your pumpkins and make abatch of Honey Roasted Pumpkin Seeds with Sue Bee® honey! It's the perfect snack for a Halloween party with friends or a fall gathering with friends. The recipe is simple too. Try it for yourself and let us know what you think.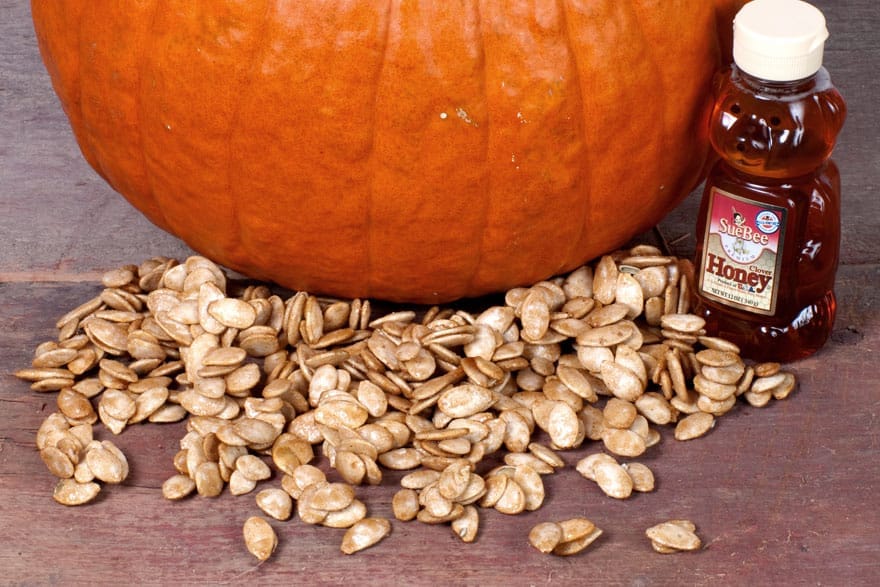 Ingredients
1/4 cup Sue Bee® Honey
3 cups fresh pumpkin seeds, cleaned
1 1/2 tablespoons butter, melted
2 teaspoons brown sugar
1/2 teaspoon smoked salt
Kosher salt for sprinkling
Directions
Preheat oven to 300 F.
Spread out seeds on parchment-lined baking sheet and bake for 20-30 minutes or until slightly crunchy.
In a large mixing bowl, mix Sue Bee® honey, butter, brown sugar and smoked salt until well-combined.
Add hot pumpkin seeds to mixing bowl and mix well until all of the seeds are thoroughly coated.
Return the seeds to the baking sheet and spread in a single layer.
Bake for 5-10 minutes until sauce begins to caramelize on the seeds.
Remove seeds from oven and lightly sprinkle with kosher salt to taste; stir and let cool on the pan.
Store in an airtight container for up to a week.