Honey Balsamic Pasta
Whether you're having a date night in, entertaining with friends or just cooking for the family, this Honey Balsamic Pasta will never fail to impress! The honey-sweetened balsamic sauce atop a bed of pasta, greens, tomatoes and cheese creates one unforgettable pasta dish that you'll be craving every week.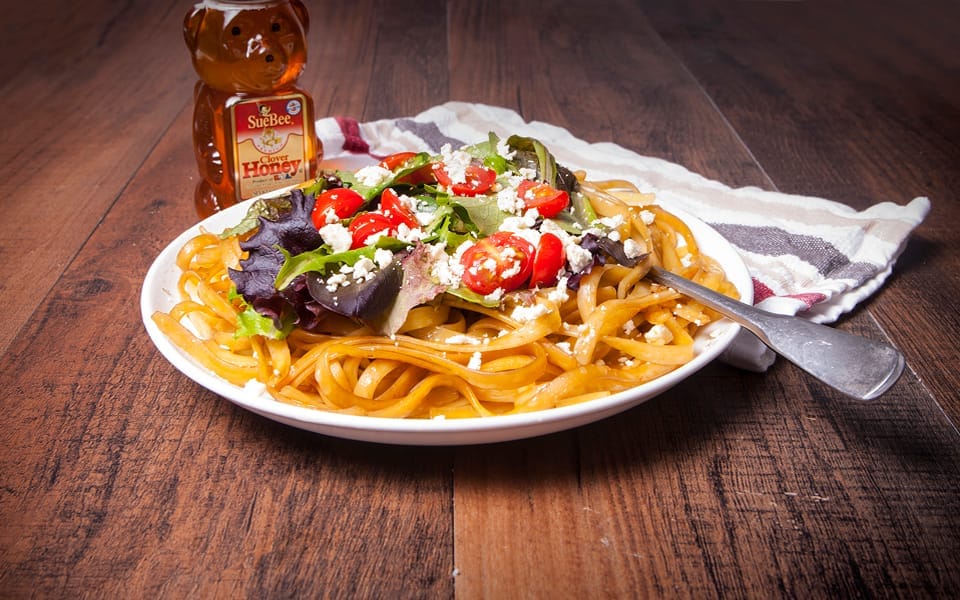 Ingredients
Balsamic Vinaigrette
1/4 cup Sue Bee® Honey
1 1/2 cups olive oil
1/2 cup balsamic vinegar
pinch of kosher salt
pinch of freshly cracked pepper
Pasta
16 oz. whole wheat fettucini
2 large handfuls of spinach/spring mix
2 large handfuls of cherry tomatoes
1 cup heavy cream
kosher salt
feta or goat cheese
Directions
Make vinaigrette. Combine all ingredients in a bowl. Whisk well until emulsified and set aside.
Make pasta. Bring a large pot of water to a boil. Just before water boils, add a few pinches of salt. Add noodles and cook according to the package.
Thinly chop the greens. Half or quarter cherry tomatoes depending on size; set both aside.
Strain pasta, reserving a bit of the liquid in the pan.
Add pasta back into the pan. Pour balsamic and heavy cream over the pasta. Turn heat back on to medium high and gently stir noodles until the sauce hugs the pasta, about 2-3 minutes.
Plate the pasta. Top with greens, tomatoes and feta or goat cheese.
Serve and enjoy!