From Iowa to Brazil
AUNT SUE'S® new organic honey makes its way to America
When the five original beekeepers who started the Sioux Honey Association Co-op in 1921 began bottling their golden goodness, they probably never imagined their co-op would someday be working with beekeepers from Brazil.
After all, for the past 100 years, our Sioux Honey headquarters has been based in Sioux City, Iowa, where it all began. Whether it's SUE BEE® honey or AUNT SUE'S® Raw & Unfiltered Honey, it all comes from our U.S.A.-based co-op of beekeepers.
But, to be certified "organic," honey has to come from a country like Brazil, which produces some of the highest-quality organic honey in the world.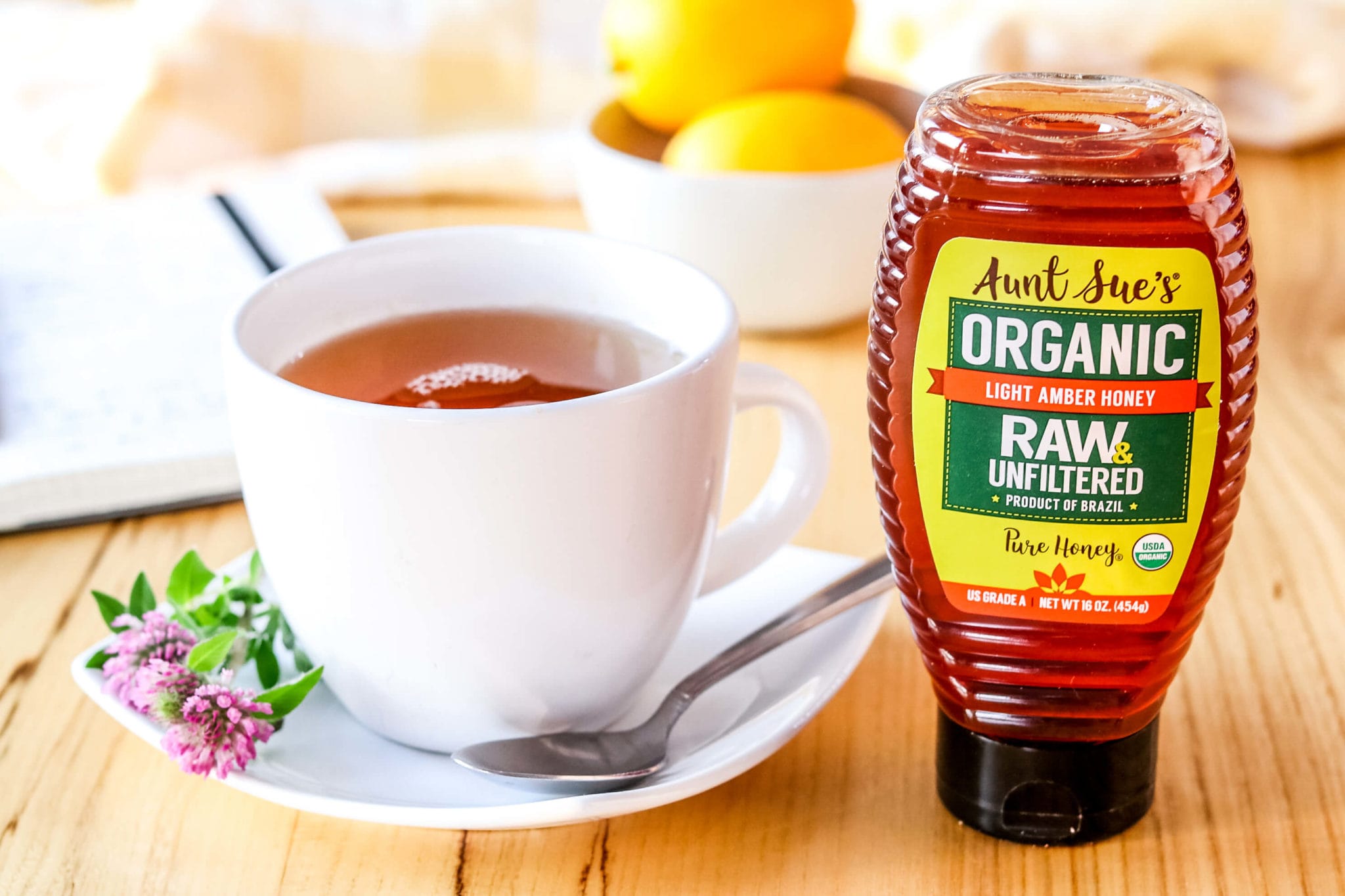 The certification process
To be considered organic, the apiaries (bee yards where hives are placed) must be a set number of square miles in any direction from GM (genetically modified) plants, fungicides, pesticides and synthetic fertilizers. So no organic bee yard location can be near any urban areas or conventional agricultural fields, which is why there is no U.S. domestic honey that meets those organic requirements. Organic honey needs to be sourced from remote areas; that's why we use only honey sourced from Brazil for our new AUNT SUE'S® Raw & Unfiltered Organic Honey. Because of this, we believe it to be some of the highest quality organic honey in the world.
Best of the best
Once we decided to offer a Brazil-sourced organic honey, we set out on a search for the most respected beekeepers in the country. The Brazilian beekeepers we work with are carefully vetted, and we thoroughly review all of their beekeeping records during our organic audits to make sure each beekeeper is carrying the necessary certification levels.
To receive official organic certification, we use an internationally recognized laboratory partner that specializes in testing organic honey under the NOP (National Organic Program).
We also conduct annual audits at each of our honey collection locations in the United States (Sioux City, Iowa; Anaheim, California; and Elizabethtown, North Carolina) where auditors manage an on-site review of policies and procedures and inspect every area of the plant to make sure we remain in compliance with the organic standard.
The end result …
All of this rigorous testing and research has resulted in our new AUNT SUE'S® Raw & Unfiltered Organic Honey, the best-tasting organic honey we have found. You'll find it slightly darker and not as sweet as our domestic honey, due to the different types of floral sources the bees forage in Brazil. But, if you are searching for a delicious and certified-organic honey, this is the honey for you.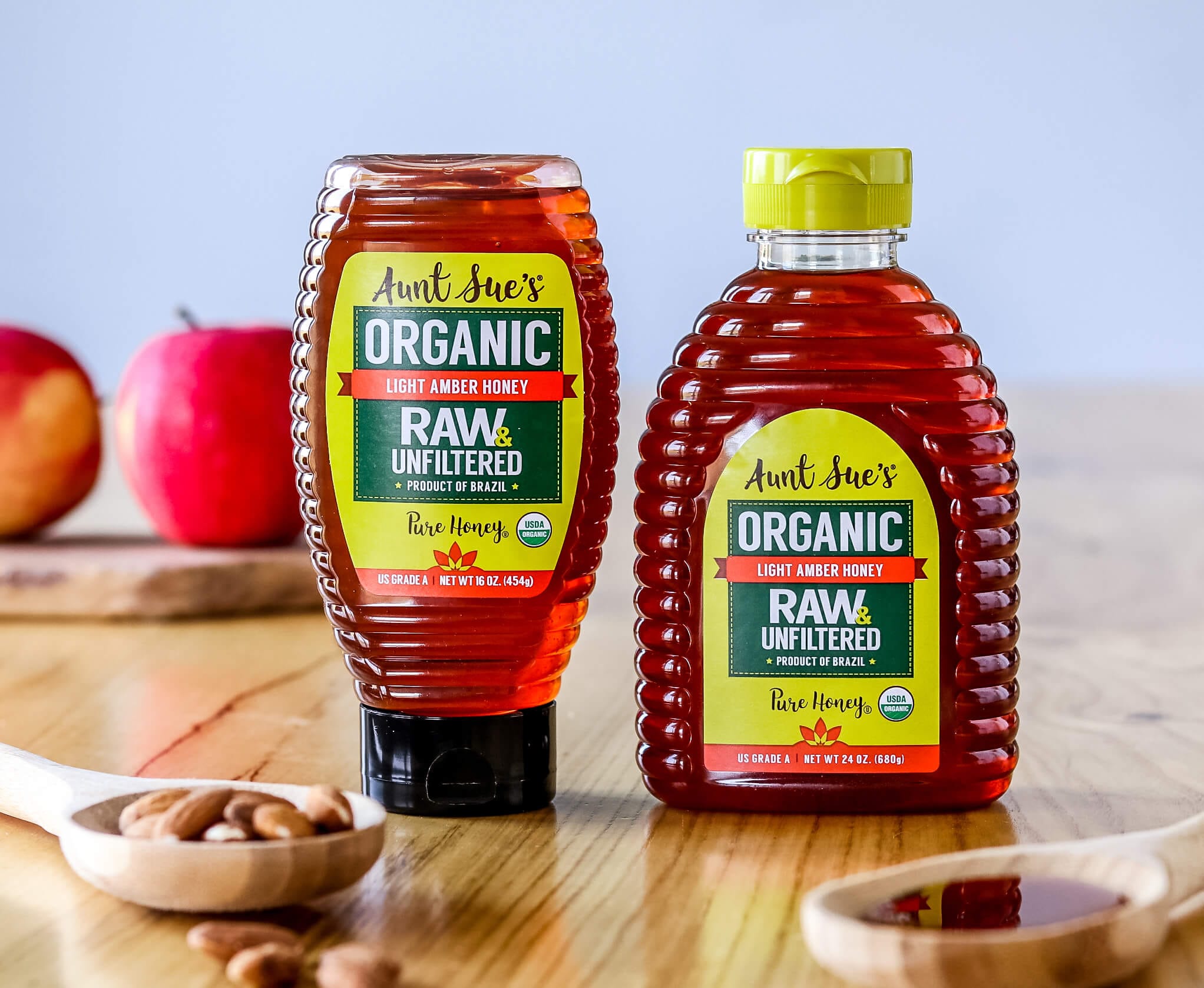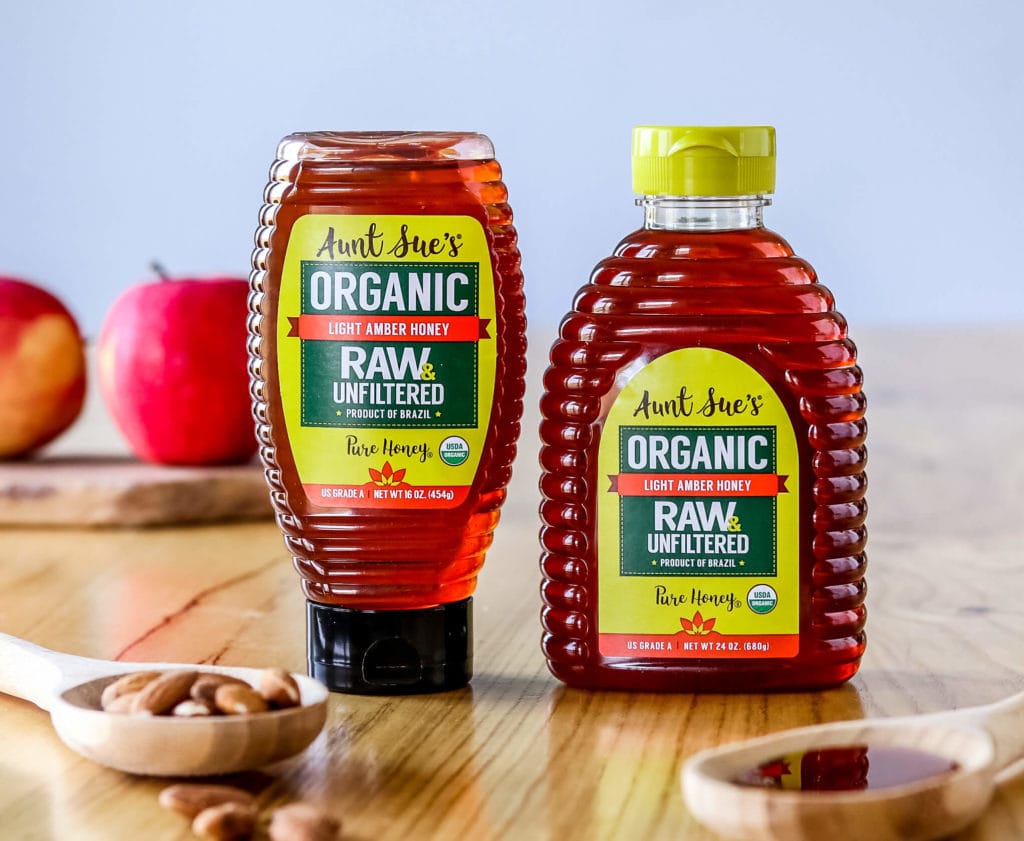 Soothing Summer Relief
Mild sunburns, bug bites? Try Aunt Sue's honey
"Sun hot. Sun burn Tonga's nose. Honey good. Honey make Tonga's nose feel better. Tonga like honey."
That's not an official quote, but it's how we imagine a caveman might describe his experience with honey for sunburn relief. After all, honey's antibacterial and anti-inflammatory properties have been well documented throughout history.
Honey is a natural product that has been used in medicine since ancient times, says a 2020 report from the US National Library of Medicine National Institutes of Health.
"Honey, propolis and pollen are used to heal burn wounds, and they possess numerous functional properties such as: antibacterial, anti-inflammatory, antioxidant, disinfectant, antifungal and antiviral," says the report.
Of course, AUNT SUE'S® honey lovers of all ages have talked about how honey has helped soothe their skin, especially when summer rolls around.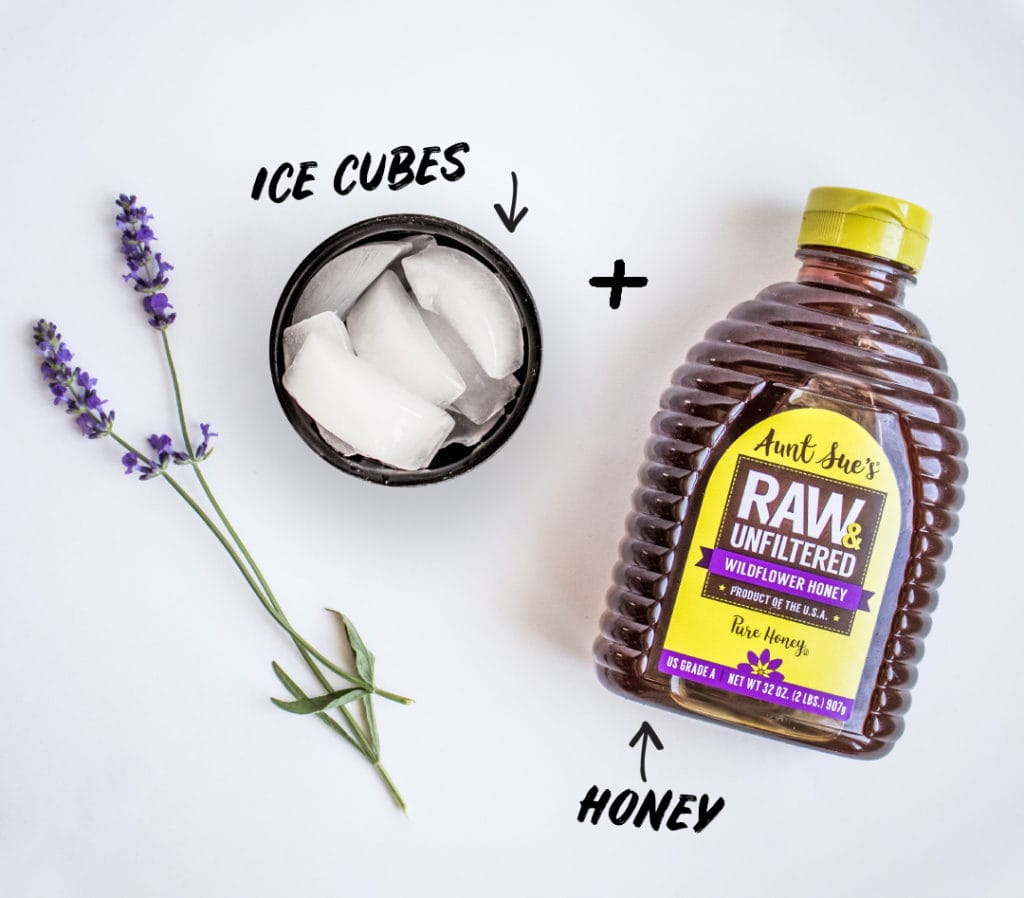 Too much fun in the sun
No matter how careful we are, sometimes the sun has its way with our skin, and we end up with a burn at the end of a day outdoors. It happens. And when it does, we reach for a bottle of AUNT SUE'S® Raw & Unfiltered Honey.
For us, we like to rub a little AUNT SUE'S® honey on a mild burn because our skin absorbs the moisture in honey, which often results in a soothing feeling. Shoulders tend to be especially susceptible to sunburns, so when that happens, we apply honey on our shoulders and let it sit 20 to 30 minutes before hopping in the shower to wash off.
It's important to note that if your sunburn is severe, we recommend that you see your physician.

Pesky mosquitos!
Like with the mild sunburns, we like to apply honey on bug bites to help soothe the area of the bite. In addition to helping with the swelling, AUNT SUE'S® honey helps provide relief from the itching. Sometimes, we'll apply the honey and then rub an ice cube over the area for additional relief. Like with mild sunburns, we get the best results when we leave the honey on our skin for about 20 to 30 minutes.
And again, as with sunburns, if the bug bites are severe, consult your physician.
The link in this article belongs to a third party. Their views and opinions are not necessarily those of Sioux Honey Association Co-op. Click here for a full list of our Terms of Use.
Craft Cocktails with a Buzz
New SUE BEE® INFUSIONS™ honeys make merry mixers for flavorful drinks
Sure, you can grab a can from the fridge and crack open a beer. Or pour whiskey into an ice-filled glass. Those are tried-and-true go-tos during the summer when you and your pals are hanging out in the backyard, taking sips in between a beanbag toss.
But summers are made for adventure. Why not mix it up a bit this year and try a new libation concoction? Especially when you have flavorful mixers like SUE BEE® INFUSIONS™ – strawberry, vanilla and lemon – which are blended to perfection with natural flavoring and our famous SUE BEE® clover honey. We've told you all about drizzling these tasty honeys over everything from waffles, toast and desserts to coffee, chicken and so much more. And now we've discovered a new way to use SUE BEE® INFUSIONS™: in craft cocktails! Ready to jazz up your backyard hootenannies? Try these new drink recipes at your next get-together.
Strawberry Bellini
Packed with strawberry flavor and fun, fizzy bubbles, these Italian-rooted wine cocktails are perfect for weekend afternoon cookouts.
Ingredients
10 oz of frozen or fresh strawberries
1 1/2 tsp SUE BEE® INFUSIONS™ Strawberry honey
1 tsp lemon juice
4 cups chilled prosecco
Directions
Place strawberries and SUE BEE® INFUSIONS™ Strawberry honey in a blender and puree.
Stir in lemon juice.
Fill champagne flutes with 2 tablespoons of strawberry mixture and top with prosecco. Salute!
Vanilla Paloma
Ideal for grilling season, this vibrant and citrusy Mexican-inspired drink (paloma is Spanish for "dove"), gets its zip from tequila and grapefruit soda. But we've added our SUE BEE® INFUSIONS™ Vanilla honey, which gives the cocktail a wonderfully smooth taste, as the vanilla-flavored honey helps balance the tartness from the citrus.
Ingredients
1 1/2 tsp SUE BEE® INFUSIONS Vanilla honey
1/2 cup pink grapefruit juice
1 tbsp lime juice
1/4 cup club soda
1 oz tequila
Directions
Add grapefruit juice, SUE BEE® INFUSIONS™ Vanilla honey, lime juice and tequila in a mixer with ice and shake. Strain over ice and add the club soda. Cheers!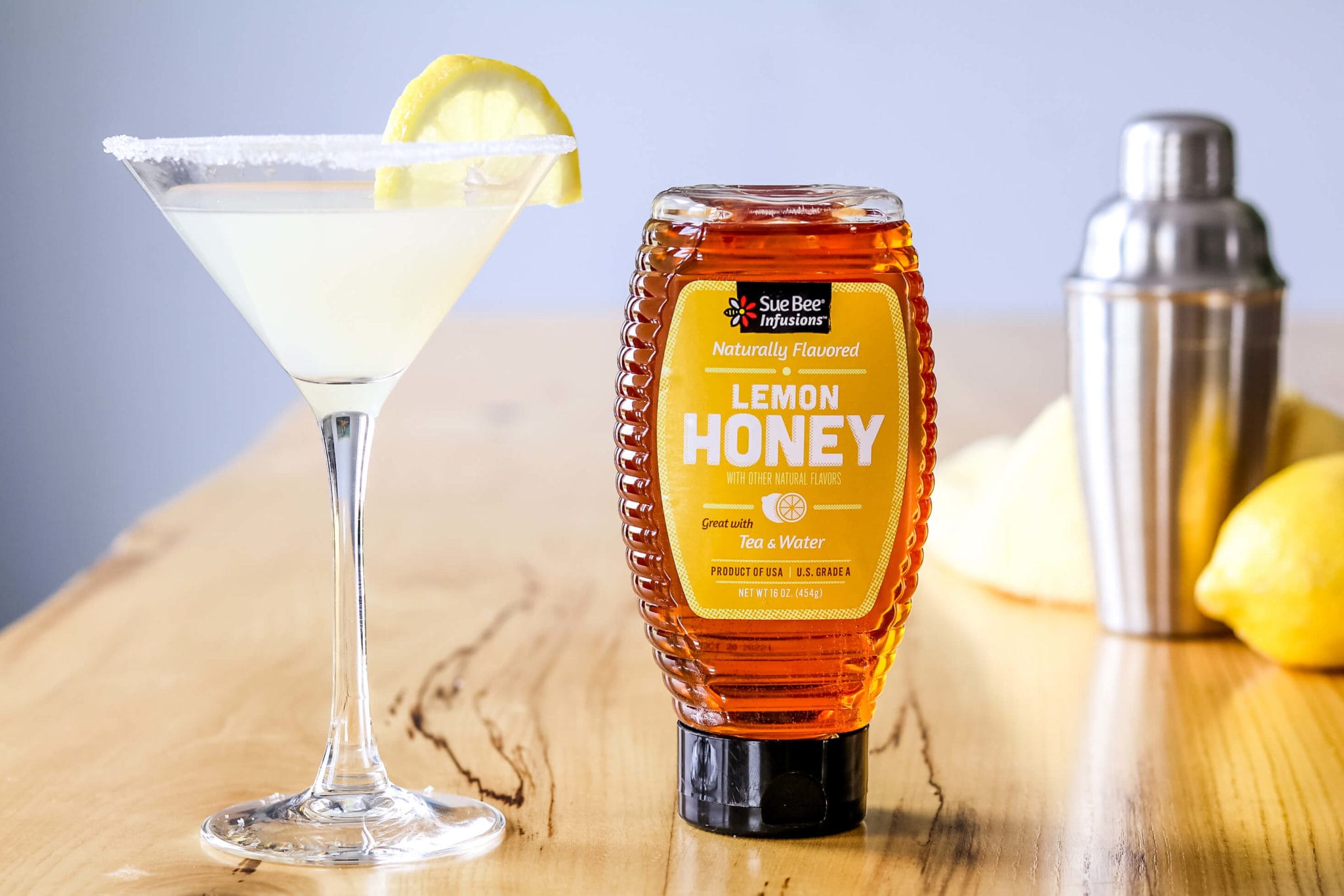 Lemon Drop
Another summery drink that is best enjoyed outside while having fun under the sun, the famous Lemon Drop was invented in the 1970s in San Francisco. It's a balanced blend of sweet and sour, and we've given it a new twist by adding our SUE BEE® INFUSIONS™ Lemon honey!
Ingredients
2 oz vodka
1/2 oz triple sec
1 oz lemon juice
1/2 oz SUE BEE® INFUSIONS™ Lemon honey
Garnish: sugar rim
Directions
Coat rim of martini glass with sugar and set aside.
Add vodka, triple sec, lemon juice and SUE BEE® INFUSIONS™ Lemon honey into a shaker with ice and shake well.
Strain into prepared glass. Enjoy!
Fire Up the Grill with Sweet Heat
SUE BEE® INFUSIONS™ Hot Honey spices up a variety of summer cookout go-tos
One of our favorite things about the new SUE BEE® INFUSIONS™ Hot Honey – aside from the easy-pour flip-top cap – is that we can take a simple summer grilling staple like BBQ ribs and turn them into a magical, mouth-watering journey into Yumville, USA.
And it's as easy as drizzling our natural, chile-infused honey over your neighborhood-famous ribs … or burgers, or chicken, or beef kabobs, and so on.
Don't have a favorite recipe for any of those? Don't fret. You can always find delicious, easy-to-make recipes at SiouxHoney.com. Hungry for ribs? Try this super-simple recipe for SUE BEE® Hot Honey-Glazed BBQ Ribs.
SUE BEE® Hot Honey-Glazed BBQ Ribs
Ingredients
3 pounds of pork ribs
2 tbsp salt
1 1/2 cups SUE BEE® Original Style BBQ Sauce (Available on Amazon)
1 tbsp garlic powder
1 tbsp ground cumin
1 tsp black pepper
SUE BEE® INFUSIONS™ Hot Honey (also available on Amazon) for drizzling
Directions
Preheat grill – gas grills on high, or stack charcoal on one-half of briquette grill – and lightly oil grate.
Combine salt, pepper, cumin, garlic powder in small bowl and mix to create the spice rub.
Add rub to both sides of ribs.
Place ribs on upper rack and reduce heat to low on gas grills, or place on the side without coals if using a briquette grill.
Close lid and leave undisturbed for 1 hour.
Brush ribs with SUE BEE® Original Style BBQ Sauce and grill for an additional 5 minutes.
Serve ribs as whole or cut between each rib bone and arrange on a platter.
Now, the final touch – drizzle some of that oh-so-zesty SUE BEE® INFUSIONS™ Hot Honey over the ribs.
Welcome to Yumville!
SUE BEE® SPUN® Honey
How it's made, and our favorite ways to use it
It's creamy. It has a silky-smooth texture. It's easy to spread. And it has only one ingredient: honey, 100%.
You might have heard it called "whipped honey" or "honey butter." We call it SUE BEE® SPUN® honey and we've been making it almost as long as our co-op of beekeepers have been collecting honey – which is 100 years in 2021.
SUE BEE® SPUN® honey is by far our most popular Sioux Honey product. That's because we've perfected the SPUN® honey process. Here's how we do it (at least, as much as we can say – it is, after all, a well-guarded secret):
First, granulated honey is added to liquid honey and the two go for a spin – literally. Once they've been blended and spun, the mixture is moved to a cooling unit where the consistency – the spreadable, velvety deliciousness we all love – develops.
Unlike granulated honey all by itself, our propriety mixing process takes the graininess of granulated honey and refines the granules down so small that it creates a very smooth and easy-to-spread consistency.
Since SUE BEE® SPUN® honey is already "crystalized," you can place it in the refrigerator to harden the texture if you prefer. Take it out and bring it to room temperature to bring it back to a smooth, creamy and spreadable texture.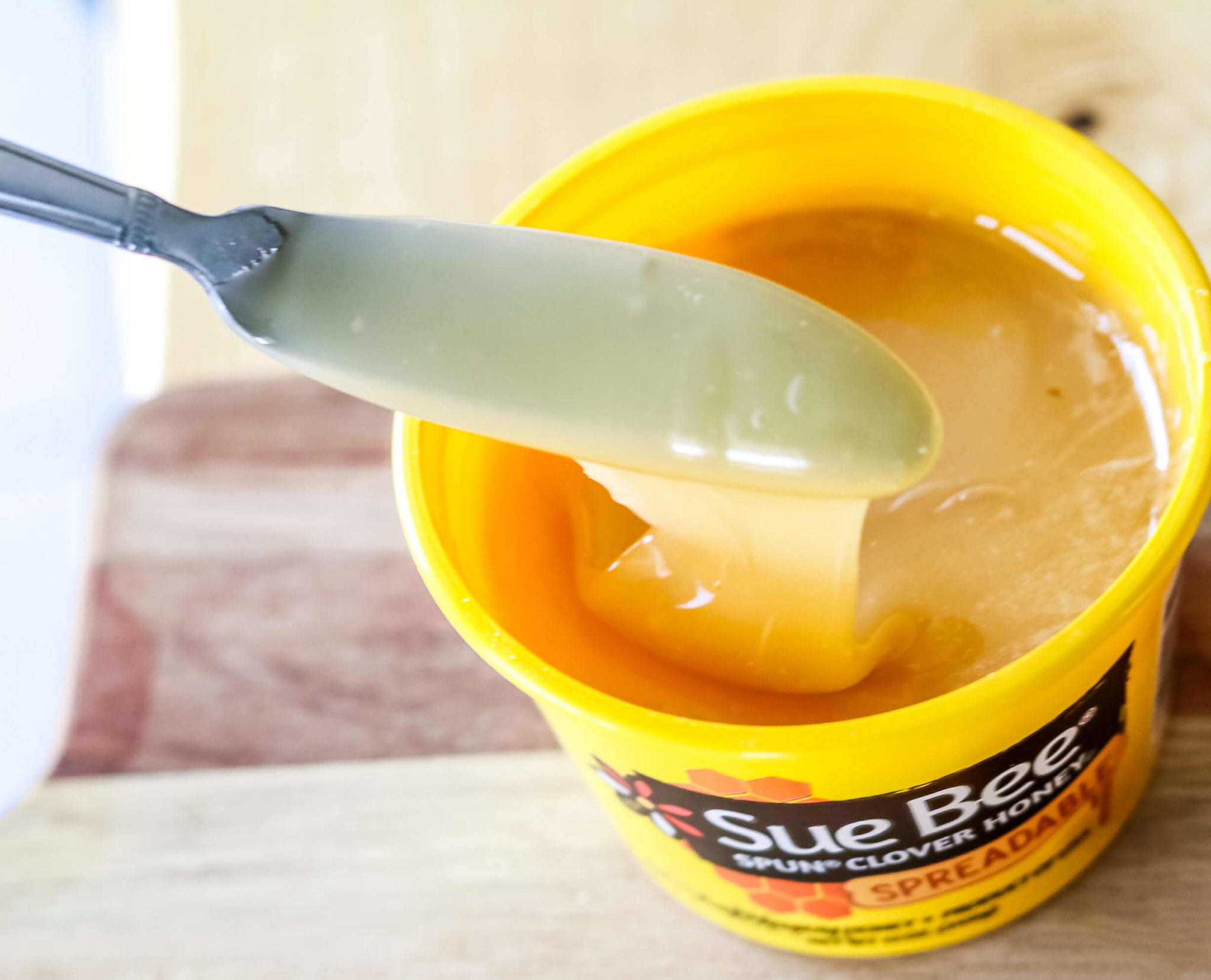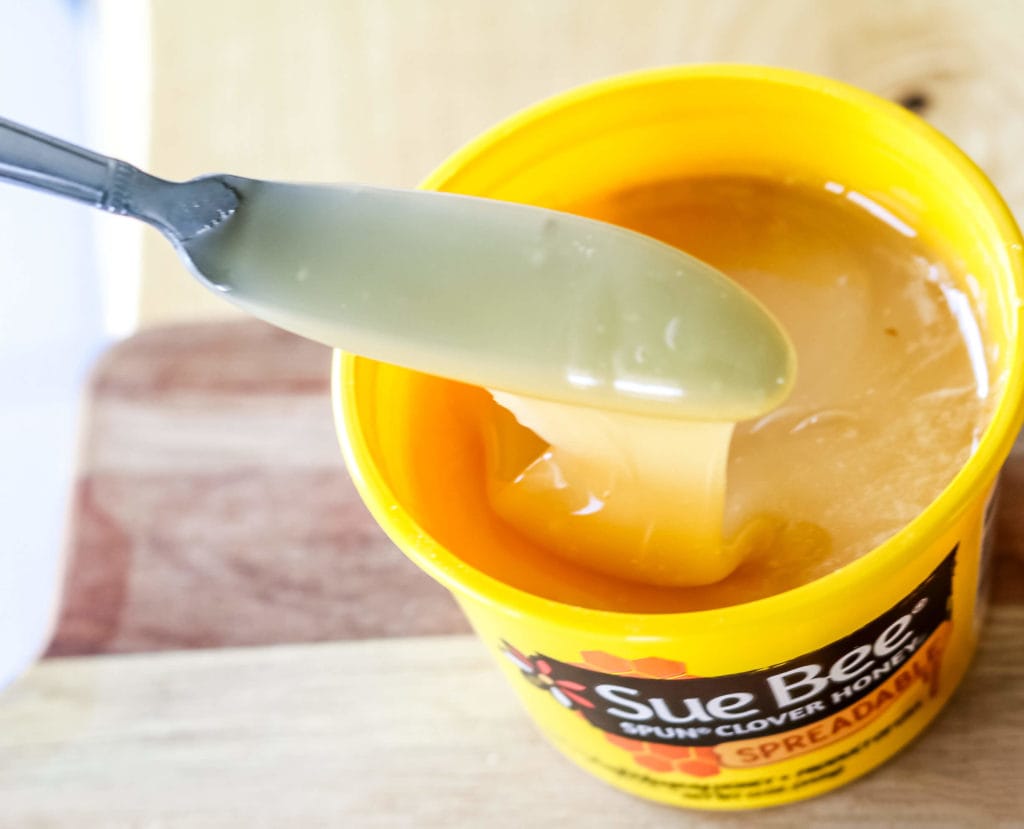 AN IMPORTANT NOTE
SUE BEE® SPUN® honey differs from regular liquid honey in that, if you place regular liquid honey in the refrigerator, it will cause the honey to naturally granulate and crystalize. All of which is still delicious. In fact, some people prefer naturally crystalized honey. You can read more about the crystallization process of honey in our blog, "A Precious Gem: Crystallized honey is not only OK, it's preferred by many foodies."
All about versatility with SPUN honey
In addition to SUE BEE® SPUN® honey being our most popular Sioux Honey product, it also might be our most versatile. While you can certainly add SPUN® honey to your coffee, tea and baked goods, we like to spread it … on everything! Crackers, biscuits, bagels, rolls, fruit, veggies, French toast and – arguably the best way – on peanut butter and honey sandwiches. Have you tried it? It is A-M-A-Z-I-N-G!
And not just any peanut butter and honey sandwiches. We have recipes to PB&H combos you won't soon forget. Here are three of our all-time favorites.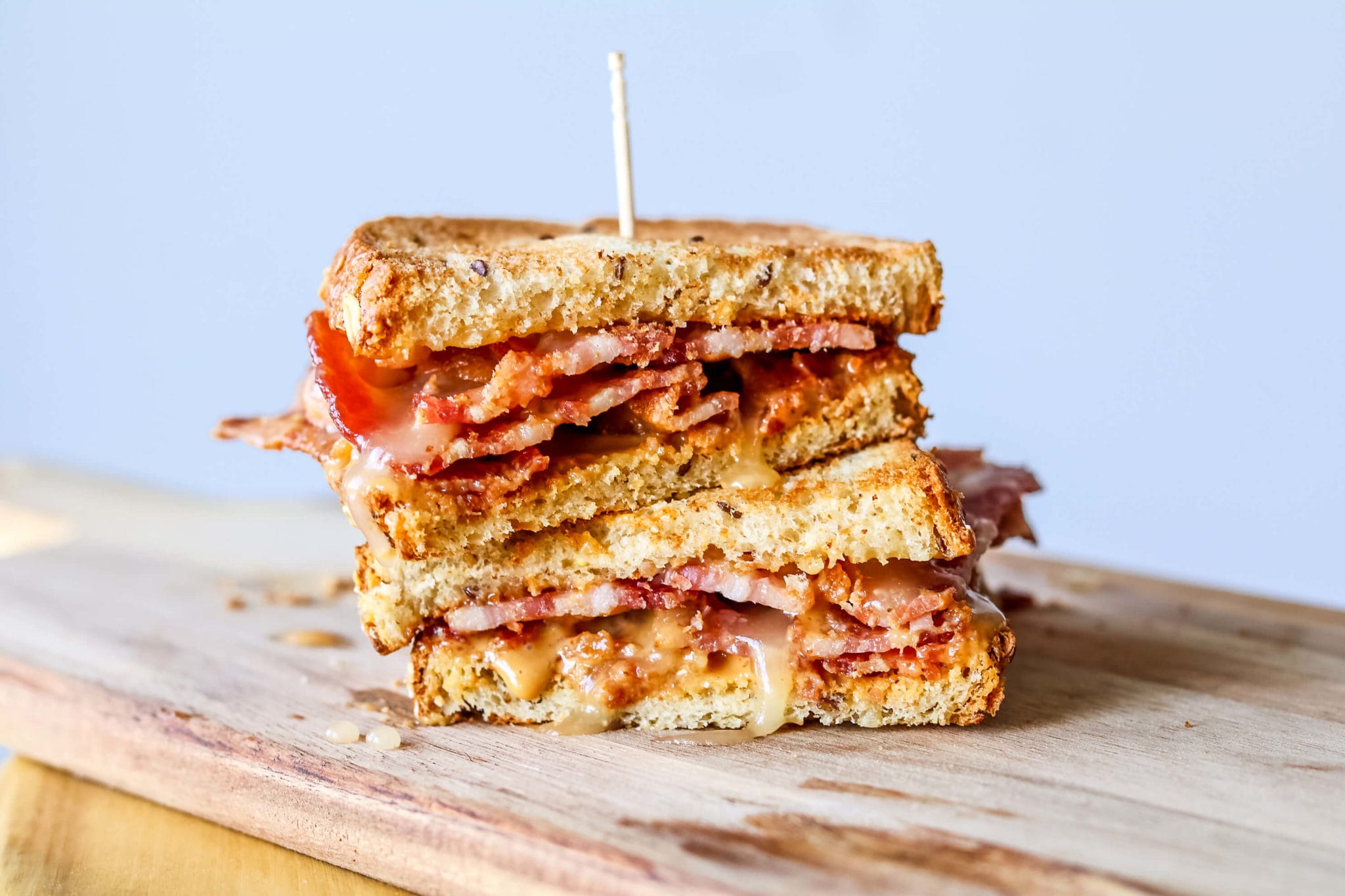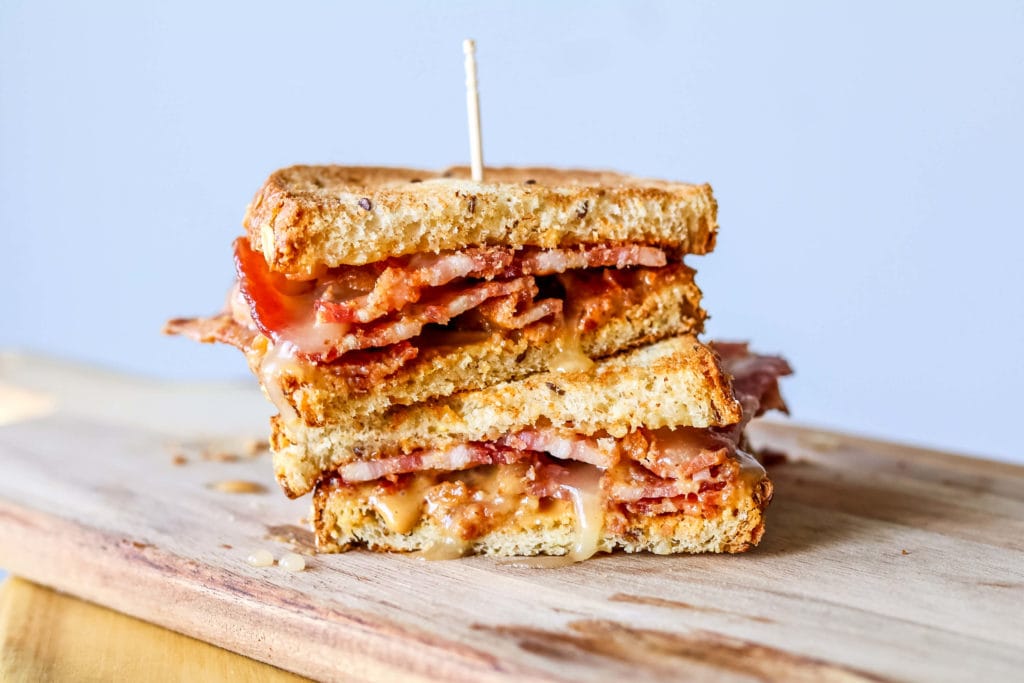 'The Homer'
Ingredients
Two slices of multigrain bread
Your favorite creamy (or chunky, if you prefer) peanut butter
SUE BEE® SPUN® honey
3 pieces of cooked bacon, medium thickness
Directions
If you're familiar with "The Simpsons" character, Homer, then you know that he LOVES bacon. Mmm, bacon. So, in honor of Homey, we present our salty-and-sweet bundle of edible joy we affectionately call "The Homer."
For this one, we use a multigrain bread that has been toasted. After the toast pops up, remove from the toaster and let it cool for about 2 minutes. Then, spread the peanut butter on one side and the SUE BEE® SPUN® honey on the other. Layer the bacon in the middle and press the pieces together. YUM!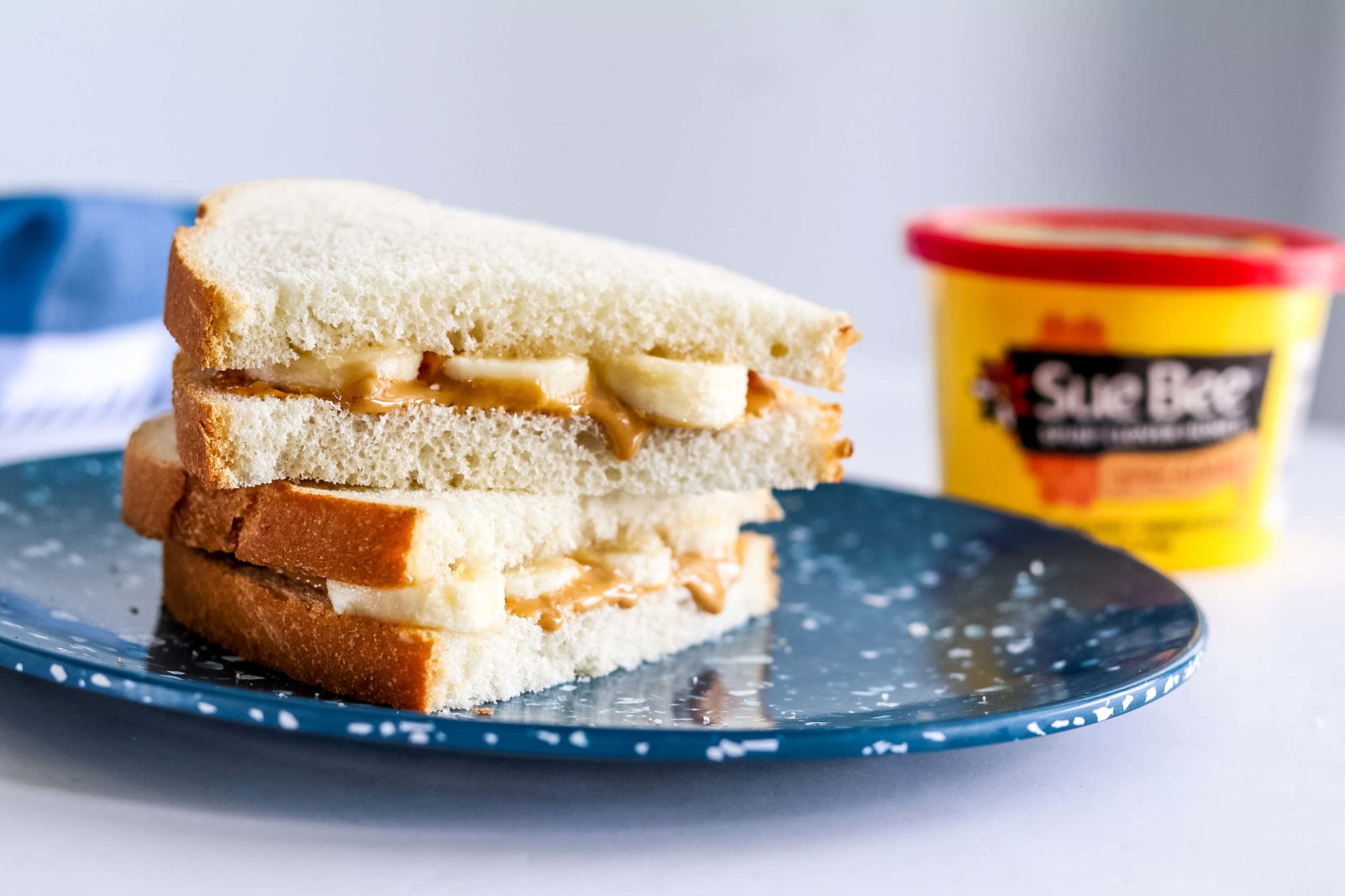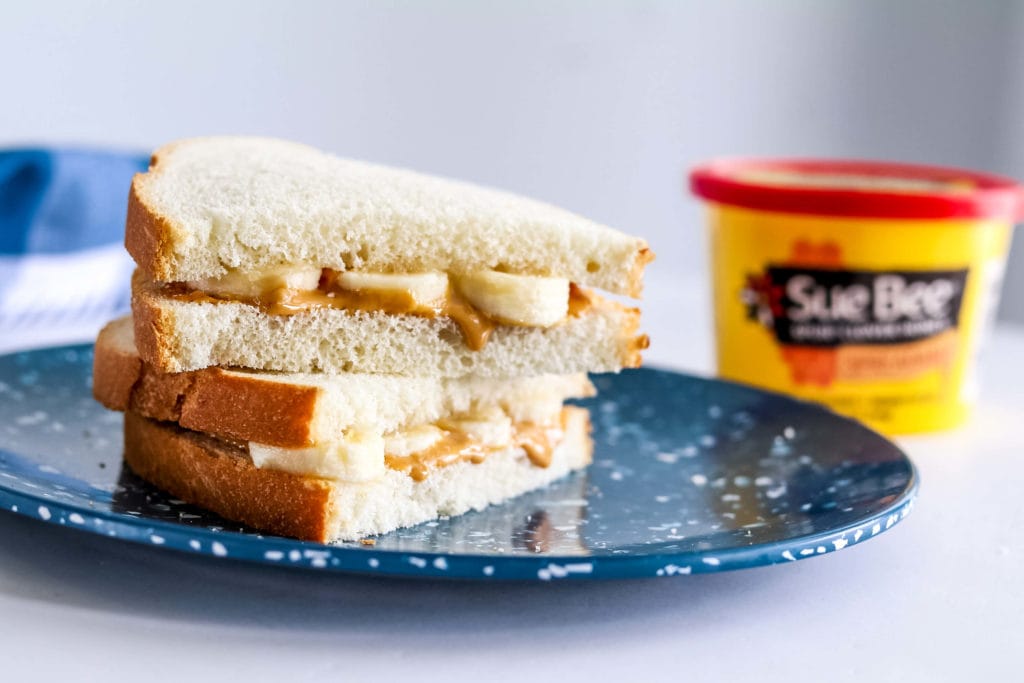 'The Elvis'
Ingredients
Two slices of regular ol' white bread
Your favorite creamy (or chunky, if you prefer) peanut butter
SUE BEE® SPUN® honey
1/2 banana, sliced
Directions
Elvis Presley was onto something with his peanut butter-nanna sandwich. It's a good sandwich, no doubt. But we think we've made it even better by adding SUE BEE® SPUN® honey to the mix.
First, slice up that nanna and set aside. Again, the amount of honey and peanut butter is on you – some like it thick, some not so much. For this recipe, we don't toast the bread. We've tried it toasted, too, but everything seems to gel and stay together much better when the bread is not toasted for this particular sandwich. Next, spread the peanut butter and honey, then lay the banana pieces on one side, press the two pieces of bread together and viola! "The Elvis!"
'The Hive & Seek' (a classic)
Ingredients
Two slices of sourdough bread
Your favorite creamy (or chunky, if you prefer) peanut butter
SUE BEE® SPUN® honey
Directions
The amounts of honey and peanut butter will vary to taste. We like to toast the bread for this one, too. After the toast pops up, remove from toaster and let cool for 2 minutes. (Spreading the peanut butter and honey on hot toast tends to lead to gooeyness.)
After the toast has cooled a bit, spread peanut butter on one side and SUE BEE® SPUN® honey on the other side. Press the two pieces together and enjoy!
Marriage Made in Heaven
Beekeeper Mason Maxwell's all-American love story
What's love got to do with it? Well, when it comes to Mason Maxwell's beekeeping story, almost everything.
In 1992, Mason took a summer job working for Mike Thomas, a beekeeper in Florida. When Mason graduated from college a few years later, he started looking for a job as a firefighter and discovered the universal truth of beekeeping.
"Once it's in your blood, it's always there," Mason says.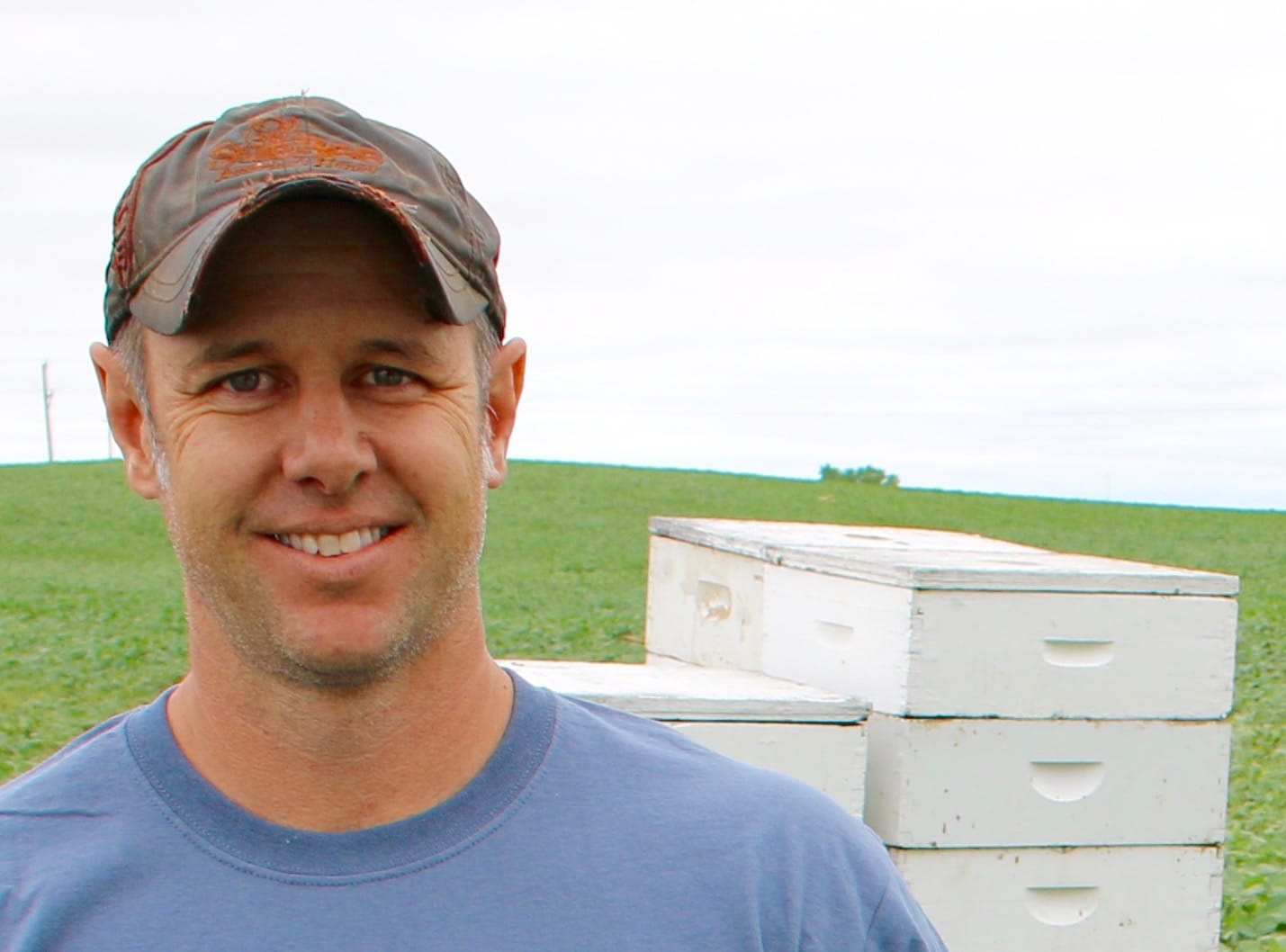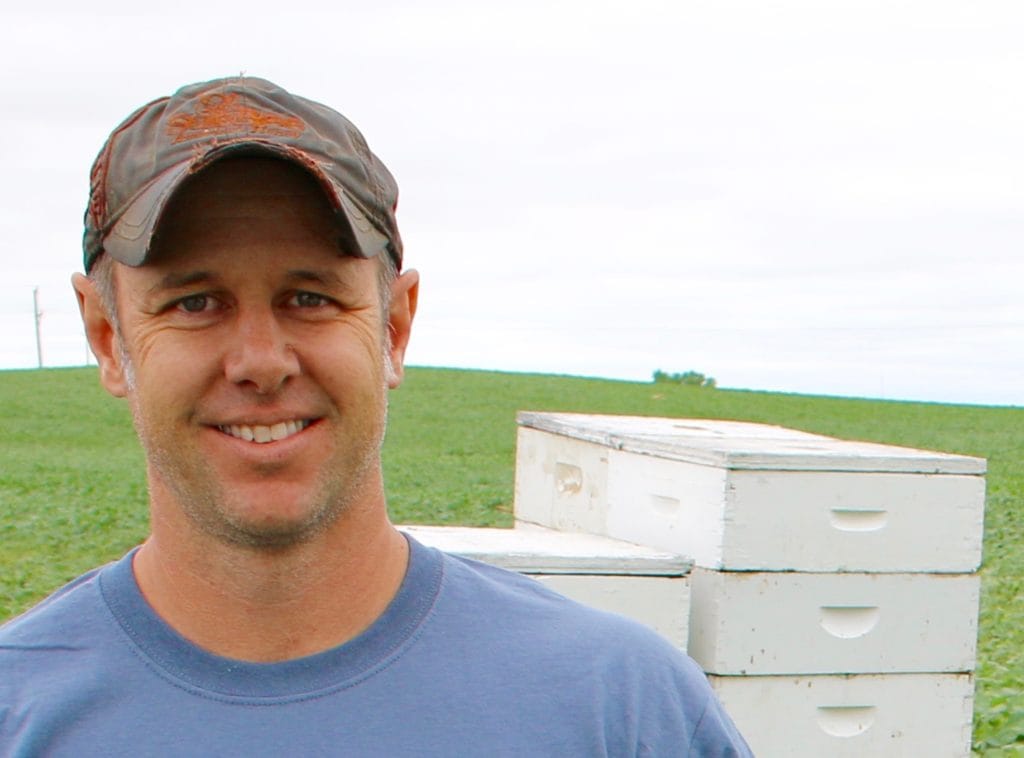 He went back to work for Thomas in Florida, and, while he kept an ear out for an opening with a fire department, something – or rather someone – caught his eye.
"That's when I started dating Thomas' granddaughter. And when I got hired with the fire department here in North Dakota, I came back home and the relationship with her continued." Mason says, "And here we are. We ended up marrying in 2000, and we purchased the bee business (Thomas Honey) in 2002."
The love story doesn't end there. When we asked what it takes to be a successful beekeeper, Mason's answer was simple: "You gotta like bees."
But you also have to have patience, he added.
"The bees are going to produce what they can produce on a day-to-day basis. It's all dependent on the weather. We can't encourage them, we can't force them to produce more than they can produce," Mason elaborated.
"We're completely dependent on Mother Nature; there's no set plan. You take the good years with the bad, and hopefully every year you're back with the bees."
Hard work equals sweet results
Today, Mason runs colonies in North Dakota during the summer and in Florida during the winter. In January and into February, they usually send honeybees to California for almond pollination.
"We've got locations in about a 25-mile radius around the community of Turtle Lake, North Dakota. We try to get to every bee yard or check them every week to 10 days.
"People don't realize the amount of transportation that goes into all of it. The trucking of the bees across the country and the hours of work that are involved from everybody."
So why does Mason stick with it? "I just enjoy all aspects of it. I like moving the bees. I like supering. And watching how much honey they can produce when the conditions are right."
And when you have a family like the one Mason married into, it makes the business all the sweeter. In one of his favorite photographs, there's well over a hundred years of beekeeping experience. From Mr. Thomas – Mason's grandfather-in-law – to Mason's kids, there's always an extra hand around when needed.
The Sioux Honey family
In regard to his co-op family, Mason says, "Sioux Honey is looking out for the best interest of all of us. It's member-run, member-owned – there's a sense of ownership."
"From the beginning to the end, the honey has been produced by us, processed by us, and Sioux Honey finishes the process," Mason says.
So other than enjoying a nice piece of fresh corn bread smothered in raw, unfiltered honey, what's his favorite part of the job?
"I just enjoy watching to see what something so small can produce," Mason mused. "When I'm not working the bees, I'm wondering when it's time to go back to the bee yard."
Sounds like true love to us.
This Sauce Is No Secret
SUE BEE® honey and other natural ingredients make our BBQ sauce a popular choice
Chicken, ribs, pizza, pulled pork, shrimp, salmon – what's your favorite way to enjoy SUE BEE® Original Style Honey Barbecue Sauce? Don't worry, you don't have to choose just one. When it comes to grilling season, you'll have plenty of time to try our popular blend on all your favorite dishes.
And what's in our special blend? You can probably guess one of the ingredients – it's SUE BEE® honey, sourced from the beekeeper members of the Sioux Honey Association Co-op. In fact, 48% of our SUE BEE® Original Style Honey Barbecue Sauce is our honey. Then we add rich tomato and natural spices to complete a sweet and tangy blend.
Whether you're grilling, broiling or baking, this convenient sauce in a flip-top bottle is just a squeeze away and ready to add zest to any dish. Need ideas? How about our SUE BEE® Honey BBQ Chicken Wings? Or perhaps our SUE BEE® Honey BBQ Ribs? How about them, indeed!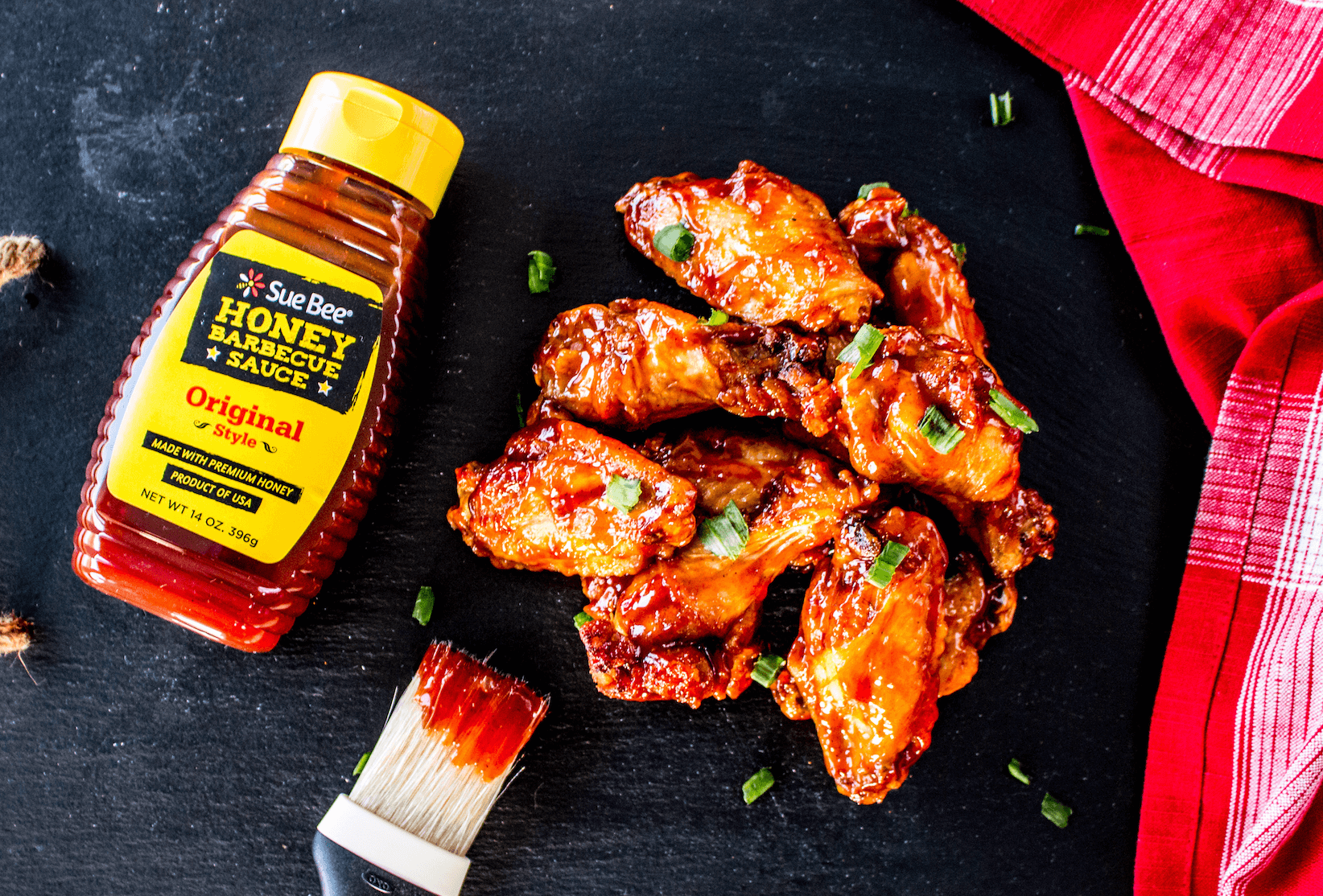 SUE BEE® Honey BBQ Chicken Wings
Ingredients
3 cups SUE BEE® Original Style Honey Barbecue Sauce
3 lbs chicken wings
1/4 cup olive oil
Salt and pepper to taste
2 cloves garlic
Directions
Cut off and discard wing tips.
Cut each wing at joint to make two sections.
Rinse wings, drain and pat dry with paper towels.
Season wings with salt and pepper, to taste.
Place wings on broiler pan and broil about 6 inches from heat for 10 minutes on each side OR until brown.
For Slow Cooker:
Transfer wings to slow cooker.
Combine remaining ingredients in a bowl; pour over chicken wings.
Cover and place slow cooker on high for 2 hours or low for 4 hours.
For grill
Transfer wings to a bowl and mix with remaining ingredients.
Place wings on hot grill and cook until done.
Coat with SUE BEE® Original Style Honey Barbecue Sauce.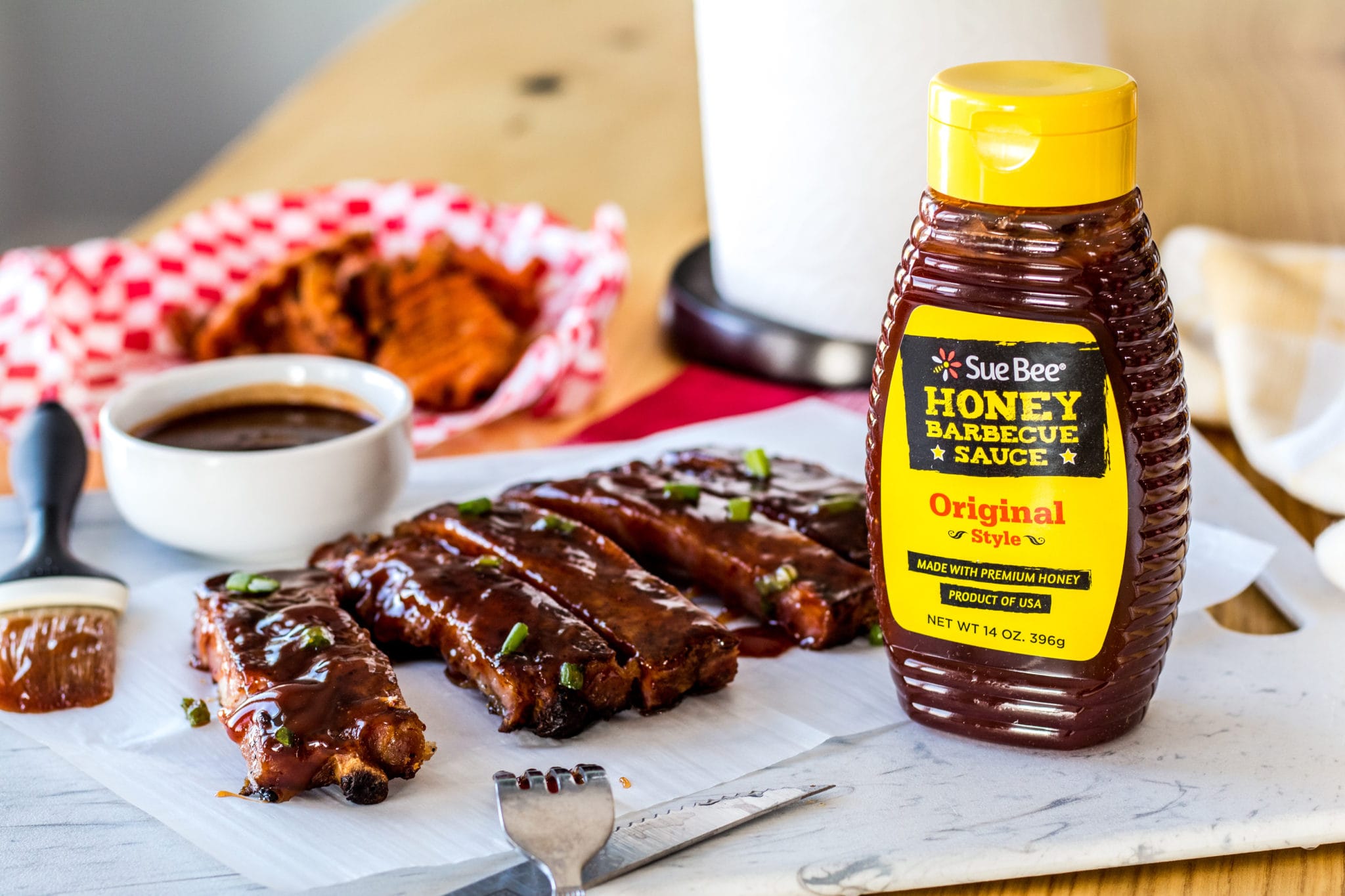 SUE BEE® Honey BBQ Ribs
Ingredients
2 1/2 cups SUE BEE® Original Style Honey Barbecue Sauce
3 lbs pork back ribs
1 medium onion
1/4 tsp fresh ground pepper
1/4 tsp celery salt
1/2 tsp onion powder
2 tbsp Old Bay Seasoning
1/2 tsp garlic powder
1 tsp chili powder
1 tsp paprika
1/4 cup white sugar
Directions
Place all ingredients together in large roasting pan.
Cut ribs apart for easier serving.
Mix together, making sure to coat all ribs with this semi-dry paste.
Spread ribs out evenly on bottom of pan.
Cover lightly with foil.
Bake at 375 F for approximately 1 hour. Turn or stir occasionally.
You can use a broiler for these ribs, just watch more closely and adjust cooking time.
Who Does Your Honey Come From?
Meet David Coy, one of the 200+ Sioux Honey beekeepers
David Coy's father wanted to be a cotton farmer. But he didn't come from a family that had a large farming enterprise, and starting an operation like that – especially considering the cost of machinery – put traditional farming out of reach.
"You basically had to be born into a family of farmers to live that dream," says David.
So David's father, Bobby, found a different kind of crop and decided to be a different kind of farmer. With help from his father, Gene, Bobby embarked on what started as a hobby in Jonesboro, Arkansas. And, thus, began his life as a beekeeper.
That was 1969. Today, Bobby's sons collect honey full time, helping turn that hobby into a major business as members of the Sioux Honey Association Co-op.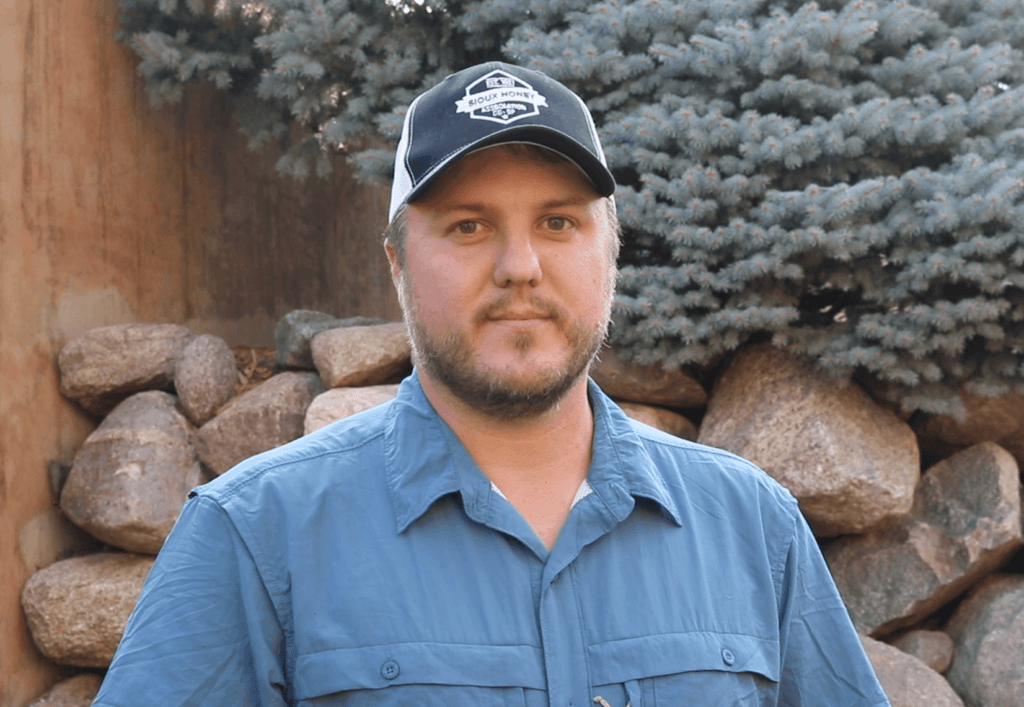 If you build it, they will buzz
Through the 1970s, Bobby and Gene grew their honey business, and now with Bobby's and his two sons, David and Richard, the Coys operate out of Perkinston, Mississippi. Bobby's third son, Steven, operates as an independent beekeeper.
"The whole time doing this, he wanted to provide an opportunity for his sons to also do what he loved," says David.
"At one time, all three of us boys worked for my father. The only person I've ever gotten a paycheck from is my dad, or from Coy's Honey Farm. I've worked there all my life."
David did entertain other avenues. He earned a degree in plant science from Arkansas State University, but, after telling his guidance counselor how much money he made working for his dad in the summer, she said, "I think you need to work for your dad."
"It really never was a question. That's what I planned on doing," says David.
Once a beekeeper, always a beekeeper
If you ask David what his favorite part of beekeeping is, get comfortable. His list is long.
"If I had to narrow it down to one thing, I'd say being able to see the fruits of your labor, to see your hard work pay off, the return you get on your hard work," says David. "Of course, we're relying on the bees to help us do that. It's similar to how farmers feel about crops and cattle. We're very similar in spirit. Our livestock is the bees.
"Now, there are days when I ask, 'Why am I doing this?' The days when you get stung a lot. But those times don't last."
In southern Mississippi, the floral sources for their bees consists mostly of gallberry and Chinese tallow trees.
"There's a lot of different holly bushes that grow in the pine forest in that Gulf Plains region, and so they make a lot of honey off of that," David says.
The Coys also send hives to California each year to help with the February-March almond pollination season there.
Becoming a co-owner of Sioux Honey
In 2000, the Coys joined the Sioux Honey Association Co-op after several years of selling their honey as independent beekeepers. Why join Sioux Honey after hawking their honey for so long on the open market?
"We need to be taking care of our bees instead of worrying about marketing our honey," says David. "With Sioux Honey, we know we have a home for our honey, so we don't have to worry about going out and trying to sell it or wait on other people to come to us to sell it.
"And there is an ownership there. We're one of the owners. And, as owners, we can make sure the standards are up where they should be – the testing, the oversight. It matters."
For Sioux Honey, knowing who your honey comes from is the key to providing a safe, pure and delicious honey.
"It's not that there aren't other good beekeepers out there, but with the beekeepers at Sioux Honey, there's ownership in it," says David. "So we, as beekeepers, can make sure we're providing the best product to the co-op that we can. It's straight from the hive. Good, clean honey.
"And there's just a lot of history with Sioux Honey, much of it I've learned by serving on the board of directors. And it makes us proud to be members of the organization."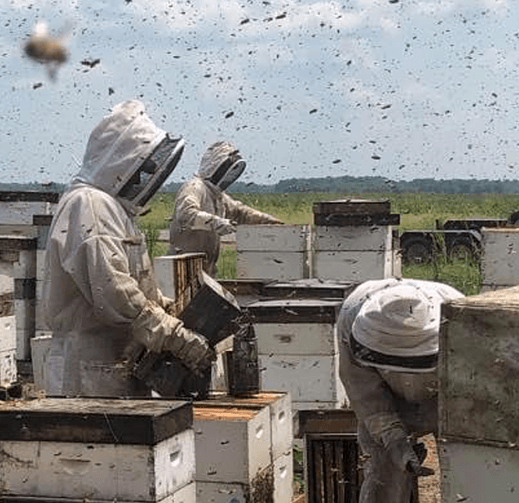 Stop! It's Hammy Time
Easter is the perfect day to try our popular Honey-Orange Glazed Ham
Thanksgiving has turkey. Valentine's Day has chocolate. St. Patrick's Day has corned beef. And Easter? Easter gets delicious, mouth-watering ham.
Of course, not all hams are created equal. Our AUNT SUE'S® Raw & Unfiltered Honey-Orange Glazed Ham, for example, is above and beyond what you might expect from an Easter ham recipe. It's the ideal blend of flavors and, best of all, it's easy to make!
Honey-Glazed Orange Ham
Ingredients
1/2 cup AUNT SUE'S® Raw & Unfiltered Honey
5–7 lb precooked ham
1/2 tbsp cornstarch
1/4 tsp cinnamon
1/2 tsp cloves
2 tbsp spicy brown mustard
1 6-oz can orange juice concentrate, thawed
1 orange, sliced
Directions
Using a paring knife, score ham in a diamond pattern, making cuts about 1/4-inch deep.
Mix remaining ingredients, except orange, and bring to a boil while stirring. Continue boiling and stirring for 1 minute.
Brush ham with glaze and bake 1 1/4 to 2 1/2 hours at 325 F, brushing with glaze every 30 minutes.
The last 45 minutes, top ham with orange slices.
March Radness
Basketball watch parties are a slam dunk with these tasty appetizers
Everyone is a basketball fan in March. Even if you don't follow closely, when it comes to filling out end-of-the-season NCAA basketball tournament brackets, you can at least pick teams based on which state you prefer, or maybe which mascot you like better, and or even which color of uniform suits your taste.
Whichever way teams are picked, millions of people will be filling out their brackets online, at the office or with friends on social media. It's a fun tradition, and so are March Madness marathon watch parties.
What's not fun? Serving your friends flat food. When it comes to appetizers, the last thing you want to do is shoot an air ball. But don't worry, we've drawn up a winning play that will score you points and pump up your basketball watch party with delicious appetizers like our Buzzer-Beater Buffalo Dribble Dip, Give-and-Go Garlic Beef Bites, Slam Dunk Sliders, and Fastbreak Fruit Crostini – all of which include our Sioux Honey MVPs, SUE BEE® honey and AUNT SUE'S® Raw & Unfiltered Honey.
Sure, that 14-seed team might bust your bracket, but these can't-miss appetizers won't.
Fastbreak Fruit Crostini
Ingredients
1 French baguette (18 inches), cut into 1/2-inch slices
8 oz creamy goat cheese
1/4 cup AUNT SUE'S® Raw & Unfiltered Honey
1 cup sliced fruit (strawberries, blackberries, peaches)
Instructions
Preheat oven to 350 degree. Place bread slices on a baking sheet and bake about 10 minutes or until lightly toasted.
Mix goat cheese and AUNT SUE'S® Raw & Unfiltered Honey together until smooth. Spread the goat cheese-honey mixture on the toasted bread and top with your favorite fruits.
Before serving, drizzle each Crostini with honey. And ta-da! That's it! Super simple, but oh, so tasty!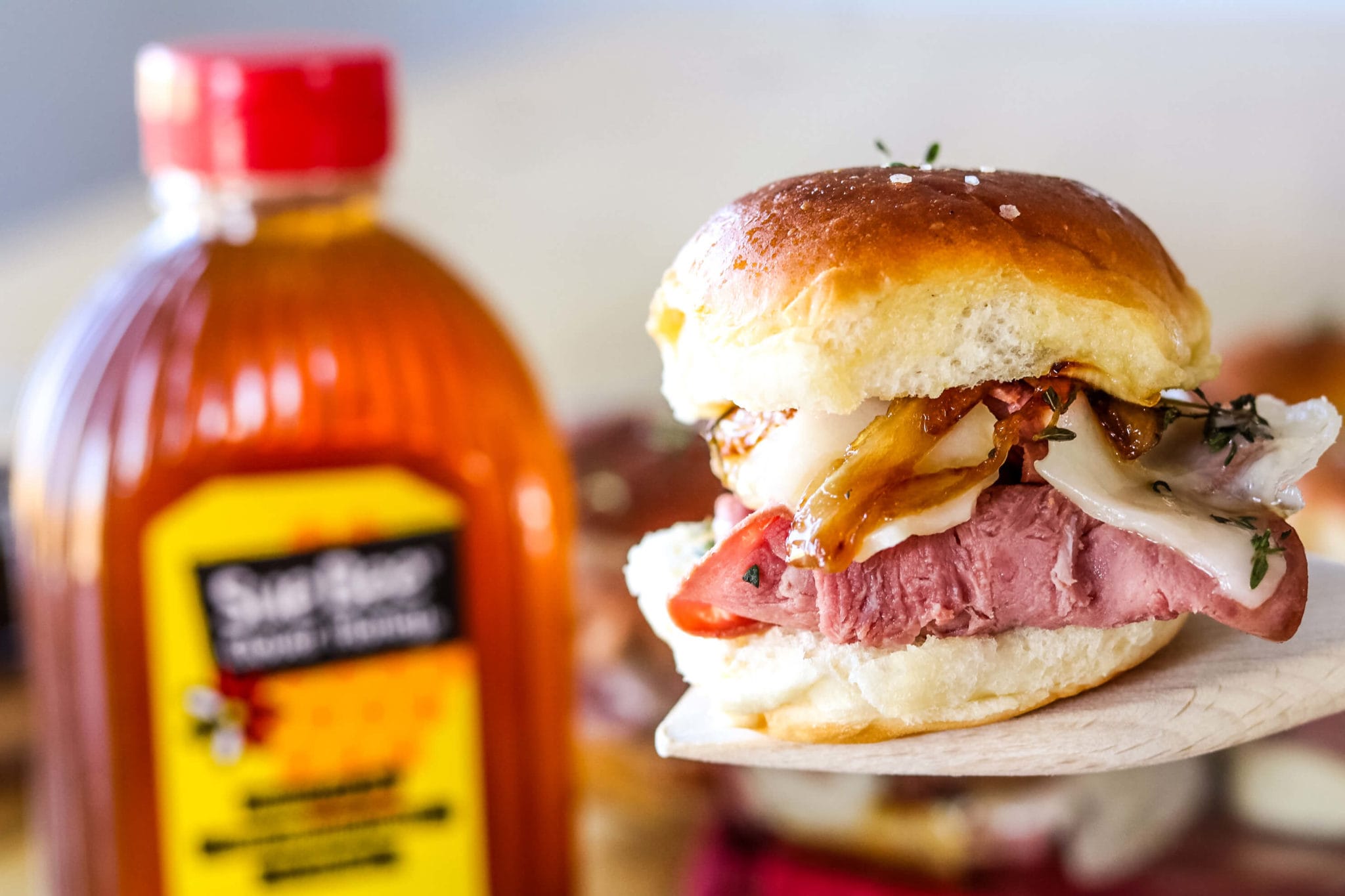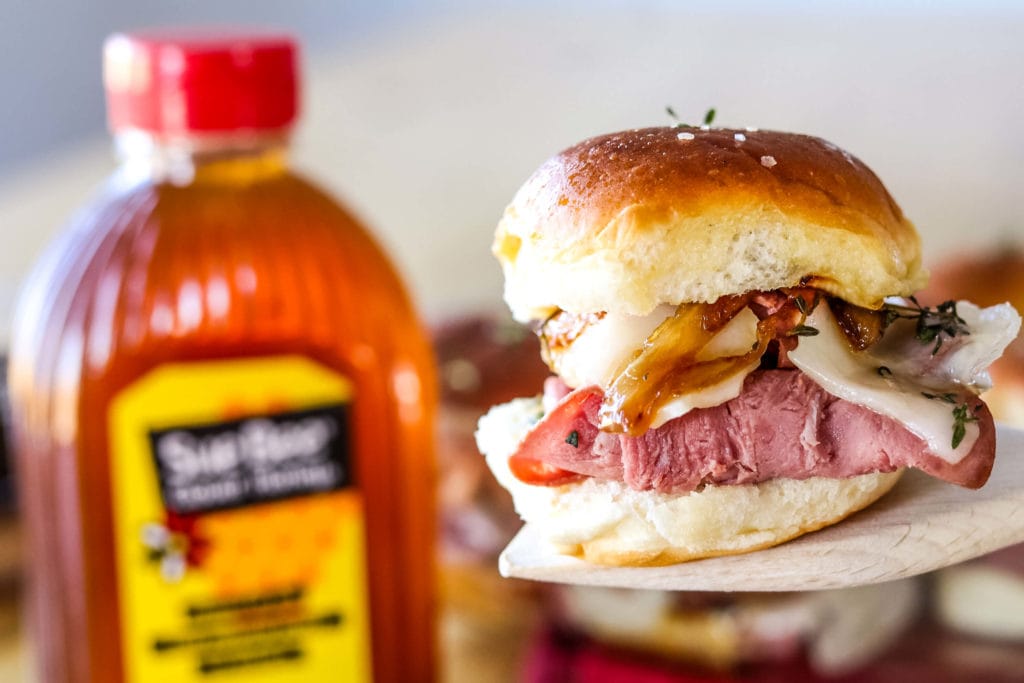 Slam Dunk Sliders
Ingredients
1/4 cup SUE BEE® honey
1 large onion, sliced thin
5 tbsp garlic butter
Pinch of sea salt
Freshly ground black pepper
1 tbsp clove garlic, minced
12 slider buns, halved
1 lb thinly sliced deli roast beef
12 slices provolone cheese
1 1/2 cups low-sodium beef broth
1 tbsp Worcestershire sauce
Directions
Preheat oven to 350 degrees. In a large skillet over medium-high heat, melt 2 tablespoons of garlic butter. Add onion and season with salt and pepper. Cook until caramelized.
Place the bottom halves of slider buns on a large baking sheet and add the roast beef, provolone cheese, caramelized onions and then slider bun tops.
Brush the top of the buns with 2 tablespoons of melted garlic butter, then sprinkle with sea salt and bake until cheese is melted and sliders are warmed through.
For the au jus: Add remaining 1 tablespoon of garlic butter and melt over medium heat. Add beef broth, SUE BEE® honey and Worcestershire sauce and season with salt and pepper. Simmer until slightly reduced.
Serve sliders with au jus for dunking! (Be sure to serve with plenty of napkins for the dribblers.)
Buzzer-Beating Buffalo Dribble Dip
Ingredients
1/2 cup AUNT SUE'S® Raw & Unfiltered Honey
4 cups cooked and shredded chicken breast
1 1/2 cups cheddar cheese, shredded
8 oz cream cheese
3/4 cup buffalo sauce (pick your favorite brand)
1 cup ranch dressing
Directions
Combine cooked chicken, AUNT SUE'S® Raw & Unfiltered Honey, cream cheese, buffalo sauce, ranch dressing and 1 cup of shredded cheddar cheese in a slow cooker (Crock Pot) and stir together.
Place lid on and set to low heat for 3–4 hours or high heat for 1–2 hours, stirring every 30 minutes. When the cheddar cheese and cream cheese are fully melted, you're good to go.
Sprinkle the remaining shredded cheddar cheese over the top and place the lid back on, letting the dip continue to cook until the cheese on top is melted.
Serve with chips, baguette, crackers, veggies – basically, this dip is so yummy that you can put it on all sorts of things! Dill Pickle Buffalo Chicken Wraps, anyone?
Give-and-Go Garlic Beef Bites
Ingredients
3 tbsp AUNT SUE'S® Raw & Unfiltered Honey
1 lb top sirloin steak, cubed

1 tsp sweet or smoked paprika

2 tbsp vegetable oil
4 tbsp soy sauce
1/4 cup water (or beef broth)

2 cloves garlic, minced

1 tbsp rice vinegar
1 1/2 tbsp olive oil
1/2 tsp dried oregano

1 tbsp cornstarch
Sesame seeds, for garnish

Sliced green onions, for garnish
Salt and fresh ground pepper, to taste

Directions
Cut steak into 1/2-inch cubes and season with paprika, salt and pepper, and then set aside.
In a mixing bowl, combine AUNT SUE'S® Raw & Unfiltered Honey, soy sauce, water, garlic, olive oil, rice vinegar, oregano and cornstarch, and then whisk until thoroughly combined. Set aside.
Heat vegetable oil in a skillet over medium-high heat until hot.
Add the steak cubes to the hot oil and cook for 2 minutes per side, or until browned and done. Then remove and set aside.
Pour 1/3 of the sauce and the steak bites into the skillet and pour the rest of the sauce over the steak. Cook for 1 to 2 more minutes, or until sauce starts to thicken. Remove from heat.
Transfer steak bites to a plate and drizzle with the pan sauce. Garnish with sesame seeds and sliced green onions. Serve with toothpicks and rolls for easy eating.
Honey of a Hobby
With a sweet freight, this beekeeper keeps on truckin'
"I run bees to support my trucking habit."
That might be a bit of an exaggeration, but as Paul Roeder shows you around his honey operation outside of Hebron, North Dakota, you see a nugget of truth.
Four semis, gleaming in the North Dakota sun, make up the family's other business – Roeder Trucking. The pride of the fleet is the 4,500-gallon tanker dedicated to delivering honey – one of only a handful in existence.
"We're one of the few lucky beekeepers that can haul our honey in a 4,500-gallon tank down to Sioux City, (Iowa), one of the distribution points for the Sioux Honey Association Co-op, which is headquartered in Sioux City.
"We don't have to barrel it up. It takes a lot of the labor out of it and saves us a lot of time and energy."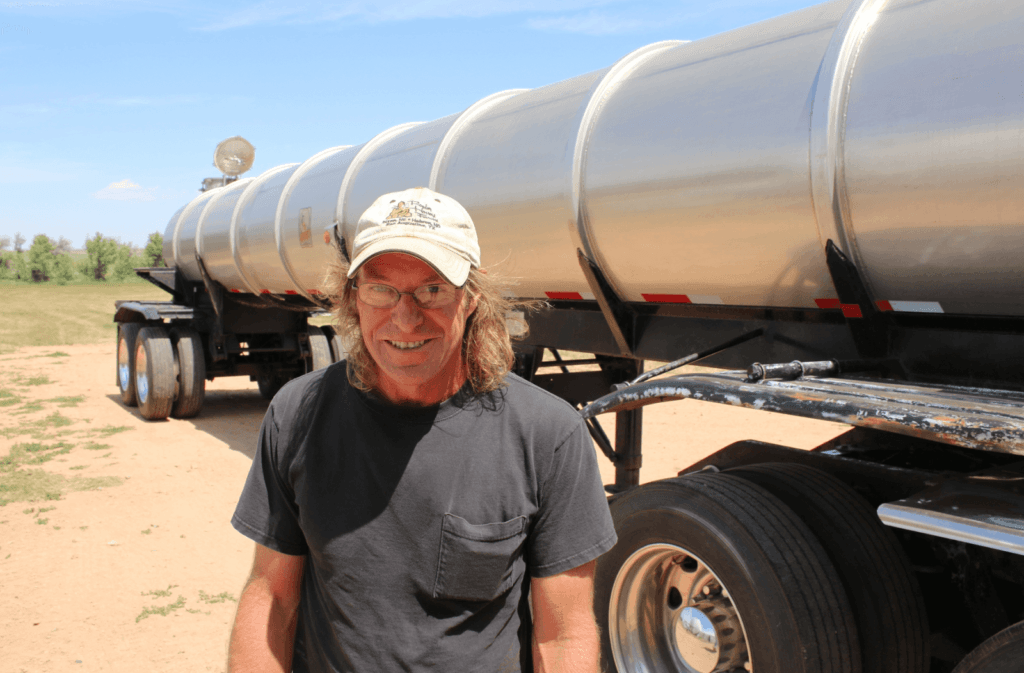 Honey has been the Roeder family business for some time. Paul and his brother John currently run the show. Their sister, Colleen, takes care of the office work. They became members of the Sioux Honey co-op in 2004.
But their family's honey-roots go back another generation. It all began in Randolph, Nebraska, known as the "Honey Capital of the Nation" based on the number of beekeeping families who once populated the area.
"My dad, Don Roeder, was just a kid that needed a job and ended up working for a local honey company in Randolph, which was Miller Honey Company out of Colton, California. They asked if he would go to California and he was more than willing to see the country, so he headed west."
"He eventually ended up back 20 miles from Randolph, bought a little bee outfit on sale and ended up in Dixon, Nebraska." Dixon was the location that started the Roeder Honey Farms' booming business and is still one of the locations for their honey production.
After creating a strong foundation in Dixon, Roeder Honey Farms began to look for other areas to expand the business, searching for better flower sources and better honey production. Paul and his family weren't the only ones in search of new fields, though. Another beekeeper decided to relocate after seeing a photo in a newspaper article. The photo captured workers building a dam in North Dakota. But what caught the eye of that beekeeper were the miles of yellow fields in the picture – a good sign that a beekeeping business could flourish in that area.
He was one of the original beekeepers to come up here and that's what got him up here. That picture in that newspaper. Not long after, other honey farms followed suit and moved to North Dakota, including Roeder Honey Farms.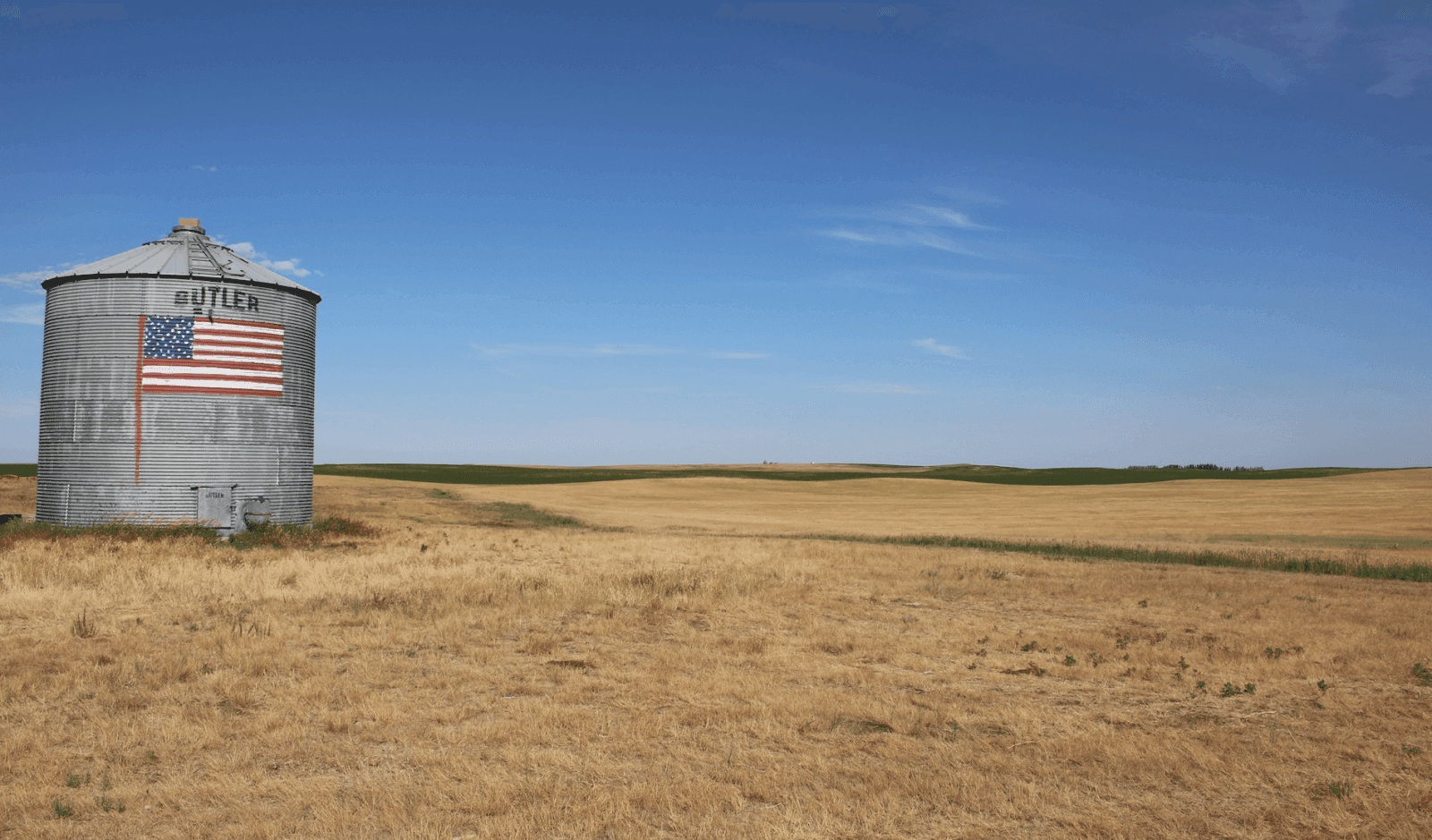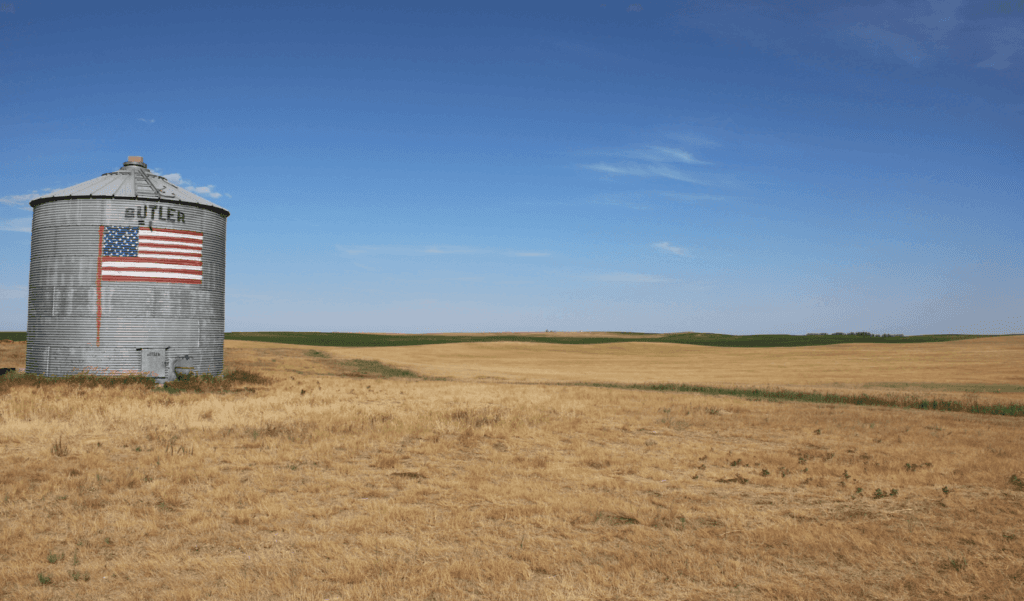 On the road again
While Paul enjoys the freedom and fresh air of being a beekeeper, there are also many challenges. One of them is having to be away from family for long periods of time as the team moves the bees from location to location.
"The hardest part about being a beekeeper is the traveling. You're away quite a bit. From North Dakota, we'll head to Texas in the fall. We'll winter the bees there."
Then, in late-January, early-February, Paul and his team run the bees to California for almond pollination.
"We're only there for a month or two," Paul continued. "We'll load them all back up, go back to Texas and then head back to North Dakota."
For Paul, it's also about the ability to connect with people from all around the country. As a beekeeper with many years of experience, traveling has become a natural part of continuing the traditions established at Roeder Honey Farms.
"We like to have a relationship with as many of our landowners as we can. We know them from all over the United States. It's amazing the vast amount of people that a beekeeper has to know to do his job. It's a lot of people.
"We're just local farmers. We're trying to do the best job that we possibly can and put the best product out there."
No one can deny the hard work that goes into being a beekeeper – the hours, time away from family, and daily activities of honey production. With the help of Sioux Honey, Paul and his family have been able to maintain their tradition – not only of being a family-run business but also being part of something bigger. Paul hopes these traditions will continue to a third generation once his nephew, Nic Roeder, takes over the business. Continuing the strong relationship with Sioux Honey will allow Roeder Honey Farms to be part of an excellent team, while also supporting the bees, the co-op and, yes, even Paul's trucks.
St. Patrick's Day Feast
7 Irish-flavored foods to celebrate the holiday – and lucky for us, they all include honey
You might think that a leprechaun's favorite food is a lucky cereal. Not so. That's just make-believe kiddie fodder for TV. In real life, ask any leprechaun and they will tell you: Their favorite food is honey. And not just any honey. Four out of five leprechauns prefer SUE BEE® honey over regular honeys.
That pot of gold at the end of the rainbow? It's a pot of gold, all right – one filled with sweet, golden honey.
But you don't have to chase rainbows this St. Patrick's Day to celebrate with SUE BEE® honey or AUNT SUE'S® Raw & Unfiltered Honey. Our Sioux Honey Association Co-op leprechauns, er, beekeepers, have collected all the honey you'll need to make your St. Paddy's Day feast a lucky one. Below, you'll find seven lucky recipes for Irish staples – of course, our versions all include honey. Happy St. Patrick's Day – and don't forget to wear green.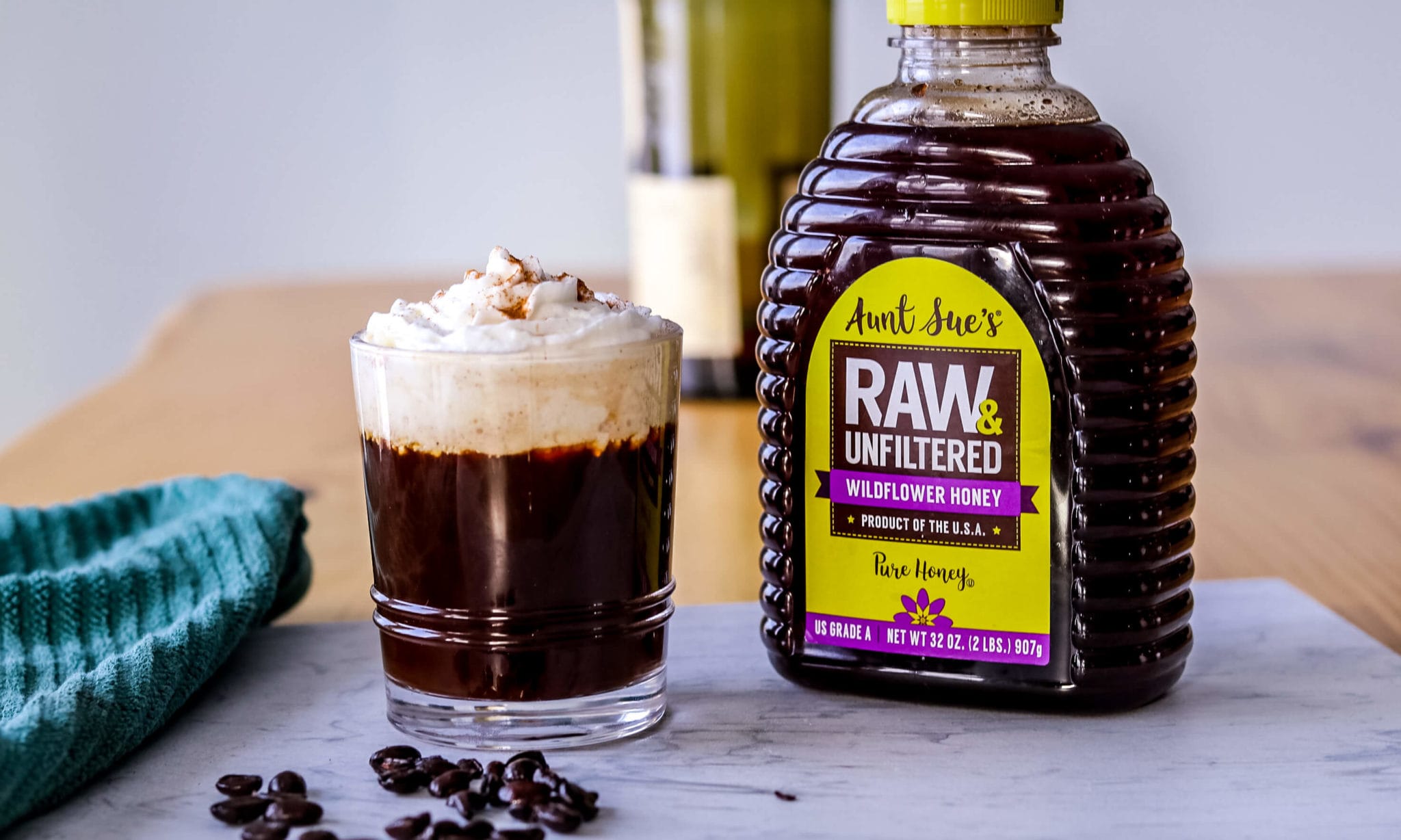 Get ready for the festivities first thing in the morning by adding a twist to your usual cup of coffee. Our Honey Irish Coffee is a classic whiskey cocktail, and one cup will have you ready for a full day of celebrating. Get the recipe.
This quick-and-easy bread will bring the taste of the Irish to your kitchen. And the best part? It's incredibly easy to make, and you don't even have to wait for it to rise before baking. Get the recipe.
Irish or not, would it be a real St. Patrick's Day celebration without corned beef? Feast on this traditional recipe that features a unique, delicious honey glaze. Get the recipe.
If corned beef isn't your thing, we have the perfect alternative for you. Add this hearty and flavorful Irish Pot Roast to the dinner menu, and you won't be disappointed. Get the recipe.
Complement your Honey-Glazed Corned Beef with this Sweet and Sour Cabbage recipe. Sandwich the two between sweet rolls and a little mustard, and feast on some delicious sliders for lunch or dinner. Get the recipe.
Oreo crust brimming with mint-flavored filling and sweet honey makes for one mouthwatering pie and another superb St. Patty's dessert option. Just make sure you hop up and grab seconds before it's gone! Get the recipe.
Forget the nightcap and embrace the dessert. This decadent cheesecake is full of sweet honey and Irish cream liqueur and is best served drizzled with chocolate sauce to take your taste buds the extra mile. Get the recipe.