Sioux Honey Co-op's Rob Towler keeps beekeepers on track
Rob Towler didn't know much about honey when he began working at Sioux Honey 17 years ago. But he knew how to schedule honey pickups for the co-op's 200+ beekeepers, get it to distribution centers where it's bottled and packaged, and then get it delivered to grocery shelves in stores across the United States in a timely and efficient manner.
That's because Rob has a degree in transportation and logistics from Iowa State University. At Sioux Honey, Rob works in the Member Relations Department where he helps coordinate collecting millions of pounds of honey each year from Sioux Honey beekeepers – ranging from bee yards in Hawaii to California to Florida.
"One of my main focuses is lining up trucks for the beekeepers to ship their honey and delivering them empty drums or totes," he says. "Anything related to raw honey, our department handles."
Rob, the assistant VP of membership and community, was born and raised in Sioux City, Iowa, where the honey co-op began, and where its headquarters is located today.
Rob might not have known much about honey when he started at the co-op, but he certainly does now. From determining honey color profiles and various floral sources, to being able to detect the difference between clover and wildflower honey, Rob is one of our honey experts today, which is why we wanted to sit down and ask him a few questions we thought our honey lovers might find interesting.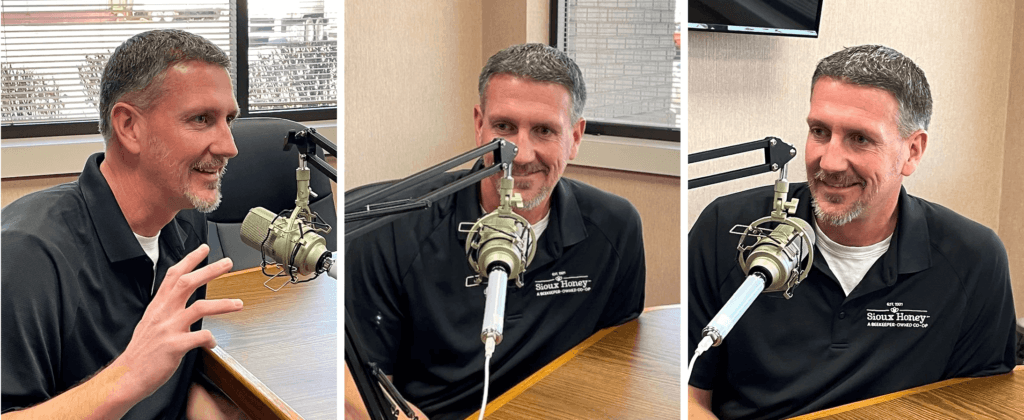 Q: Where does Sioux Honey get all its honey, and where are the majority of co-op beekeepers located?
Rob: Well, most of the honey in the United States is produced in the upper great plains – South Dakota, North Dakota, Montana, Wyoming, Minnesota. … So that's where a large concentration of our members are. But we have member beekeepers all over the U.S., including some in Texas, some in Florida, California – we've got a pretty good number out there – and some up in the Pacific Northwest – Oregon, Washington, Idaho.
Q: Is it hard to become a beekeeper member of the Sioux Honey Co-op?
Rob: We take applications, but we are very selective. First, we conduct stringent testing on all member honey. We have an in-house lab where we test the honey to make sure it's pure honey and that the quality is the best available. We also want to get to know the beekeepers personally and to understand their beekeeping practices. That's one of the differences between us and other honey packers. We know the beekeepers, we're familiar with them and their families. Most of them are 2nd, 3rd, 4th generation beekeepers that have always been members of Sioux Honey.
Q: Are any family members of the original five Sioux Honey beekeepers still part of the co-op?
Rob: We don't have any kin of the original five, but we do have a member up in Minnesota whose family's membership certificate number is 44. I believe they are on their 4th generation of family members. To put that in context, we're now on membership certificate number 3,083 as far as how many beekeepers we've had over the years.
Q: Are these long-lasting relationships with the beekeepers part of what makes Sioux Honey so special?
Rob: Certainly, the relationships we have with the beekeepers, but also the fact that they are all based in the U.S. Our SUE BEE® and our AUNT SUE'S® honeys are all domestic honey – it's all produced by U.S. beekeepers and we're very proud of that. That's why our testing is so extensive, so that we make sure that we've got the purest honey on the shelf.
Q: What have been some of the biggest challenges for beekeepers in recent years?
Rob: One of the biggest challenges each year for beekeepers is keeping their bees alive. The varroa mite is an issue every year and destroys thousands of hives. And colony collapse disorder – where entire colonies of bees disappear overnight for unknown reasons – is a big factor in honeybee populations being down in recent years. But beekeepers continue to rebuild hives and create new hives to make up for ones that are lost. If it weren't for the beekeepers, bee populations wouldn't survive.
Q: So-called "fake" honey has been in the news in recent years. Can you explain what it is and where it's coming from?
Rob: Fake honey can be a few different things. Adulteration is where corn syrup would be added to the honey. Corn syrup is a lot less expensive than pure honey, so, sometimes, whoever it may be, they may dilute the honey with corn syrup, which like I said, we would call it adulteration.
Q: How many pounds of honey is collected by beekeepers in the U.S. in a given year?
Rob: The domestic honey crop can vary from 140 million pounds up to probably 200 million pounds. And that obviously depends on any given year with crop conditions, and this year it was a drought around most of the country. So the overall domestic crop was down.
Q: Did the recent COVID pandemic affect the honey business the way other commodities were affected?
Rob: The demand for honey went up quite a bit during COVID; everyone was eating at home, baking at home, restaurants weren't open. So we did see consumption and sales go up during COVID. As for the supply, that's based so much on crop conditions. And, like we said, drought this year made for a short crop. So COVID didn't really affect that end of the business, the production end. But our sales were strong through COVID because people were forced to stay home and bake.
Q: How does Sioux Honey keep up with trends, like changing tastes and new flavors?
Rob: We've got a few new products that we've released over the last year. We've got three flavored honeys – a vanilla, a lemon and a strawberry – and that's, again, a 100% pure U.S. honey with natural flavorings. And then also we've got a hot honey, which is, like it says, hot. It's spicy.
Q: Before we let you go; we need to know: What's your favorite way to eat honey?
Rob: On ice cream, for sure.
Is Honey Vegan?
Hot debate swirls around the question, and it's not a simple answer
Infants younger than 1 year old should not eat honey. That's because their young, undeveloped bodies aren't ready to digest it. So, aside from the first 12 months of life, most humans can enjoy the sweet, natural golden goodness of honey.
However, some people have strict diets. Fortunately, honey is gluten free. Honey is kosher, too, for those who follow the Jewish dietary regulations of the kashrut. But what about honey for those who adhere to a vegan diet? Is honey considered vegan?
Yes … and no.
Vegans avoid foods derived from animals. That means no meat, eggs and dairy. Because veganism is a way of life and not simply a diet, vegans also avoid products made from animals, such as leather shoes, wool scarfs, fur coats, etc. Nevertheless, we're talking about diet here, and the question remains: Can vegans eat honey?
A strict vegan will say no. Honey comes from an animal. End of story. But, as ESPN's Lee Corso famously says, "Not so fast, my friend."
That's because some vegans say it's OK to eat honey. They say honey comes from flower nectar, and honeybees are simply carriers who turn the nectar into honey and release it.
On the other side, strict vegans say that honey exploits the labor of bees and that eating the honeybees' energy source is immoral.
But wait, if you can't eat honey because it depends on the labor of a bee then you also can't eat any other foods that depend on the labor of a honeybee, right?
If that were the case, the non-honey-eating vegans would have to skip the blueberry-almond-milk smoothies and avocado toast, too.
The honey-eating vegans point out that farmers employ honeybees for vital pollination services for foods like almonds, avocados, blueberries, watermelons, apples, lettuce, oranges and so on. The farmers hire beekeepers to bring their honeybees to their fields to provide those crucial pollination services.
The honey-eating vegans believe that honey is just a byproduct of the pollination of these plants and crops, and, therefore, honey should be acceptable to eat.
Our take
At Sioux Honey, we want as many people as possible to enjoy our wonderful honey, which is collected by our co-op member beekeepers across the United States. We can only speak for our Sioux Honey beekeepers, but we know that our co-op members go above and beyond to protect their beloved honeybees. They do their best to shield their honeybees from predators like varroa mites and small hive beetles, and they make sure they have plenty of good, quality land on which to forage.
Furthermore, our co-op beekeepers who provide their honeybees to farmers for vital pollination services care first and foremost about their bees. Before taking their bees to places like California for the almond pollination season, they take them to warmer southern climates so they can continue to forage in the fall season, build up strength and store honey for the trip to sunny California in late-February.
We know that without the pollination services of hard-working honeybees, the world's food supply would be greatly affected. In the U.S., we can thank honeybees for about one-third of the food we eat. That's because the commercial production of more than 90 crops rely on honeybee pollination. In the U.S. alone, honeybees pollinate an estimated $15 billion in added crop value.
And by the way, we haven't even mentioned other products derived from honeybees and their hives, like wax for candles, lip balm, cosmetics, artists' materials, wood polishes, and waterproofing. Beeswax is also used as binding agents, time-release mechanisms and drug carriers for pharmaceuticals. The list goes on and on.
The point is, our Sioux Honey Co-op beekeepers love their honeybees. They take care of them and make sure they live healthy and strong lives. And if we are able to enjoy the honey produced as a result of all the pollinating and nectar collecting honeybees do, then we are happy to share that honey with everyone in the world.
Cheers to Winter
Don't fear the cold, embrace it with these delightful drinks
Jack Frost and holiday gatherings make for the perfect mix when it comes to warm drinks. Need some ideas for your next holiday party? Jazz things up with one of these sweet concoctions.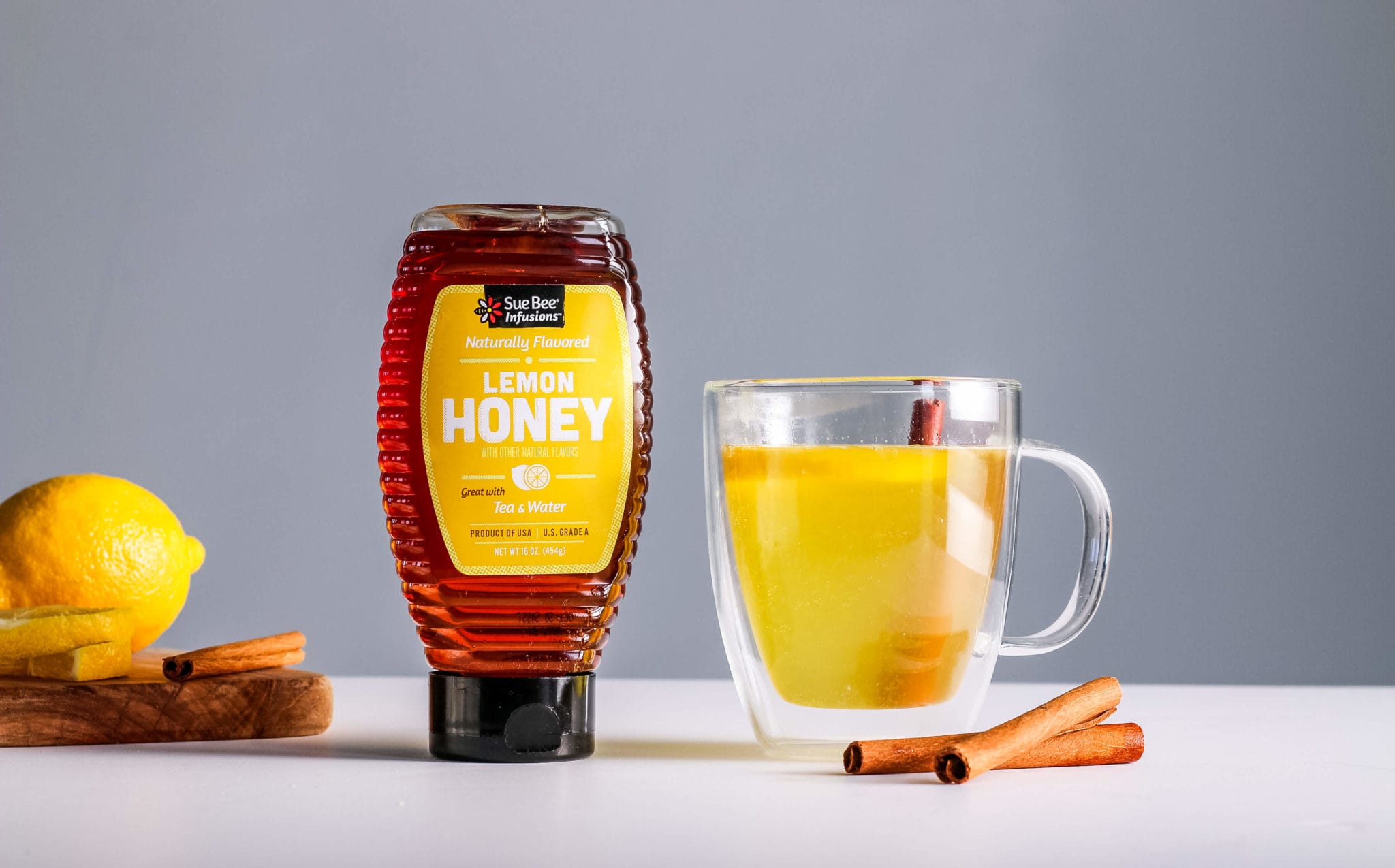 SUE BEE® Honey Hot Toddy
This one is for after the kids are tucked into bed, or perhaps after a late night of shoveling snow.
Ingredients
3/4 cup water
1 ½ oz whiskey
3 tsp SUE BEE® INFUSIONS™ Lemon Honey
2 tsp lemon juice
1 lemon twist
1 cinnamon stick
Directions
Bring the water to a simmer in a teapot and then pour the hot water into a mug. Add the whiskey, SUE BEE® honey, lemon juice and stir. Garnish with a lemon twist and cinnamon stick.
Peanut Butter Hot Chocolate with Honey
This one comes from our friends over at the National Honey Board. (Of course, we use SUE BEE® honey for ours!)
Ingredients (Makes 4 servings)
4 tbsp SUE BEE® honey
4 cups milk
4 tbsp cocoa powder
4 tbsp creamy peanut butter
Directions
In a medium-sized saucepan, add milk and honey and heat over medium-high heat. When the mixture comes to a boil, add the cocoa powder. After cocoa dissolves, turn heat off and add the peanut butter. Stir the ingredients with frequent and quick strokes so that the peanut butter blends well and the hot chocolate reaches a creamy, thick consistency. Serve immediately.
Hot Apple-Pineapple Cider
Are the cousins and in-laws battling for control of the remote control again? Calm everyone's holiday spirit with a warm glass of this sweet, fruity cider.
Ingredients (Makes about 14 servings)
2/3 cup SUE BEE® honey
1 can (about 48 oz) pineapple juice
2 qt apple cider
2 cups orange juice
1 tbsp whole cloves
2 or 3 cinnamon sticks
Directions
Combine all the ingredients into a large stock pot over medium to high heat. Bring to a boil and then reduce heat and simmer for about 10 minutes. Strain out cinnamon sticks and cloves before serving.
Vanilla Cranberry Mimosa
Ingredients
1/2 tbsp SUE BEE® INFUSIONS® Vanilla Flavored Honey
1 1/2 oz vodka
1 1/2 oz cranberry juice
Sparkling wine
Fresh cranberries (for garnish, optional)
---
Directions
Combine honey, vodka, cranberry juice and ice in a cocktail shaker.
Shake until well mixed and chilled.
Strain mix into champaign flutes and add sparkling wine.
Add cranberries if desired.
Soothe Dry Skin
Try our natural mixture – with AUNT SUE'S® Raw & Unfiltered Organic Honey – this winter
Ever had skin so dry you've contemplated sleeping with your hands submersed in buckets of lotion? No matter how much we try to stay ahead of the season's dry air, it seems like, every winter, Jack Frost wreaks havoc on our skin regardless of how much water-based lotion we use. Luckily for us, we have a homemade moisturizer to help soothe dry, chapped skin.
It has only four ingredients, and one of them is AUNT SUE'S® Raw & Unfiltered Organic Honey. We pair our honey – which has minimal water content – with other natural ingredients to create a buttery solution that offers relief to dry skin. Try a batch this winter and let us know how it works.
Ingredients
1 cup AUNT SUE'S® Raw & Unfiltered Organic Honey
16 oz organic extra virgin coconut oil
16 oz organic unrefined shea butter
2 tbsp organic pure vanilla extract
Directions
Melt and blend honey, coconut oil and shea butter in a double boiler over medium heat while stirring constantly.
After the ingredients are thoroughly blended, remove from heat and place in the refrigerator to solidify the mixture.
Once the mixture is solidified, scoop pieces into a bowl and use a stand mixer or hand mixer to whip the contents.
Finally, add and blend in the vanilla. You can also add essential oils to give the cream a preferred scent, if desired.
This recipe will fill 10 half-pint mason jars.
Let's Bee Grateful
Thanksgiving dinner tables sure would look empty without honeybees
Turkeys get the spotlight on the Thanksgiving Day stage – they're the lead singer in this merry band of edible delights. But it's all the side players who really make the holiday sing.
We're talking dishes like candied yams, glazed carrots, corn muffins and pumpkin cheesecake – not to mention classics like cranberry sauce, mashed potatoes, butternut squash, roasted veggies, like asparagus and broccoli, and fruit salad with blueberries, apples, cherries, melons and so on.
None of those side dishes would be possible if it weren't for honeybees, which are responsible for pollinating those foods – and many more. Simply put, they wouldn't exist if not for the honeybee.
So, this Thanksgiving, while you're giving thanks for family and friends, try to throw in an extra thank you for the honeybee. We can't imagine life without those foods and, of course, our favorite food of all time: honey.
Have we tickled your tastebuds?
If you're looking to jazz up your Thanksgiving meal this year, we have a few recipes that will be the talk of the table. And, if you guessed that they all include honey as an ingredient, well then, you should be extra thankful this year because you are one smart honey lover!
Try our Honey-Glazed Carrots, Candied Honey Yams, Maple Honey Corn Muffins, Honey-Spiced Pears or Pumpkin Cheesecake this year. And, for the adults at the table, our Honey Mulled Wine is a popular beverage during the holidays.
Thank You, Veterans!
As we honor our military, let us also note the wartime efforts of honeybees
The first veterans of the United States were the ones who served during the American Revolution. They fought for the Continental Army, which was created in 1775 when colonial militias formed a common army under George Washington (who, incidentally, kept honeybees at his Mount Vernon estate).
Since then, the U.S. has declared war 11 times and fought in numerous conflicts across the globe. According to the U.S. Census Bureau, more than 41 million Americans have served in the military over the course of our nation's history (In World War II alone, more than 16 million served in the U.S. military, the most at any point in history). That means we are sending out more than 41 million "Thank yous!" this Veterans Day, November 11.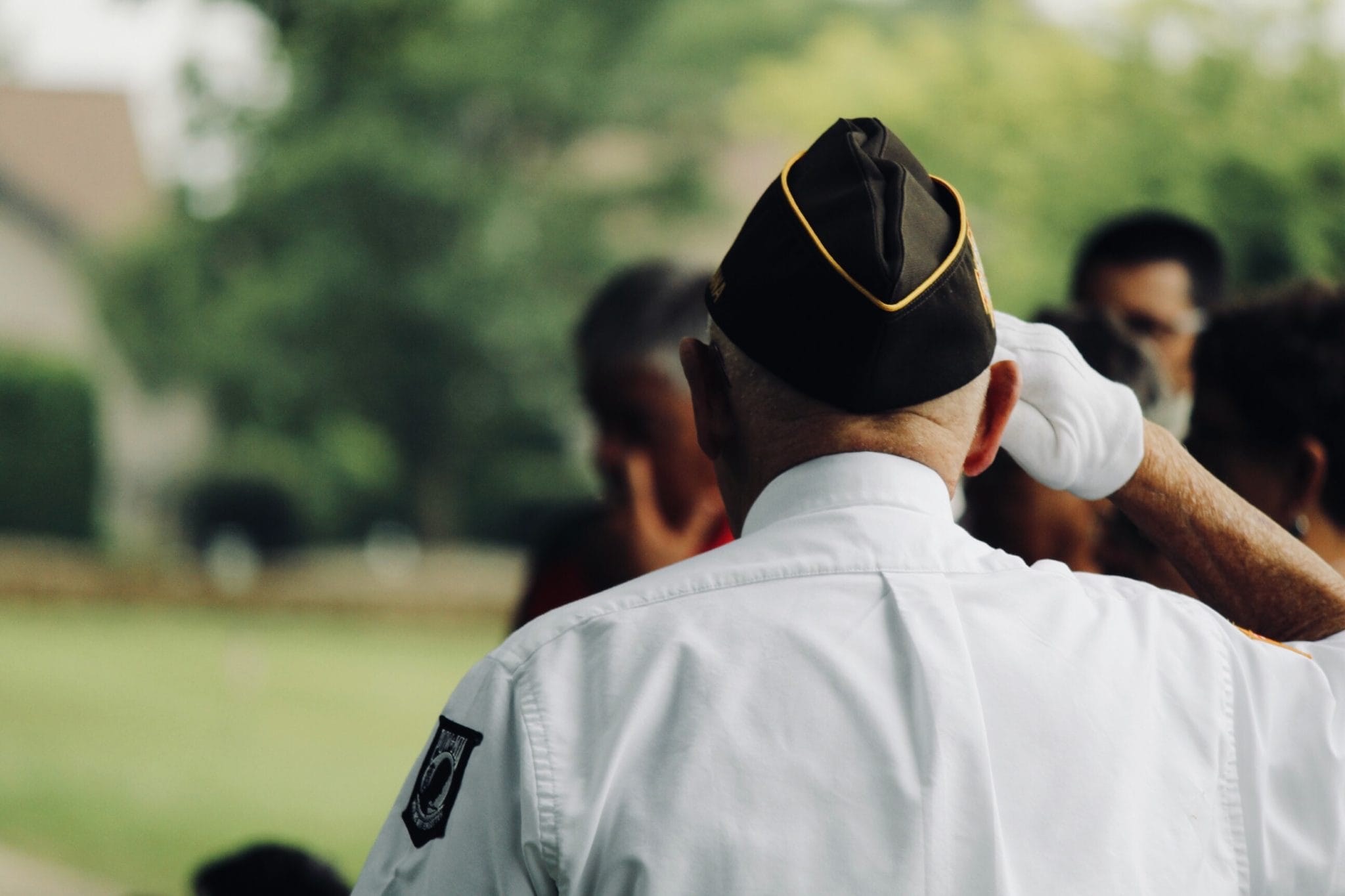 Helping the war effort
WWII was a time when all Americans did their part to help the war effort, including the country's beekeepers, who played a significant role. The Department of Agriculture deemed the honey industry "essential" during wartime and requested a 20% increase in production in 1942 just to keep up with demand for both honey and beeswax (not to mention honeybee pollination of vital foods). Like other Americans, the Sioux Honey Co-op beekeepers joined in the effort to collect and deliver as much honey as possible.
Why was honey so essential? For one, the Japanese occupied many of the countries from where the U.S. had previously purchased sugar. That led to a sugar shortage, and as we know, honey is an amazing substitute for sugar, and many prefer honey over sugar because of its natural goodness. Using honey in everything from coffee and tea to daily meals and baking increased during this time.
But it wasn't just honey that went to the war effort. According to the National WWII Museum, our beekeepers' honeybees were also counted on for their wax, which was collected and used to coat airplanes, cables and pulleys, as well as adhesive tape, varnishes, canvases, awnings and more. Beeswax helped prevent rust and aided in waterproofing, too.
"Practically all types of ammunition were coated with beeswax, from rifle cartridges to 16-inch shells," says American Bee Journal. "Beeswax did not expand in desert heat nor crack in polar cold … Beeswax was used to desensitize gun powder for naval guns, as a corrosion inhibitor for brass casings and as waterproofing for leather."
Honeybees and their honey and beeswax were so popular and appreciated during the war, there was even a contest for the best slogan to celebrate the honeybee's efforts. The one that won was "Let the Bees Wax the Way to Victory."
So, today (and every day), let us celebrate the millions of men and women who have served in wars and conflicts near and far. To them, we say thank you! Thank you for your service and sacrifice so that we can continue to live free.
A New and Improved Caramel Apple
Substitute sugar with SUE BEE® honey in this tasty autumn treat
Caramel apples are a sweet delight any time of year but, in the fall, when apples are fresh and the Halloween season looms, these treats are a must-have.
Unfortunately, they traditionally come with lots of sugar. But don't fret, we've solved that problem by using SUE BEE® honey instead. Our honey gives the caramel a rich, creamy texture without all the graininess that comes with sugar.
Ingredients
1 1/4 cup SUE BEE® honey
6 fresh medium-size apples
1 cup heavy whipping cream
2 tbsp. butter
1/2 tsp. sea salt
1 cup crushed cashews and/or colorful sprinkles
6 popsicle sticks
Red food coloring if you want that familiar caramel color
Directions
First, whisk your SUE BEE® honey with the whipping cream, butter and salt in a saucepan over medium-high heat until it begins to bubble. Then, reduce the heat to medium. Stir in some of the red food coloring (if you want) to get the color your desire.
You don't want the caramel to burn or bubble up, so continue to whisk it. Cook until it reaches a temperature of 250F, with the caramel reaching a thickened state.
Next, pour the honey caramel into a mixing bowl and place the bowl into a larger bowl with ice. Stir the caramel until it cools and begins to thicken.
Then, insert a wooden stick into the core of your apples and roll them in the caramel until coated. If you want to jazz up your honey-caramel apples, roll them in chocolate baking chips and/or sprinkles, and place them on a piece of parchment paper to cool completely.
Enjoy!
Protected: Beehive Stencil
Protected: Honeycomb Stencil
Protected: Honeybee Stencil
Honey Halloween Carving
Try these honeybee-themed stencils on your jack-o-lanterns this year
This is for all the aspiring Michelangelos amongst our Sioux Honey lovers out there – so get out your pumpkin-carving tools and get ready to sculpt a masterpiece.
Using our honey-themed pumpkin stencils, you can carve a jack-o-lantern that the whole neighborhood will admire. Choose from a honeybee, beehive or honeycomb. Carve all three for a hat trick of honey Halloween fun!
When you're done, share your work of art with us. You can tag us @SueBeeHoneyUSA on Facebook or @SueBeeUSA on Instagram.
Click on the stencils below to print, or download to save and print later.