Red, White and Blue Honey Fruit Salad
Ingredients
1 cup of blueberries
1 cup of blackberries
1 jicama or dragonfruit cut into star shapes
Honey Lime Dressing
2 tbsp of AUNT SUE'S® ORGANIC Light Amber honey
2 tbsp of lime juice
1 tsp of chia seeds
---
Directions
Cut jicama or dragonfruit into star shapes using a cookie cutter. Mix all fruit into large bowl and set aside. In smaller bowl, mix together honey, lime juice and chia seeds. Pour over fruit, toss and serve.
Patriotic Picnic-pleaser
A red-white-and-blue salad just in time for 4th of July celebrations
Here's a healthy-minded salad that is festive, fun and delicious, too! Best of all, it's quick and easy to make, and it comes with a savory honey-lime dressing. Yum!
All you need are strawberries, blueberries, blackberries, raspberries, and jicama for the white stars. Cut those up into even pieces and toss them in a bowl.
You can keep it simple and drizzle AUNT SUE'S® Raw & Unfiltered Organic Honey over the fruit or add a delicious honey-lime dressing. Here's how to make it.
Honey-Lime Dressing
Ingredients:
4 tbsp AUNT SUE'S® Raw & Unfiltered Organic Honey
4 tbsp fresh lime juice
Minced zest of lime
Directions:
Wisk ingredients together.
Fruit Salad Ingredients:
12 oz each of blueberries, blackberries, raspberries
2 cups sliced strawberries
1 cup star-cut jicama
Fruit Salad Directions:
Toss fruit in a bowl and add dressing, then toss some more. Happy Fourth of July!
Summer Sunburn Relief
Try AUNT SUE'S® Raw & Unfiltered Honey the next time the sun gets the best of you.
"But I was only out there 15 minutes!"
Have you ever said that when getting a sunburn after being outside for just a few minutes? It doesn't take long for the sun's rays to wreak havoc on our skin, so please be careful this summer when you're having fun in the sun.
Of course, no matter how careful we are, sunburns happen. And when they do, reach for a bottle of AUNT SUE'S® Raw & Unfiltered Honey. That's right, honey!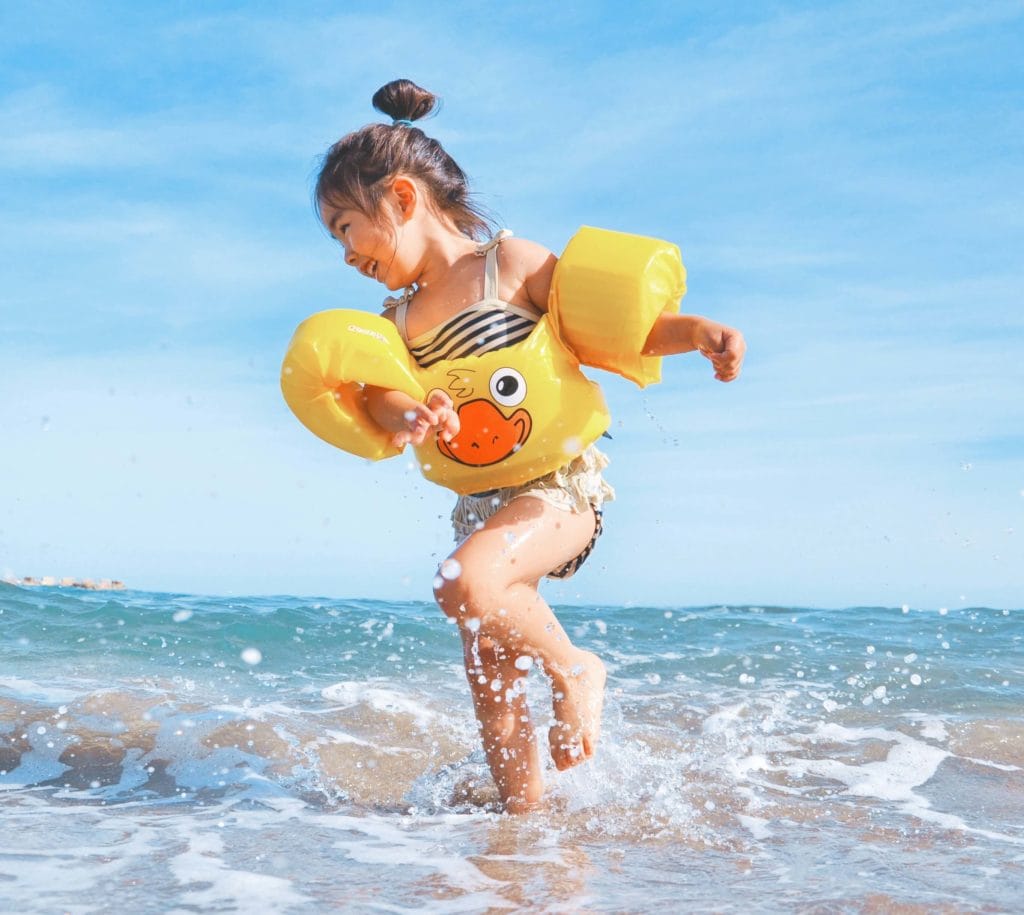 Why honey?
Honey has proteins and enzymes that can aid healing from a sunburn. Plus, honey is naturally moisturizing, antibacterial and anti-inflammatory, and it can help soothe your sunburn in no time.
"In studies of quick and easy treatments to soothe mild burns, scientists have found that honey has antibacterial and anti-inflammatory properties that may promote healing. One study in 2006, examining results of more than a dozen previous studies, found that small, non-serious burns healed faster when treated with gauze and a dash of honey (on average) rather than those treated with antibiotic creams and other dressings."[1]
One way to use honey on sunburns is to apply honey directly to a sunburn or to a bandage. The moisture from the honey is absorbed into the skin, leaving a dry coating. You can also apply a thin layer of honey to the sun-damaged area and let it sit for about 15–30 minutes before rinsing or dabbing it off with a warm washcloth. It's as easy as that!
[1] "Honey Can Soothe a Burn," – New York Times, 2008, https://www.nytimes.com/2008/02/19/health/19real.html
Here's to a Sweet Grilling Season
4 tips to make your patio cookouts a success this summer
Backyard culinary artists use grills as their canvas, and they are known for their "secret" methods of creating edible works of art. Well, we have a secret grilling method, too, but since we don't like keeping secrets, we're just going to go ahead and say it: SUE BEE® honey is the secret to making summer grilling a sweet affair!
Adding honey to your grilling is ideal on so many levels. From helping meats maintain their moisture to spurring browning and crisping, honey is a versatile tool to have at your side when you're building a patio picnic.
We've talked about grilling with honey tips in the past, but they are worth repeating as we officially begin the grilling season.
1. Add another liquid to SUE BEE® honey. Honey by itself can, naturally, be a sticky endeavor when you try to brush it straight onto your grilling items. Instead, try mixing honey with another liquid, like a juice or oil. This makes the golden goodness easier to apply. Additionally, adding honey itself directly to meats can char the surface. By adding a bit of orange juice, fresh pineapple juice, or even a touch of water to the honey, you shouldn't have any problem putting the honey mixture in direct heat. One of our favorite ways to grill with honey is to mix SUE BEE® honey, soy sauce, balsamic vinegar and Dijon mustard. It's a salty-sweet combo that packs a mouth-watering zing.
2. On the other hand, sometimes crispy and charred is preferred. If you like your food to have a little crunch when it comes off the grill, try glazing it first with SUE BEE® honey. It's the perfect way to add texture, color and, of course, flavor to popular dishes like pork, chicken, vegetables and even fruits. Help make the honey easier to brush onto grilling items by running warm water over your honey container. Or let the bottle of honey sit in a bowl of warm water for a few minutes before applying.
3. Heat zones are crucial. Creating different temperature zones on your grill is also important for grilling with honey. One for direct heat and one for indirect heat. With a gas grill, this is easily accomplished. With coal grills, you can separate the coals accordingly. In a zone of indirect heat, you can apply your honey-juice mixture freely to the outer surface of your meats – pork or chicken are great options – to lock in flavor and moisture while contributing to the caramelization process. For a beautiful mahogany finish and a fast sear, move your honey-glazed meats into the area of direct heat and cook briefly.
4. Here comes the marinade parade! Marinades are great for honey since they also help meat hold moisture. Honey can also help marinades last longer while adding the perfect amount of sweetness. Add 1/4 cup of SUE BEE® honey to your favorite mixture and toss and mix the marinade in a plastic food storage bag with the meat. Then refrigerate and let it soak. For fish and vegetables, which tend to absorb flavors faster, marinate for 30 to 40 minutes. For chicken, soak for at least 2 to 8 hours (overnight is even better). Meats like pork or beef also need 2 to 8 hours for the flavors to develop.
Try these griller thrillers
Now that you have the scoop on grilling with honey, here are three of our favorite summer grill recipes:
Summer Spirits
Cheers to summer weather and sunny drinks
The grill is all fired up, and you're BBQ smells on point because you've read all about our grilling with honey tips. Now you can sit back and enjoy a cool one. But wait! Before you reach into the cooler for a mixture of barley and hops, consider trying one of these tasty cocktail ideas that are a sweet substitute to the ol' stand by.
These colorful concoctions are the perfect adult beverage for your next patio picnic, and if you haven't already guessed it, we'll confirm it – yep, they all include our favorite ingredient: Sioux Honey – and for these recipes: SUE BEE® INFUSIONS™ Strawberry, Lemon and Vanilla Honeys. Sweet summer sippers indeed!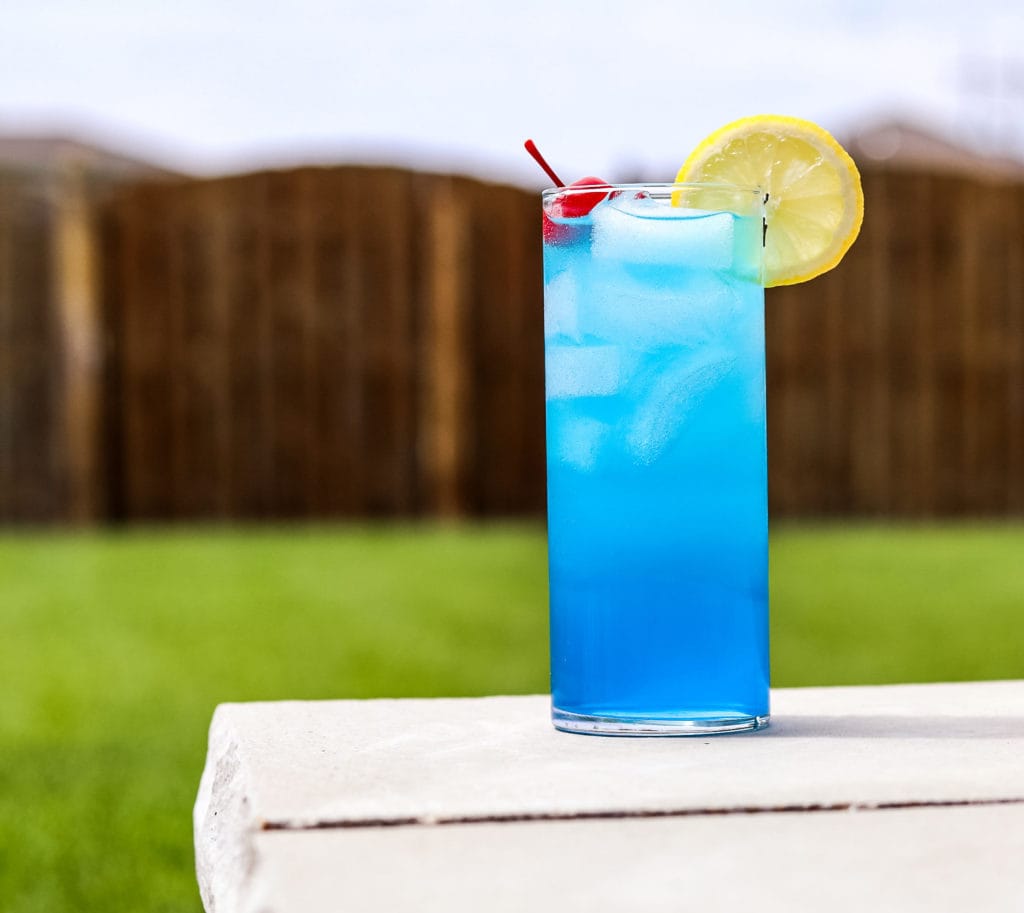 Blue Lagoon
Ingredients
1 ounce vodka
1 tsp of SUEBEE® INFUSIONS® Lemon Honey
1 ounce blue curaçao
4 ounces lemonade
Lemon wedge (for garnish)
Directions
Put all ingredients into shaker. Shake well and pour over ice. Garnish with lemon wedge.
Summer Sea Breeze
Ingredients
4 ounces grapefruit juice
2 ounces Cran-Strawberry juice (or regular Cranberry juice)
1 tsp SUEBEE® INFUSIONS® Strawberry Honey
1½ ounces vodka
Strawberry for garnish
1 tablespoon of sugar
Directions
Put juices, honey and vodka in shaker. Shake well. Pour drop of honey on your finger and coat the edges of your glass. Dip glass in sugar to coat the rim. Pour shaker mixture over ice in glass. Garnish with strawberry.
Honey Spritzer
Ingredients
2/3 cup SUEBEE® INFUSIONS® Vanilla Honey
1/2 cup water
1/4 cup fresh lime juice
4 cups chilled champagne, white wine or seltzer
Directions
Bring honey and water to a simmer in a saucepan. Cook, stirring, until honey dissolves. Let cool completely. Stir in lime juice. Power over ice. Top with champagne, white wine or selzter. Garnish with lime.
Honey + Oats = Mmm!
3 overnight oats recipes (with honey) that are oh-so yummy
Overnight oats are nothing new. But, my goodness, there seem to be a dozen new overnight oats recipes posted on the internet every day.
That's because there probably are. Just google "overnight oats," and the list of recipes is seemingly endless. "Cinnamon Roll Overnight Oats," "Blueberry-Cashew Cream Overnight Oats," "Strawberry Cheesecake Overnight Oats," "Jim's PB & Honey Protein Punch" – the list of recipes goes on and on. Best of all, there is no right or wrong way to make overnight oats, and the customizable toppings make this health-minded meal one of the most versatile around.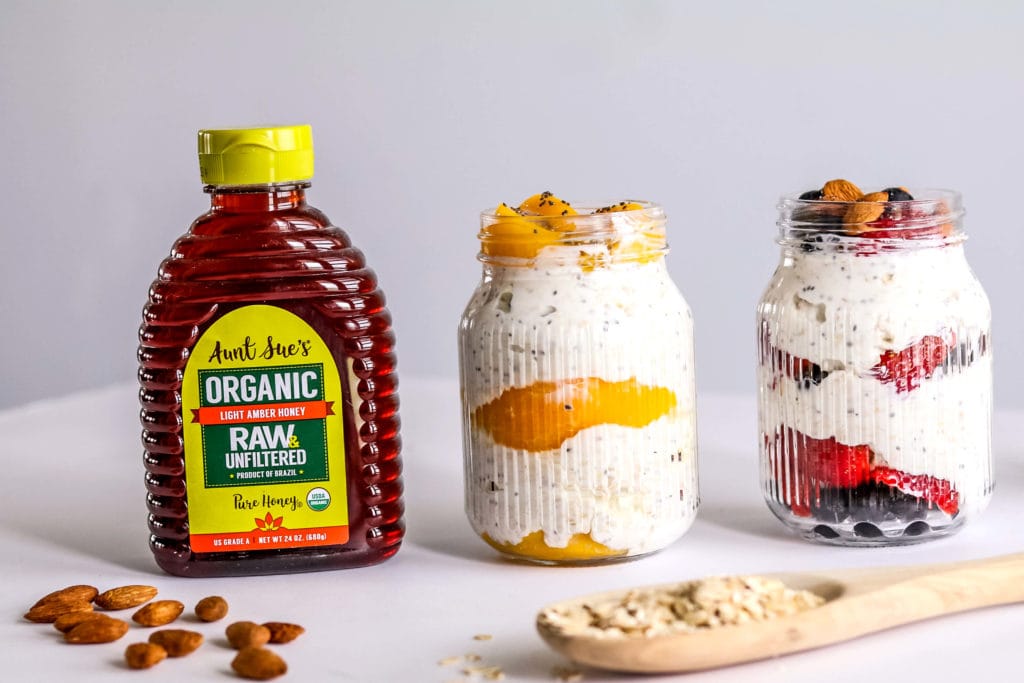 Create your base
No matter which kind of overnight oats we make, we always have a few must-have ingredients:
Oats: It's in the name, right? Rolled oats offer fiber, protein, magnesium, potassium and omega-3 fatty acids, among other things.
Honey: Oats by themselves are a bit plain, so we always add a natural sweetener like AUNT SUE'S® Raw & Unfiltered Honey. We like the naturalness of honey rather than refined and overprocessed sugar. Keeping it natural and pure is our motto.
Almond milk: You can use any milk, but this is our favorite because our beloved honeybees are the primary pollinator for the U.S. almond crop.
This is an ideal base to get you started. In fact, this is all you need for the "overnight" part. After that, the toppings are endless.
To get the "overnight" part, stir these ingredients together in a jar, top it with a cap or a food wrap and place it in the refrigerator. Let the oats soak for at least two hours. Overnight is best, but we often make ours in the morning before heading to work. We'll place it in the refrigerator at work and by lunchtime, voila! We have a delicious and nutritious-minded lunch.
Add toppings
As we mentioned, there are no rules, so you can add your toppings all at once, or after your oats have had time to soak. Those toppings can range from fresh fruit and dried fruit to nuts; seeds; coconut flakes; yogurt; peanut butter; protein powder; chocolate chips; spices like cinnamon and nutmeg; etc.
3 combinations we love
Everyone has their favorite combinations; here are three that we enjoy:
Jim's PB & Honey Protein Punch
Ingredients:
1 cup rolled oats
1/2 cup AUNT SUE'S® Raw & Unfiltered Organic Honey
1 cup almond milk (unsweetened)
1 tbsp chia seeds (rich in nutrients, including fiber, magnesium, protein, calcium and iron)
2 tbsp peanut butter (or 12g of powdered peanut butter) for more magnesium and protein
2 tbsp of plain nonfat Greek yogurt (great source of calcium, magnesium and phosphorus)
1/3 cup chocolate chips
1 scoop (30g) protein powder
Directions: For this one, Jim adds all the ingredients together in a 1-quart Mason jar, shakes vigorously and then refrigerates overnight. In the morning, it's ready to be devoured! So good!
Strawberry Cheesecake Overnight Oats (from fitfoodiefinds.com)
Ingredients:
1 cup rolled oats
1 cup strawberries, diced
1 tbsp chia seeds
Pinch of salt
1 cup almond milk (unsweetened)
1/2 cup nonfat Greek yogurt
1 1/2 tbsp honey (we prefer AUNT SUE'S® Raw & Unfiltered Organic Honey)
1 tsp vanilla extract
Graham crackers, crushed
Directions:
Place strawberries, almond milk, Greek yogurt, honey, and vanilla into a high-speed food processor (a blender works, too) and process on high until the strawberries are pureed.
Transfer the mixture to a large Tupperware and add the rest of the ingredients. Combine with a spoon.

Cover the Tupperware and transfer it to the refrigerator for at least 2 hours or, for best results, overnight. The longer it sits, the thicker the overnight oats will be.
When you're ready to eat, add more almond milk, as desired, and top with crushed graham crackers, strawberry jam, fresh strawberries and a drizzle of honey.
Almond Butter Overnight Oats with Bananas and Honey (from laurafuentes.com)
Ingredients:
2 to 4 teaspoons honey (we use AUNT SUE'S® Raw & Unfiltered Organic Honey)
2 tsp ground flax
2 cups old-fashioned oats
3 cups unsweetened almond milk
4 tbsp almond butter
2 bananas, divided
Directions (for 4 servings):
On a flat surface, place 4 bowls or lidded glass jars. Fill each with ½ teaspoon ground flax, ½ cup oats, ¾ cup milk, and 1 tablespoon almond butter.
Peel and mash one banana. Divide mashed banana into the four oat mixtures. Pour milk over the banana and oat mixture and, with a spoon, combine the ingredients.
Refrigerate for eight hours or overnight.
When ready to eat, serve cold or warm it up for 30 seconds in the microwave. Slice the remaining banana, top each oat mixture with banana slices and drizzle 1 teaspoon of honey over the top. Combine and enjoy.
Need more overnight oats ideas? Try "12 Overnight Oat Recipes Made with Honey."
Honey Spritzer
Ingredients
---
Directions
Bring honey and water a simmer in a saucepan. Cook, stirring, until honey dissolves. Let cool completely. Stir in lime juice. Power over ice. Top with champagne, white wine or selzter. Garnish with lime.
Summer Sea Breeze
Ingredients
4 ounces grapefruit juice
2 ounces Cran-Strawberry juice (or regular Cranberry juice)
1 tsp SUEBEE® INFUSIONS® Strawberry flavored honey
1½ ounces vodka
Strawberry for garnish
1 tablespoon of sugar
---
Directions
Put juices, honey and vodka in shaker. Shake well. Pour drop of honey on your finger and coat the edges of your glass. Dip glass in sugar to coat the rim. Pour shaker mixture over ice in glass. Garnish with strawberry.
Blue Lagoon
Ingredients
1 ounce vodka
1 tsp of SUEBEE® INFUSIONS® Lemon flavored honey
1 ounce blue curaçao
4 ounces lemonade
Maraschino cherry
---
Directions
Put all ingredients into shaker. Shake well and pour over ice. Garnish with maraschino cherry.
The Best Carrot Cake … Ever?
Well, it has honey in it, so it's off to a good start
Before she became an award-winning celebrity chef, Trisha Yearwood was a multi-platinum-selling country music artist. Her debut single, "She's in Love with the Boy," reached No. 1 on the Billboard singles chart and helped propel her debut album to double-platinum status.
Since then, Trisha has released 15 more albums, had several No. 1 country hits, won three GRAMMY Awards and multiple Country Music Awards, and has been inducted into the Grand Ole Opry.
She's also an amazing cook. In 2008, she released her first cookbook, "Georgia Cooking in an Oklahoma Kitchen," with her mom, Gwen. It reached the New York Times Best Sellers list and led to more popular cookbooks from the duo.
Trisha's success with her cookbooks led to an Emmy-winning TV show, "Trisha's Southern Kitchen," which airs on the Food Network.
One of her latest creations, "Trisha Yearwood's Honey Carrot Cake," has been creating big buzz on social media over the past several weeks, and we know why: It has honey in it!
That, and all sorts of delicious ingredients. It's easy to make and, yes, it is absolutely scrumptious. Try it out for yourself.
Trisha Yearwood's Honey Carrot Cake via FoodNetwork.com
Ingredients
Unsalted butter, for the pan
1 1/4 cups all-purpose flour, plus more for the pan
1 cup whole wheat flour
2 tsp baking powder
1 tsp ground cinnamon
1/2 tsp ground allspice
1/2 tsp freshly grated nutmeg
1/2 tsp fine salt
1/2 cup vegetable oil
1/2 cup applesauce
1/2 cup honey (We use AUNT SUE'S® Organic Honey)
1 1/2 tsp pure vanilla extract
2 large eggs
1 cup grated carrots (about 2 large carrots)
1/2 cup chopped pecans
1/2 cup shredded sweetened coconut
Cream Cheese Glaze
2 ounces cream cheese, at room temperature
3 tbsp unsalted butter, at room temperature
1/4 cup confectioners' sugar
1/2 tsp pure vanilla extract
2 to 3 tbsp milk
Directions
For the carrot cake: Preheat the oven to 350 degrees F. Butter and flour a standard-size loaf pan and line with parchment to overhang the edges by a few inches.
Stir together the all-purpose and whole wheat flours, baking powder, cinnamon, allspice, nutmeg and salt in a medium bowl; set aside. Combine the vegetable oil, applesauce and honey in a mixer bowl and beat on medium until smooth, about 1 minute. Add the vanilla and eggs and beat until light, about 1 minute. Add the flour mixture and beat on low just until combined. Add the carrots, pecans and coconut and beat just to incorporate. Spread the batter into the prepared pan.
Bake until a tester inserted in the center comes out clean with just a few crumbs, 55 to 65 minutes. Cool on a rack for 15 minutes, then unmold and cool completely.
For the cream cheese glaze: Beat the cream cheese and butter in a medium bowl until smooth. Beat in the confectioners' sugar until smooth. Stir in the vanilla. Stir in the milk, a tablespoon at a time, to make a thick, spreadable glaze. Spoon the glaze over the cake and spread to the edges.
Sun's Out
Nothing compares to a freshly brewed batch of honey sun tea
It's a familiar sight on porches and backyard decks when sunshine fills the afternoon sky in spring and summer: glass sun-tea jars with fresh tea brewing inside. And nothing says summer like a fresh glass of sun tea with SUE BEE® INFUSIONS™ Lemon Honey. 
It's a simple recipe – water, tea and honey. But we still have a few tips to make your sun tea as tasty as can be.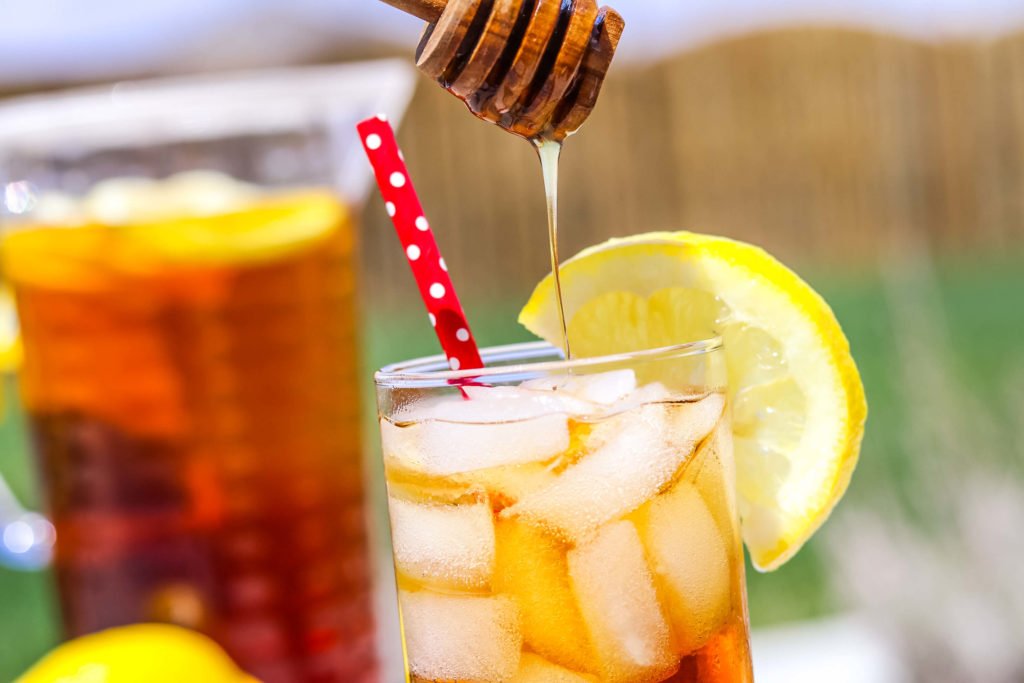 3 Tips to Brewing the Perfect Honey Sun Tea.
The Tea – There is plenty of flexibility on what kind of tea to use for sun tea: regular tea, green tea, black tea, herbal tea, and so on. (The beauty of sun tea is that they ALL taste great when you pair them with SUE BEE® INFUSIONS™ Lemon Honey, so go with your favorite.) Depending on how strong you like your tea, use 8 to 10 regular-sized tea bags per gallon (4 quarts) of water.  
Glass vs. Plastic Jars – We prefer glass because it allows for sunlight to start the oxygenation process that eventually brews the tea. Plus, plastic can alter the flavor of the tea.
Placing Your Jar – We like to begin with water at room temperature – not too hot, not too cold. Then, place your container in direct sunlight. There's a sweet spot for brewing between 3 1/2 and 5 1/2 hours, depending on how hot the sun is that day. Too short and the tea won't have time to stew. Too long and you can over-brew the tea. Find the sweet spot.
After your tea is sun brewed, bring it inside and add SUE BEE® INFUSIONS™ Lemon Honey. Add 1 cup of honey per gallon (4 quarts) of tea. Stir well and enjoy over ice. Refrigerate what's left over.
You Feeling OK, Honeybee?
We should all be concerned about the health of the American honeybee
Honeybees aren't on life support. Yet. But their health is under constant supervision from concerned honeybee advocates and beekeepers, including the 200+ Sioux Honey Co-op members.
In the United States, the treasured, honey-making insects have been in a recovery mode of sorts since 2006 when the mysterious Colony Collapse Disorder (CCD) began in earnest. Despite exhaustive research and dedicated projects to deciphering the cause of CCD, the sudden disappearance and deaths of entire hives overnight remains a mystery.
But what's not unknown are several other reasons why the honeybee – which we rely on to pollinate 71 of the 100 crops that provide 90% of the world's food – continues to die at an alarming rate. Currently, the Bee Health Collective – a collaboration of stakeholder organizations that gather and share current, credible information about honeybee health – estimates that 40% of honeybee colonies in the U.S. die each year.
Those reasons include what the collective calls the 'Four P's':
Parasites – The honeybee's No. 1 predator is the varroa mite, tick-like creatures that attach themselves to honeybees and can destroy entire colonies. It's like a tick on a human that's the size of a dinner plate.
Pathogens – Bees encounter viral, bacterial and fungal pathogens that can have serious impacts on colony health and survival. Some of these pathogens are highly contagious on their own, and others can also be spread by the varroa mite.
Poor nutrition – Honeybees and native pollinators are literally "losing ground" as agricultural land use expands. Corn and soybeans are the two monoculture crops that use the most land in the U.S.
Pesticides – From agriculture to home gardens and lawn use, honeybees encounter these weed-killing chemicals in many places.
Other reasons for death among the honeybee population:
Loss of biodiversity due to circumstances like climate change.
Destruction of habitats that offer shelter for bees via forest fires, floods, tidal surges from hurricanes, and other natural disasters.
Small hive beetles, another destructive pest.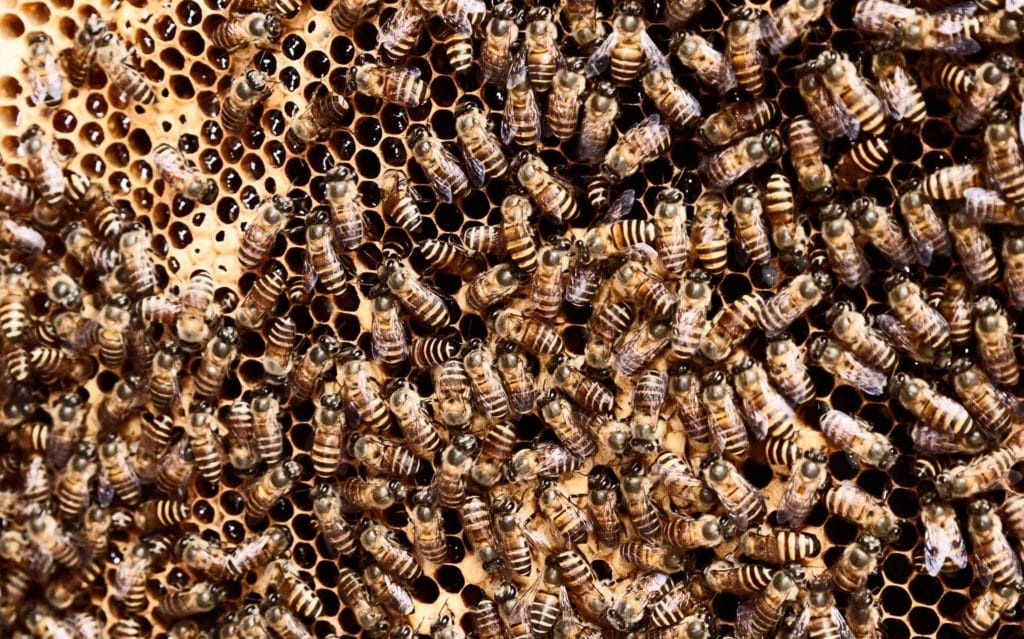 As we've mentioned in previous blog posts in our honeybee sustainability series ("Wait! Don't Throw Away That Honey Bottle," "The Honeybee Stewards," "Sustaining Sustainability" and "Priceless Pollination"), Sioux Honey beekeepers – along with other commercial beekeepers – have been keeping up with the losses by helping create new hives through the "splitting" of healthy hives. Beekeepers take a portion of an established colony and transfer it to a separate hive nearby and, thus, create two colonies from one.
In the most recent report from the United States Department of Agriculture (USDA), the number of honeybee colonies for beekeepers with more than five or more colonies was up 2% year-over-year in January 2021 compared to January 2020, with a total of 2.92 million honeybee colonies in the United States.
The USDA tracks the number of honeybee colonies lost and the number that was added each quarter, and beekeepers' additions consistently outpace the numbers lost. The most recent quarter showed a significant gain for the honeybee population in the U.S. between April 2021 and June 2021 – 255,860 colonies were lost. However, beekeepers more than doubled the losses by adding 677,690 new colonies. Thank goodness for Sioux Honey and other beekeepers. While other insects, like butterflies, provide pollination services, it's the honeybee that pollinates the most foods we consume – more than 130 different fruits and vegetables. In the U.S. alone, honeybees pollinate an estimated $15 billion worth of crops every year.
Creating a 'super bee'
In addition to creating new hives of honeybees, beekeepers are also leading the charge to create new strains of honeybees that are stronger and able to naturally defend themselves against predators like the varroa mite. One of those people is Sioux Honey beekeeper David Thomas who lives in Keaau, Hawaii and runs bees on the Big Island, as well as in his home state of Louisiana. David is at the center of a groundbreaking project called the Hilo Bee Project, which is a public-private partnership developed with the USDA, Project Apis m., and David's honey operation, the Hawaii Island Honey Company.
Combining breeding tools and expertise in a commercial beekeeping operation, these partners have been working to develop a honeybee that is naturally resistant to varroa mites with traits to be successful in commercial beekeeping. Those traits include being able to produce comparable amounts of honey compared to non-varroa-resistant honeybees and being docile and unaggressive in manner.
David built the research laboratory at his honeybee operation in Keaau and every one of his 6,500 hives (about 260 million honeybees spread across the Big Island) include queens that have been bred from the project.
"Honey production is good, and the bees are doing quite well," says David. "The work is progressing well, and our bees are resisting the varroa mite, so we're hoping to keep testing these bees and working on making them available to more commercial beekeepers."
So far, the project to create the ideal varroa-resistant queen honeybee has resulted in the distribution of 30,000 production queens for use by 20 commercial beekeepers.
"The ongoing breeding project in Hilo remains hopeful," says Danielle Downey, executive director at Project Apis m. (PAm). "And PAm is funding some projects that may deliver new ways to use organic acids to treat mites."
Project Apis m. is a non-profit that funds research and efforts to improve honeybee health and vitality. The organization's name comes from Apis mellifera, the scientific name for the honeybee. Currently, PAm has more than 40 active research projects, and every one of them has the ability to make a major difference for beekeepers.
Another ray of hope, says Downey, is "our efforts to replace forage on the landscape. We passed 55,000 acres this year, but we really hope to see that decimal move. The programs offer free seed and technical guidance to land managers and growers who want to plant for bees."
Project Apis m. provides free and subsidized seed mixtures and seeds to support honeybee health in California through the organization's "Seeds for Bees" program," which encourages the use of cover crops to increase the density, diversity and duration of bee forage in California orchards, farms and vineyards, while improving soil health. The seed mixes available through Seeds for Bees are designed to bloom at critical times of the year when natural forage is scarce but managed and native bees are active.
Want to help create your own little patch of forgeable land for honeybees? If you are able and have the space, create a honeybee-friendly garden. Planting flowers and plants that honeybees, butterflies and other pollinators can forage not only helps sustain the honeybee, it also adds colorful, natural beauty to a yard. It's a win-win. And here are five tips to get you started.