Honl's Honey
Third-generation beekeepers take over family business
Al Honl was just a kid when he presented a 4-H project featuring a solitary honeybee colony. That was 1924, when the 4-H judges might have been thinking something like, "Big deal. A honeybee colony."
But now, 96 years later, it is a big deal – a very big deal. Al's single colony has grown into thousands of colonies, and the Honl family is on its third generation of beekeepers.
Today, Honl's Bees, Inc., is one of the top producers for the Sioux Honey Association Co-op and is run by Al's grandsons, Bert and Jesse, who operate out of Winthrop, Minnesota, in the spring and summer. They spend winters in Texas where they sell hundreds of nucs (small honeybee colonies) each year to professional beekeepers and hobbyists. The Honls also send some of their bee colonies to California in the winter months to help pollinate the state's almond farms.
Next generation takes over
A few years ago, Bert and Jesse Honl purchased the honey operation from their father, Rand Honl, and his brother, Gary Honl. But don't expect Rand to leave the operation he helped build. He's a beekeeper for life, his sons say.
"My father is 75, and he's one of those guys that will never retire," Bert Honl said. "When he passes away, we will find him in the bee yard, because he won't quit. We tell him to go on vacation, but he insists on working the bees."
Bert and Jesse worked in the Honls' bee yards through their high school years. After graduation, they decided to leave home and work in other professions.
"My brother went to college to be a welder. I wanted to be an electrician," Bert said. "So I did that for two years, and I hated it because I didn't like working for somebody else. Then I came back and I started working for my father. My father and my uncle Gary gave me 100 colonies as an incentive to get in on the bees."
Jesse also came back home after college. "We wanted to work bees. That's what we knew best."
In 2003, Jesse was in a car accident that injured his neck, which left him paralyzed from the chest down. However, that hasn't kept him away from the family business."He's our boss, and he handles labor stuff," Bert said. "Hiring our employees, filling orders for our queens. He runs the honey house, while my wife, Angie, handles billing and accounting."
They love collecting honey, and they love eating, too
The Honls collect honey produced from their bees that visit mostly basswood trees (also known as Linden trees) and clover.
"People come into our honey house, and they're like, 'Holy cow!' When we're producing a load of honey a day, it's pretty amazing."
Bert says he eats honey every day.
"I love it; I'm eating it right now. I made a smoothie and I put a couple of tablespoons of honey in my smoothie. My kids just devour it."
Bert and Angie have three children – the oldest of which works in the fields with the hives. He said the kids love Angie's "Special K" bars made with honey, and they are "to die for."
"Whenever she cooks, she always substitutes the sugar in recipes for honey."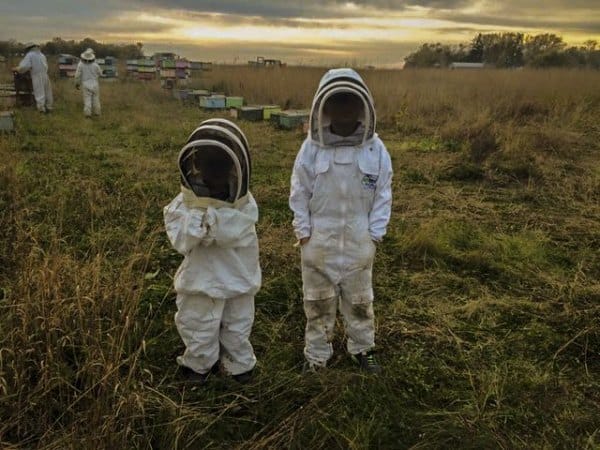 A lifetime of memories
One of Bert's fondest memories came during a downpour of rain when he and his brother – just 14 and 15 at the time, respectively – were working the hives with their father.
"We had one yard of bees left to check and it was raining so hard that you couldn't see past the windshield in the truck. My dad wanted to get out and finish the hives, but my brother and I had a different idea," Bert said.
Bert and Jesse who are now 6'5 and 6'7, respectively, were even taller than their dad at that point. (Dad is 5'10.) Bert said he and his brother had more muscle on that day.
"We taped his hands to the steering wheel with duct tape so he couldn't get out of the truck," Bert said, laughing. "He had to drive us home because he couldn't get out … That's a memory I'll never forget."