Sue Bee® Honey Carrot Cake
We've got a treat for the Carrot Lovers … delicious Sue Bee® honey Carrot Cake!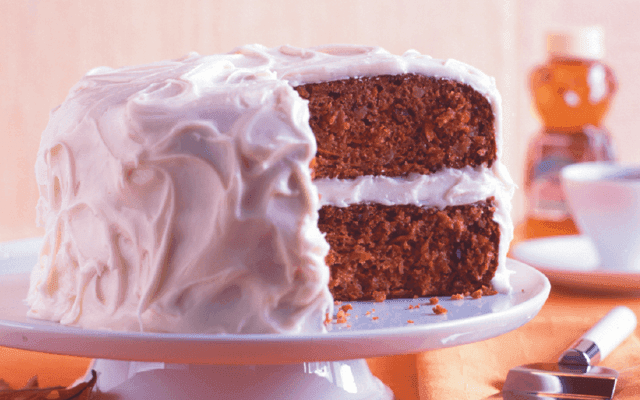 Ingredients
Cake Ingredients
1 1/2 cups Sue Bee® Honey
2 cups flour
2 tsp baking soda
2 tsp cinnamon
1/2 tsp salt
3 eggs
1/3 cup oil
1/2 cup buttermilk
2 tsp vanilla
3/4 cup drained crushed pineapple
2 cups peeled and grated carrots
1/2 cup chopped walnuts
Cream Cheese Frosting Ingredients
4 cups powdered sugar
8 ounces cream cheese, softened
1 tbsp milk
1 tbsp vanilla
Directions
Sift together flour, baking soda, cinnamon and salt; set aside.
Beat the eggs in a large bowl.
Add the oil, Sue Bee® honey, buttermilk and vanilla and mix well.
Add flour mixture, pineapple, carrots and nuts and stir well.
Pour into two 8-inch round pans sprayed with nonstick coating.
Bake 35-40 minutes at 325 F or until a toothpick inserted in the center comes out clean.
Cool on racks for 10 minutes.
Remove from pans and cool completely on racks.
Place one cake layer on serving plate; spread top with 1 cup of frosting.
Top with remaining cake layer; spread top and sides of cake with remaining frosting.
Cream Cheese Frosting Directions
Beat all ingredients together until smooth and creamy.