Pumpkin Muffin with Pumpkin Spice Honey Buttercream Frosting
Look no further, our Pumpkin Muffins with Pumpkin Spice Frosting are the ultimate sweater-weather snacks. Lightly spiced with cinnamon, nutmeg and allspice, the muffin pairs perfectly with rich, buttercream pumpkin frosting. And yes, we do recommend jumping into a pile of fall leaves immediately after eating.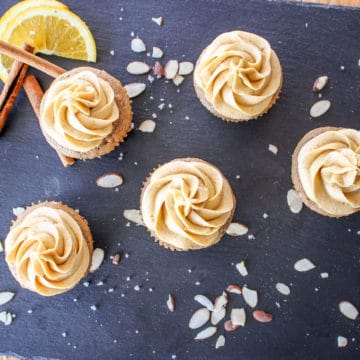 Ingredients
Use any spice cake mix. Follow the cupcake recipe on box.
Frosting Ingredients
1/2 cup pumpkin
1/2 tsp cinnamon
1/2 tsp nutmeg
4 cups powdered sugar
1 tsp vanilla
1/4 cup Sue Bee® Clover Honey
3/4 cup butter
1 tbsp milk – If necessary to thin out mix
Directions
Place all ingredients in the bowl of an electric stand mixer and blend until smooth.
Store in airtight container in the fridge until ready to use.
Let sit for 30 minutes prior to frosting to soften.
Once piped on, place cupcakes back in fridge to set the butter cream.