Honey Nut Bars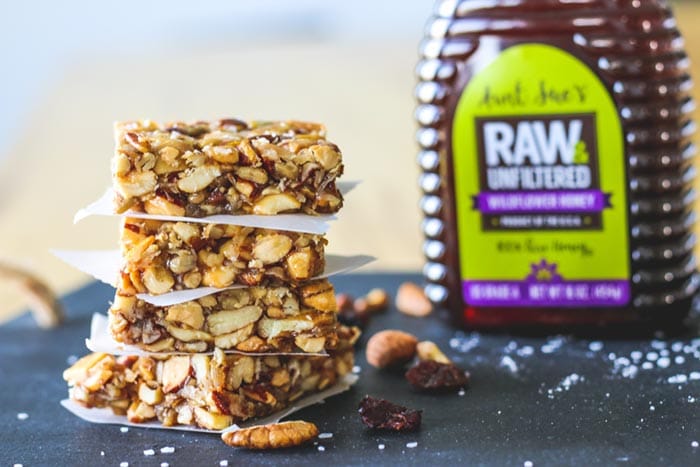 Ingredients
1 cup cashews 
1/2 cup almonds

1/2 cup pecans

1/2 cup unsweetened shredded coconut
1 tsp pure vanilla extract

Zest of half a navel orange

1/2 tsp sea salt

1/4 tsp ground ginger

1/2 cup + 1 tbsp Aunt Sue's® Raw & Unfiltered Honey
Directions
Preheat oven to 350°F. Line an 8×8 baking pan with parchment paper, leaving flaps on all 4 sides. Set aside.
Roughly chop the almonds and cashews. Pieces should be about 1/4".
Combine all ingredients except honey in a large bowl and stir until combined.
Pour in the honey and mix with a fork until everything is evenly coated. Spread mixture into the prepared baking dish.
Bake in the preheated oven for 20 minutes. Watch carefully towards the end to be sure the honey isn't burning.
Remove from oven to a wire rack.
After the bars have cooled about 30 minutes, lift the bars out of the pan by the parchment paper flaps and flip over onto another piece of parchment so the bottom is now the top. Peel off the parchment paper.
Allow to cool completely and cut into 2″ x 2″ bars.
Wrap individually in parchment to keep them from sticking together. Eat within 2 weeks.