Honey Jalapeno Bites
If you're hosting a party with friends or getting together with friends to watch the game, this recipe is a must.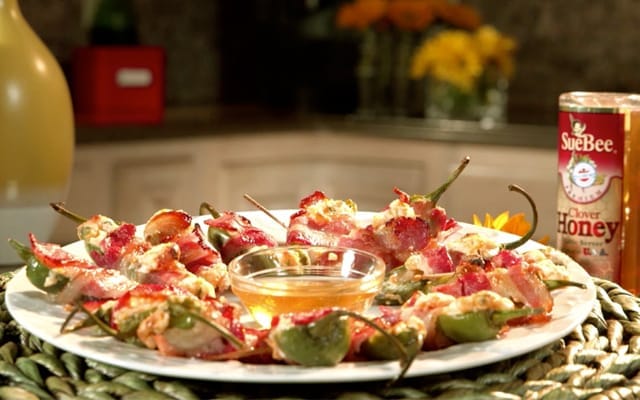 Ingredients
1/4 cup Sue Bee® honey
10 jalapeno peppers
8 ounces cream cheese, softened
1/2 cup cheddar cheese
4 green onions, chopped
10 slices of thin bacon, cut in half
toothpicks
Directions
Preheat oven to 350 F.
Wash peppers under cold water.
Cut peppers in half the long way and remove the seeds.
Mix cream cheese, cheddar cheese and chopped onions in a bowl.
Spoon the cream cheese mixture into jalepenos.
Wrap with bacon and secure using a tooth pick.
Place on a greased baking sheet.
Bake for 35-50 minutes or until bacon starts to crisp.
Remove from oven and let cool for five minutes.
Drizzle with Sue Bee® honey.