Honey Espresso Crème Brûlée
Rich, creamy and decadent – dessert is served.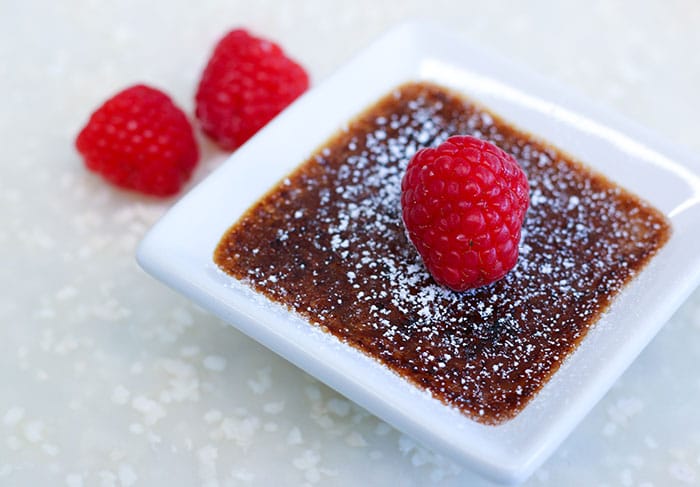 Ingredients
4 large egg yolks, beaten
2 1/4 cups heavy whipping cream or whole milk
1  1/3 cup Sue Bee® Clover Honey
1/3 cup cornstarch
½ tsp salt
2 tsp real vanilla extract
¼ tsp baking soda
Course flake sea salt to finish
Directions
Preheat oven to 350 degrees.
Combine cream or milk, honey, cornstarch, salt, and baking soda in a medium saucepan. Bring to a boil over medium heat, whisking constantly.
Once the mixture comes to a boil and begins to thicken enough to coat the back of a spoon, remove from the heat.
Temper hot mixture into beaten egg yolks a few tablespoons at a time, whisking constantly to avoid scrambling the egg yolks. After about half the hot mixture has been added, pour in the rest all at once.
Add vanilla extract and stir to combine. (Strain if an exceptional smooth texture is desired)
Add 1-2 tbsp espresso or coffee, pour into small custard cups and bake at 350 for 15-20 minutes, or till well set.
Remove from oven, top with sugar, and finish under broiler on high, watching carefully not to burn the sugar.
Sprinkle with course flake sea salt and allow to cool to room temperature.