Cherry Tart with Goat Cheese Honey Filling
 Rich creamy goat cheese and honey are the perfect compliment to tart bing cherries in this tart.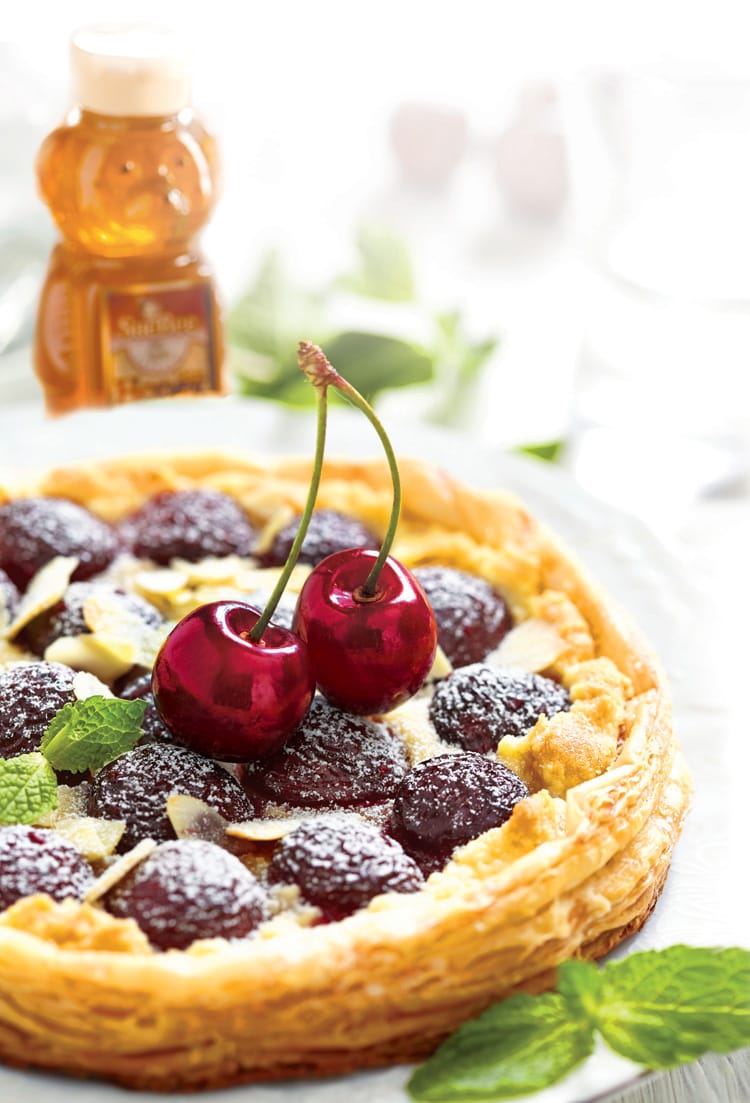 Ingredients
Tart Shell
Directions
Roll out crust and place in a tart pan.
Prior to baking, pierce sides and bottom of crust.
Bake as directed, remove from oven and set aside.
Egg Wash
1 egg, beaten
1 tsp water
Directions
Mix egg and water.
Brush egg wash over sides and bottom of baked crust.
Place back in the oven to bake for 2-3 more minutes.
Remove from oven and cool.
Cheese Filling
1/3 cup Sue Bee® Honey
4 ounces goat cheese, crumbled
4 ounces low-fat cream cheese
1/3 cup sour cream
Directions
Cream Sue Bee® Honey, goat cheese, cream cheese and sour cream together until smooth. Set aside.
Cherry Topping
3/4 pounds fresh bing cherries, cut in half and pitted
1/4 tsp freshly ground black pepper
2 tsp granulated white sugar
1/2 cup slivered almonds, toasted
Directions
Preheat oven to 375 F.
Spread goat cheese filling over top of tart shell.
Arrange the pitted cherries, cut side down, over the filling, covering the entire area.
Sprinkle pepper and almonds over the cherries.
Sprinkle the granulated sugar over the entire tart.
Place tart in oven and bake for 5 minutes.
Remove from oven and cool. Serve at room temperature.