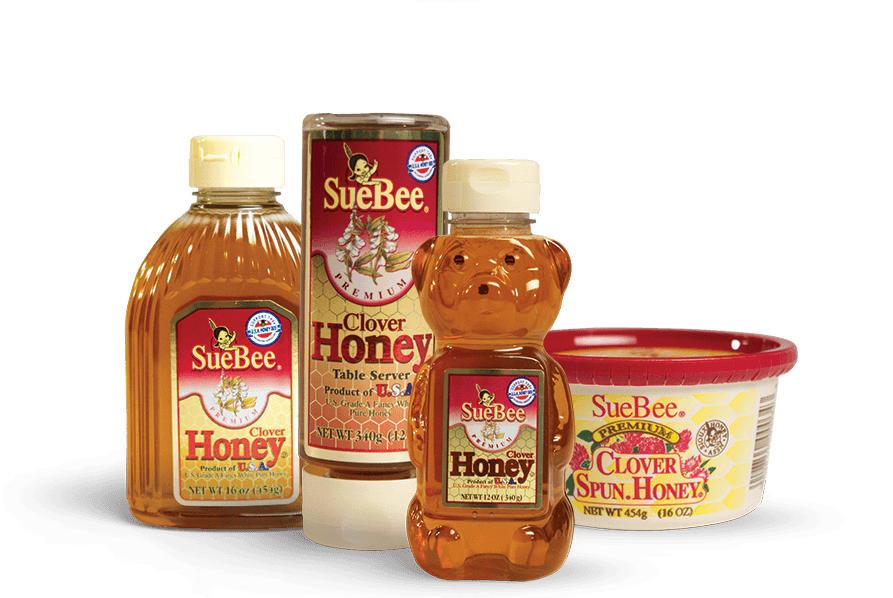 From a time when the supermarket and farmer's market were the same thing. Scroll to learn more.
Shop Now
Grandma's table always saved a spot for Sue Bee.
Since 1921 Sue Bee honey has been the standard that all honey is judged by. For generations our independent beekeepers have made sure every bottle of Sue Bee is grandma approved by sampling, testing and grading all honey for clarity, floral type, flavor, moisture and color. So the honey you pick from the shelf is always pure, always all-natural and always 100 percent honey.
click images for a great recipe
Honey combinations to savor
If you've ever paired wine with a meal, then you'll enjoy doing the same with honey. These recipes have been selected for the nuanced flavor of 100% pure Sue Bee honey.
All Recipes
Frequently Asked Questions
Is Sue Bee 100% pure honey?

All Sue Bee Honey is always 100% pure honey as made by the honeybee.

Is Sue Bee Honey 100% natural?

Yes, it contains no man-made additives or additives of any kind.

Is Sue Bee Honey a product of the USA?

All Sue Bee Honey found in grocery stores is 100% Product of the USA and truthfully says so on the label (One exception is the Sue Bee 5# Honey jug sold only at Sam's Club that contains US and Canada honey as they specify). Sue Bee Honey is a cooperative of American beekeepers producing honey in the USA. That means US honeybees producing honey in the US and pollinating US crops. This honey is then processed and packaged in the US by Sue Bee. The 35-40 million pounds of honey produced by our cooperative is what makes up the Sue Bee Honey you see on the shelf. You can be assured that Sue Bee is always 100% USA, 100% pure and truly is 'America's Honey.' Likewise, all of our Aunt Sue's Wildflower Honey line is 100% USA and 100% pure. (The one exception here is the certified organic honey packed under the Aunt Sue's label; this honey cannot be produced in the US and is sourced from Brazil.)

Does Sue Bee Honey contain any allergens?

Honey is naturally free of allergens. No allergens are stored or used in Sue Bee Honey facilities.

What is Sue Bee Spun® Honey?

This is pure, premium honey that has been allowed to naturally granulate under controlled conditions to make a smooth, spreadable textured honey. Sue Bee Spun is a registered trademark of Sioux Honey Association.
From Hive to Table
Trade your cart for the couch and shop from home. All Sioux Honey products can be purchased right here.
---
Balance the sweet with the sassy.
---