National Lemonade Day
August 20, 2014 is National Lemonade Day! Lemonade was originated in the Mediterranean region as a way to help treat colds and other ailments. These days, it is most commonly consumed throughout the summer and in warmer months as a refreshing beverage. While there are hundreds of different ways to make your own lemonade, honey can be used to help sweeten the drink as it sometimes can be a touch sour or tart. One of our favorite recipes is this Sue Bee® Honey Lemonade with Raspberry Cubes. It's simple to make and the raspberry cubes provide a fruity twist that is sure to delight. But you don't have to think of Lemonade Day as strictly for drinks. Check out some of these other great "lemonade" recipes featuring Sue Bee® honey, such as our Raspberry Lemonade Sorbet, Sue Bee® honey Lemon Bars and Pink Lemonade Stand Pie!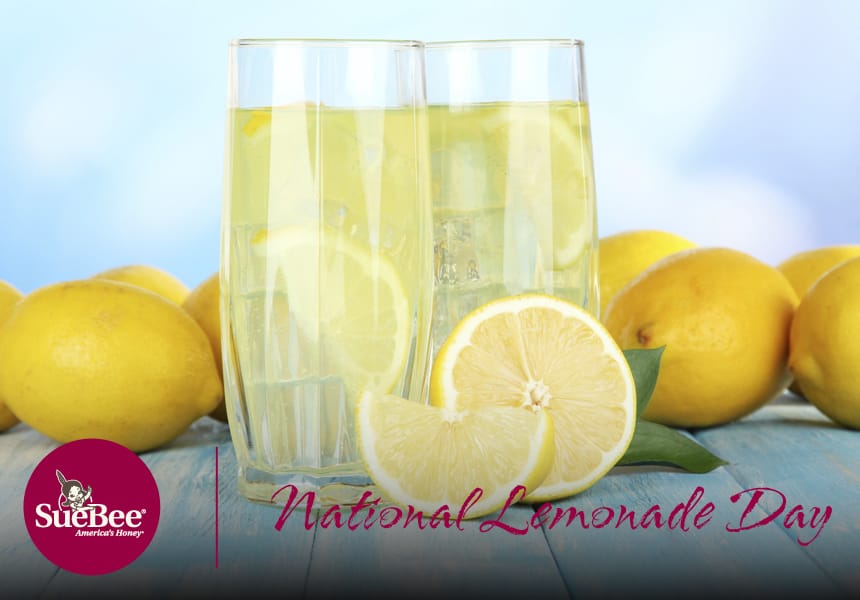 We've also compiled some other fantastic recipes from across the Web that are sweetened with honey. Enjoy!
Those with refined and sophisticated tastes will enjoy this Basil Lemonade Drink from Nava-K!
This Strawberry Watermelon Lemonade Slushy from Snail Pace Transformations is sure to be a hit with kids and packs a ton of flavor!
Another unique take on the classic lemonade flavor can be found in this Spicy Raspberry Lemon Cooler Recipe from HGTV that combines fruit flavor with spice for a delicious combination.
If you're into freezing and want to make a quick batch of tasty lemonade on short notice, try this recipe for Frozen Lemonade Concentrate from Strangers & Pilgrims on Earth.
Double up on honey with this Honey-Sweetened Lemonade with Honey-Lemon Ice Cubes from Common Sense Homesteading!
This Red Clover Lemonade from Adventuress is extremely flavorful and is the perfect refreshment on a warm day.
The Vanilla Bean Blog has a terrific recipe for Honey Lemonade with Hibiscus & Thyme that uses fresh herbs to help pack a punch.
There's also nothing wrong with keeping it simple. Like this Simple Strawberry Lemonade from Baby Center that is big on flavor and enjoyable for all ages and tastes.
Combining fresh fruit with fresh herbs is the trick to make this recipe for Mint Blueberry Lemonade with Honey from Adventures in All Things Food stand out.
Finally, these Honeyed Pink Lemonade Bars with Pistachio-Graham Crust from The Attune Foods Daily Digest are another example that there are more ways to celebrate than with a beverage. Whip up a batch and share with friends and family – they're sure to be a hit!
Are we missing your favorite recipe? Share your favorite recipes with us on Facebook, Twitter and Pinterest!