Grill Thrills
Try these honey-kissed kabob recipes to spice up your grilling game
Late summer and early fall are the perfect times to fire up the grill, especially when you're cooking up a variety of kabobs that include our favorite ingredient: honey!
We've gathered three of our go-to kabob recipes for your grilling pleasure. Try one, try them all – and enjoy end-of-summer grilling with your family and friends.
Honey BBQ Chicken Skewers
Our Honey BBQ Chicken Skewers are packed with flavor and can be ready in just 20 minutes, making them a must-try.
Ingredients
1/3 cup Sue Bee® honey
4 chicken breasts
3 cloves garlic, minced
1 tsp red pepper flakes
1 tsp Dijon mustard
1/4 cup low-sodium soy sauce
1 tbsp olive oil
Cilantro for garnish
Directions
Cut chicken into small pieces, about 1 ½-inch cubes.
In a medium bowl, whisk together all the other ingredients. Add chicken (there should be enough marinade to cover the chicken).
Cover with plastic wrap and refrigerate marinade for at least two hours.
Fire up the grill.
Thread chicken (five pieces) on skewers. Save the leftover marinade.
Place skewers on grill and turn every couple of minutes while brushing leftover marinade on the chicken. Grill until chicken is cooked through.
Garnish with cilantro and serve.
Sweet and Spicy Shrimp Kabobs
Put some shrimp on the barbie! And make them sweet and spicy with this tasty recipe.
Ingredients
1/4 cup Sue Bee® honey
1 tbsp minced canned chipotle chile in adobo
2 garlic cloves
1/2 tsp kosher salt
1 lb large shrimp
2 tbsp minced fresh cilantro
Directions
In a large bowl, combine the Sue Bee® honey, chile pepper, garlic and salt.
Add the shrimp and toss to coat. Cover and marinate at room temperature for 20 minutes, or in the refrigerator for one hour.
Remove shrimp from the marinade and discard any remaining marinade.
Thread the shrimp through the tail and head onto small metal skewers or soaked wooden skewers (two or three per shrimp per skewer). Strong rosemary stems are good to use as skewers, too.
Grill over direct, high heat for two to four minutes, turning once halfway through grilling time. Arrange skewers on a serving dish and sprinkle with cilantro.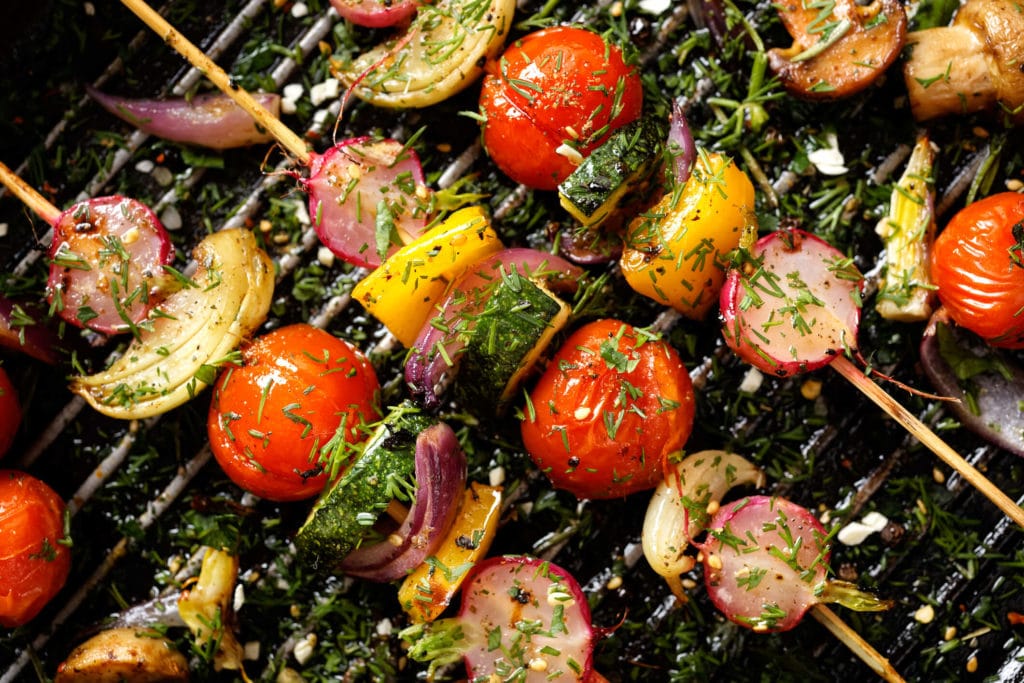 Honey Veggie Kabobs
For this fresh and healthy grilled side dish, you'll need zucchini, squash, mushrooms, red onion, cherry tomatoes and green bell peppers.
Ingredients
1/2 cup of Sue Bee® honey
1/3 cup of olive oil
1 1/2 tsp of dried basil
3/4 tsp dried oregano
1/8 tsp of ground black pepper
Veggies: Try zucchini, squash, mushrooms, red onion, cherry tomatoes and green bell peppers
Directions
Slice the vegetables into one-inch slices, keep the mushrooms and cherry tomatoes whole and make chunks out of the red onion.
Mix the honey, olive oil, basil, oregano and ground black pepper and warm in a small saucepan while threading the vegetables on the skewers. Preheat the grill to medium heat, and lightly oil grate. Brush the honey-spiked marinade over the vegetable skewers and grill until lightly charred (10 to 15 minutes).