March Radness
Basketball watch parties are a slam dunk with these tasty appetizers
Everyone is a basketball fan in March. Even if you don't follow closely, when it comes to filling out end-of-the-season NCAA basketball tournament brackets, you can at least pick teams based on which state you prefer, or maybe which mascot you like better, and or even which color of uniform suits your taste.
Whichever way teams are picked, millions of people will be filling out their brackets online, at the office or with friends on social media. It's a fun tradition, and so are March Madness marathon watch parties.
What's not fun? Serving your friends flat food. When it comes to appetizers, the last thing you want to do is shoot an air ball. But don't worry, we've drawn up a winning play that will score you points and pump up your basketball watch party with delicious appetizers like our Buzzer-Beater Buffalo Dribble Dip, Give-and-Go Garlic Beef Bites, Slam Dunk Sliders, and Fastbreak Fruit Crostini – all of which include our Sioux Honey MVPs, SUE BEE® honey.
Sure, that 14-seed team might bust your bracket, but these can't-miss appetizers won't.
Fastbreak Fruit Crostini
Ingredients
1 French baguette (18 inches), cut into 1/2-inch slices
8 oz creamy goat cheese
1/4 cup SUE BEE® Honey
1 cup sliced fruit (strawberries, blackberries, peaches)
Instructions
Preheat oven to 350 degree. Place bread slices on a baking sheet and bake about 10 minutes or until lightly toasted.
Mix goat cheese and SUE BEE® Honey together until smooth. Spread the goat cheese-honey mixture on the toasted bread and top with your favorite fruits.
Before serving, drizzle each Crostini with honey. And ta-da! That's it! Super simple, but oh, so tasty!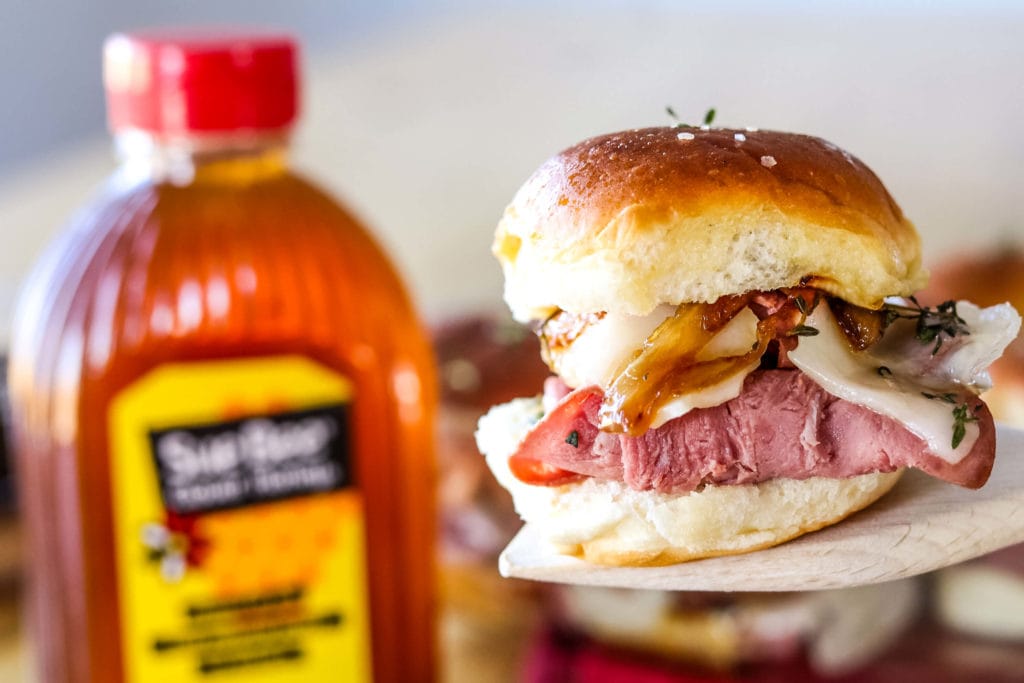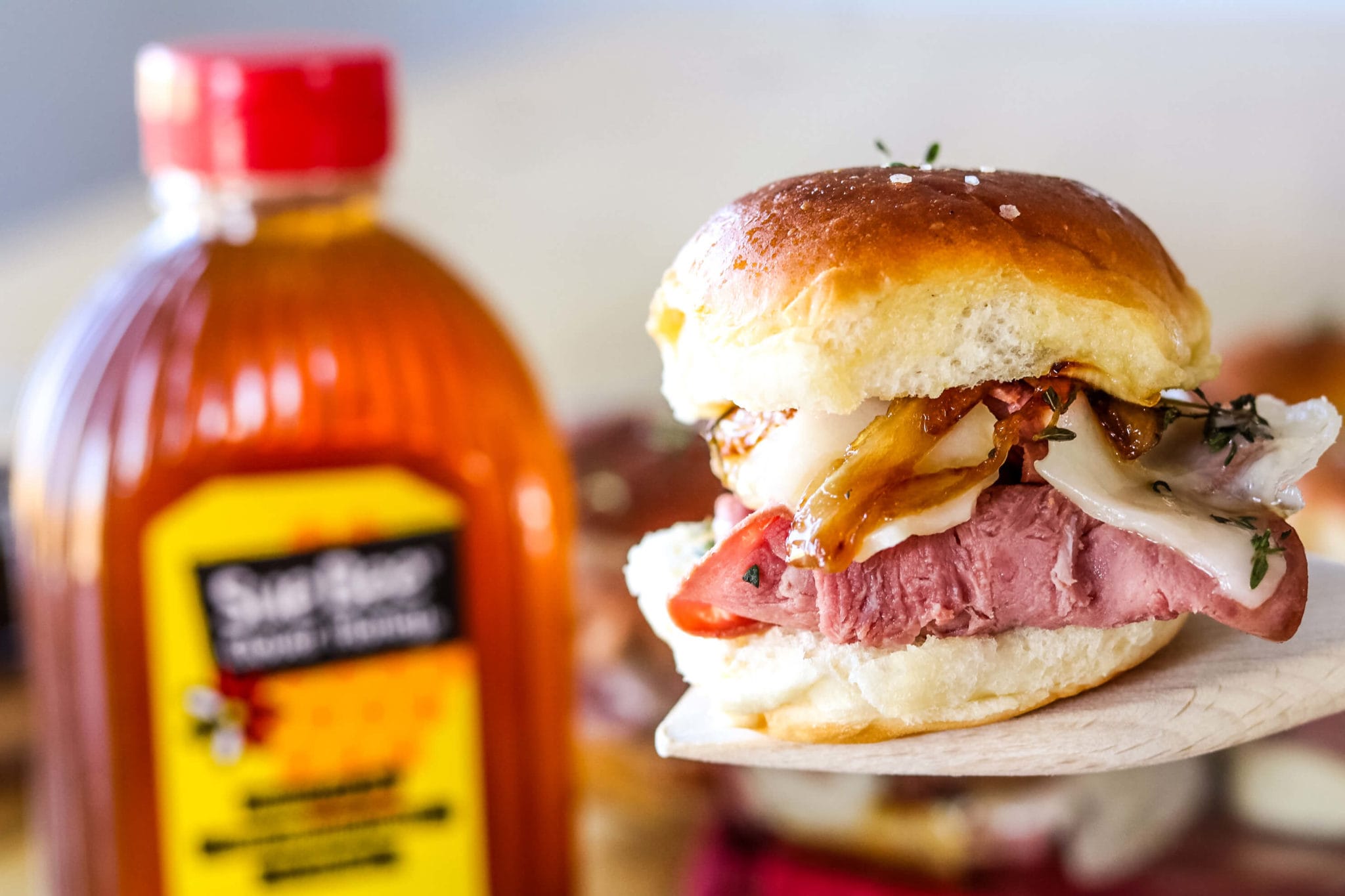 Slam Dunk Sliders
Ingredients
1/4 cup SUE BEE® honey
1 large onion, sliced thin
5 tbsp garlic butter
Pinch of sea salt
Freshly ground black pepper
1 tbsp clove garlic, minced
12 slider buns, halved
1 lb thinly sliced deli roast beef
12 slices provolone cheese
1 1/2 cups low-sodium beef broth
1 tbsp Worcestershire sauce
Directions
Preheat oven to 350 degrees. In a large skillet over medium-high heat, melt 2 tablespoons of garlic butter. Add onion and season with salt and pepper. Cook until caramelized.
Place the bottom halves of slider buns on a large baking sheet and add the roast beef, provolone cheese, caramelized onions and then slider bun tops.
Brush the top of the buns with 2 tablespoons of melted garlic butter, then sprinkle with sea salt and bake until cheese is melted and sliders are warmed through.
For the au jus: Add remaining 1 tablespoon of garlic butter and melt over medium heat. Add beef broth, SUE BEE® honey and Worcestershire sauce and season with salt and pepper. Simmer until slightly reduced.
Serve sliders with au jus for dunking! (Be sure to serve with plenty of napkins for the dribblers.)
Buzzer-Beating Buffalo Dribble Dip
Ingredients
1/2 cup SUE BEE® Honey
4 cups cooked and shredded chicken breast
1 1/2 cups cheddar cheese, shredded
8 oz cream cheese
3/4 cup buffalo sauce (pick your favorite brand)
1 cup ranch dressing
Directions
Combine cooked chicken, SUE BEE® Honey, cream cheese, buffalo sauce, ranch dressing and 1 cup of shredded cheddar cheese in a slow cooker (Crock Pot) and stir together.
Place lid on and set to low heat for 3–4 hours or high heat for 1–2 hours, stirring every 30 minutes. When the cheddar cheese and cream cheese are fully melted, you're good to go.
Sprinkle the remaining shredded cheddar cheese over the top and place the lid back on, letting the dip continue to cook until the cheese on top is melted.
Serve with chips, baguette, crackers, veggies – basically, this dip is so yummy that you can put it on all sorts of things! Dill Pickle Buffalo Chicken Wraps, anyone?
Give-and-Go Garlic Beef Bites
Ingredients
3 tbsp SUE BEE® Honey
1 lb top sirloin steak, cubed

1 tsp sweet or smoked paprika

2 tbsp vegetable oil
4 tbsp soy sauce
1/4 cup water (or beef broth)

2 cloves garlic, minced

1 tbsp rice vinegar
1 1/2 tbsp olive oil
1/2 tsp dried oregano

1 tbsp cornstarch
Sesame seeds, for garnish

Sliced green onions, for garnish
Salt and fresh ground pepper, to taste

Directions
Cut steak into 1/2-inch cubes and season with paprika, salt and pepper, and then set aside.
In a mixing bowl, combine SUE BEE® Honey, soy sauce, water, garlic, olive oil, rice vinegar, oregano and cornstarch, and then whisk until thoroughly combined. Set aside.
Heat vegetable oil in a skillet over medium-high heat until hot.
Add the steak cubes to the hot oil and cook for 2 minutes per side, or until browned and done. Then remove and set aside.
Pour 1/3 of the sauce and the steak bites into the skillet and pour the rest of the sauce over the steak. Cook for 1 to 2 more minutes, or until sauce starts to thicken. Remove from heat.
Transfer steak bites to a plate and drizzle with the pan sauce. Garnish with sesame seeds and sliced green onions. Serve with toothpicks and rolls for easy eating.