14 Patriotic Recipes Made With Honey
Independence Day is an occasion to gather with friends and family to celebrate the birth and freedom of our wonderful country. Incorporate delicious, festive food into your fireworks celebrations with these patriotic recipes!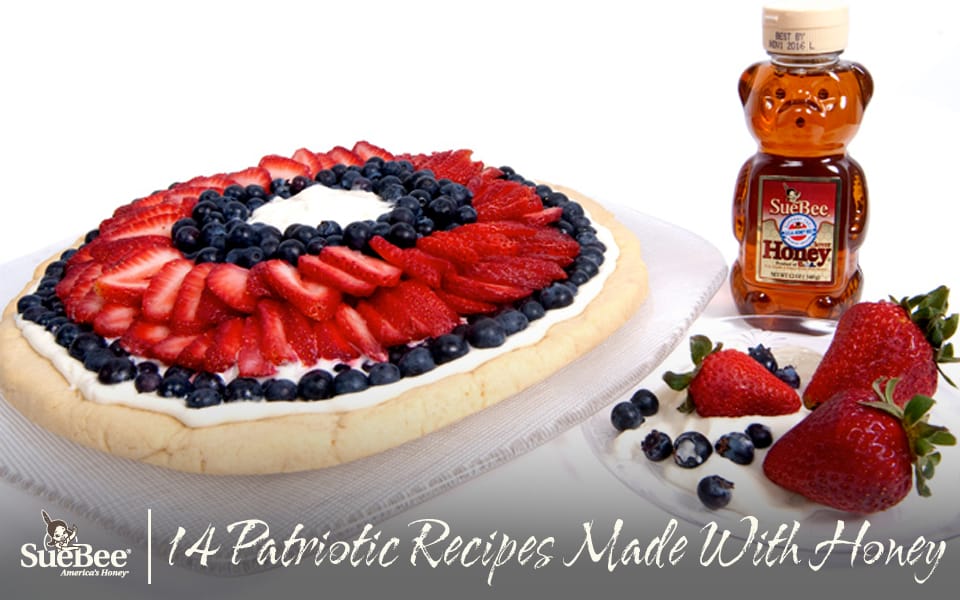 Start your meal off with a few different salad options! Well Plated shares this Red, White and Blue Quinoa Fruit Salad that is refreshing and filling!
This Honey Baked Goat Cheese Salad With Blackberry Lemon Vinaigrette shared by Spinach Tiger is tangy and juicy. Fresh summer fruit is the perfect addition to any feast.
Another unique starter is the Red, White and Blue Salad from The Noshery that mixes beets, blueberries and goat cheese.
Cater to everyone's holiday sweet tooth with our Sue Bee® honey Fruit Pizza. It's not made with marinara and mounds of cheese but it certainly hits the spot!
Pies are a must have during all holidays. Our Pink Lemonade Stand Pie isn't your traditional dessert but it's just as scrumptious!
Make Vintage Mixer's Strawberry Rhubarb Skillet Pie Recipe to enjoy as a dessert or even for a sweet breakfast.
Paleo Red, White and Blue Coconut Tarts from Paleo Cupboard are versatile in the flavors you choose to use! Select which fruit suits your fancy and whip up a batch of these tarts for your festivities.
These Citrus Tea Biscuits by She Wears Many Hats are delicious by themselves but also a great ingredient to use when making shortcake.
Speaking of shortcakes, try our recipe! Fourth of July Shortcakes are festive, delicious and sure to be a hit.
It doesn't get much simpler or more refreshing than these Patriotic Fruit Kabobs shared by 100 Days of Real Food.
We Heart Recipes shares a Honey-Lime Berry Melange recipe that is simple and proves once again that summer fruit is an essential to any meal.
Cool off with Red, White and Blue Fruit Popsicles from Just a Taste. Enjoy this sweet frozen snack anytime of day to beat the heat.
Another sweet frozen treat to nibble on throughout the day is Red, White and Blue Frozen Yogurt Bark by Honey & Birch.
For a festive holiday drink with fruit, sample our Strawberry-Banana Smoothie.
What did we miss? Share your favorite red, white and blue honey recipes with us on Facebook, Twitter and Pinterest!