14 Cupcake Recipes Made With Honey
Do you ever walk into a bakery and see rows of perfectly decorated cupcakes and think to yourself, "I wonder if those taste as good as they look?" You indulge and buy one just to test it out. Yes, they taste even better than they look! With these honey cupcake recipes, you get the same flavorful satisfaction. What's even better, though, is they are homemade! Get out your aprons and mixers and try a few for yourself.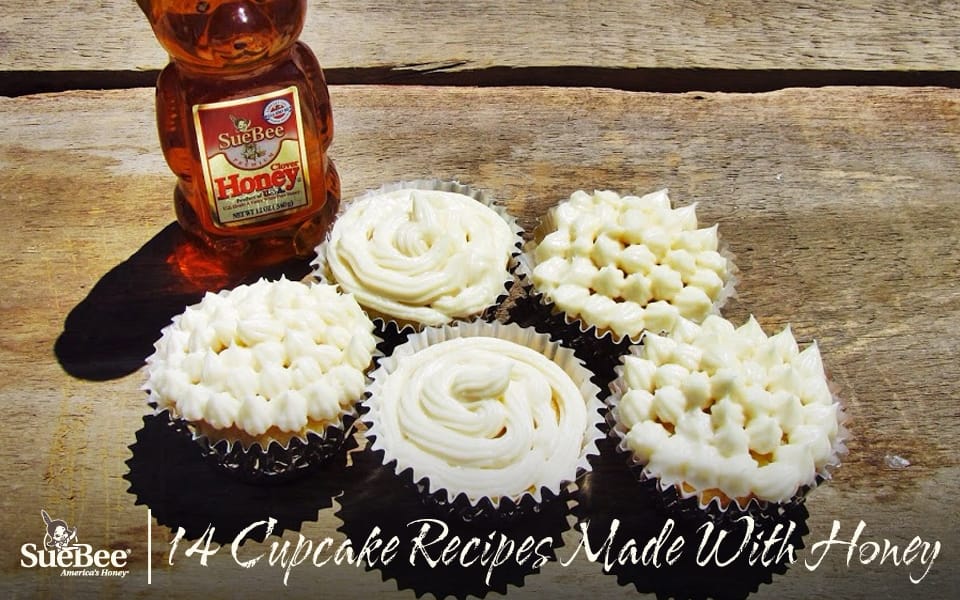 Our Sue Bee® Honey Lemon Cupcakes With Honey Cream Cheese Frosting are soft, yet rich in flavor. While the cake is delectable by itself, the frosting adds that creamy sweet touch all cupcakes must have.
What's Cooking, Love? shares a recipe for Honey Vanilla Cupcakes With Honey Buttercream Frosting that requires only a few ingredients to make a tiny masterpiece.
Try our Surprise Cupcakes for a wondrous little treat. Hopefully you like chocolate chips!
Another cocoa-filled recipe comes from the National Honey Board. These Honey Chocolate Cupcakes will satisfy all chocolate cravings.
Have a bite of these Lavender Honey Cupcakes shared by the Food Network. The ingredients in this recipe blend together for a sweet yet refreshing taste.
Bakerita tells how to make Honey Nut Cheerio Cupcakes by turning a favorite cereal into an alluring goody.
The Honey and Banana Cupcakes by Bread and Honey make excellent use of those uneaten bananas sitting on your counter!
Apricot Honey Cupcakes from Lori's Culinary Creations are tangy and sweet.
Savor these Ginger Zucchini Cupcakes With and Orange-Spiced Cream Cheese Frosting from Daily Crave. This recipe is delicious any time of year, but very festive during autumn.
Our Sue Bee® Honey Carrot Cake Whole Wheat Cupcakes turn what usually comes as a large cake into individual mini cakes.
If you really are looking for gluten-free alternative to sweet delights, try these Paleo Strawberry Cupcakes from Elana's Pantry.
Sometimes it is all about the frosting. Our Orange and Honey Cupcakes With Sweet Ricotta Frosting really bring about a rich flavor, all due to what's on top.
Food52 shares these Chai Cupcakes With Honey-Ginger Frosting. If you are a chai tea lover then these will be right up your alley!
Get creative with some Creamsicle Swirl Cupcakes by Flavorite. Sweet, fruity and tangy, they will surely be enjoyed by everyone!
What did we miss? Share your favorite honey cupcake recipes with us on Facebook, Twitter and Pinterest!