Remembering the Sue Bee® Honey Bear
September 9th is recognized as National Teddy Bear Day, so what better time to dig into the old archives and remember an old friend of Sue Bee® honey?! It all started with a big announcement to introduce a new celebrity spokesperson …
… who quickly became a beloved character synonymous with the brand – and its classic honey-bear packaging.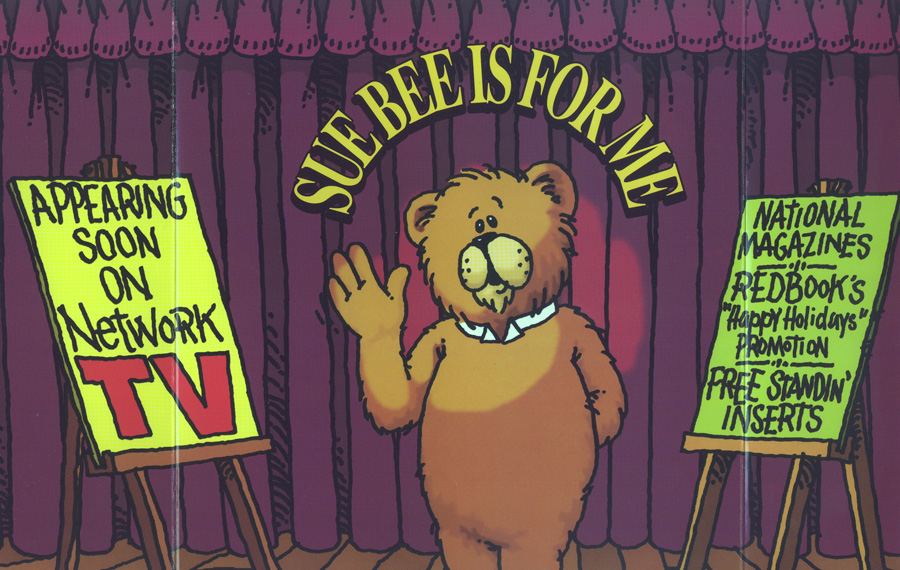 He appeared in everything from national magazines and free standing inserts to being featured in holiday promotions and even television commercials! Early storyboards showed him reaching into a beehive …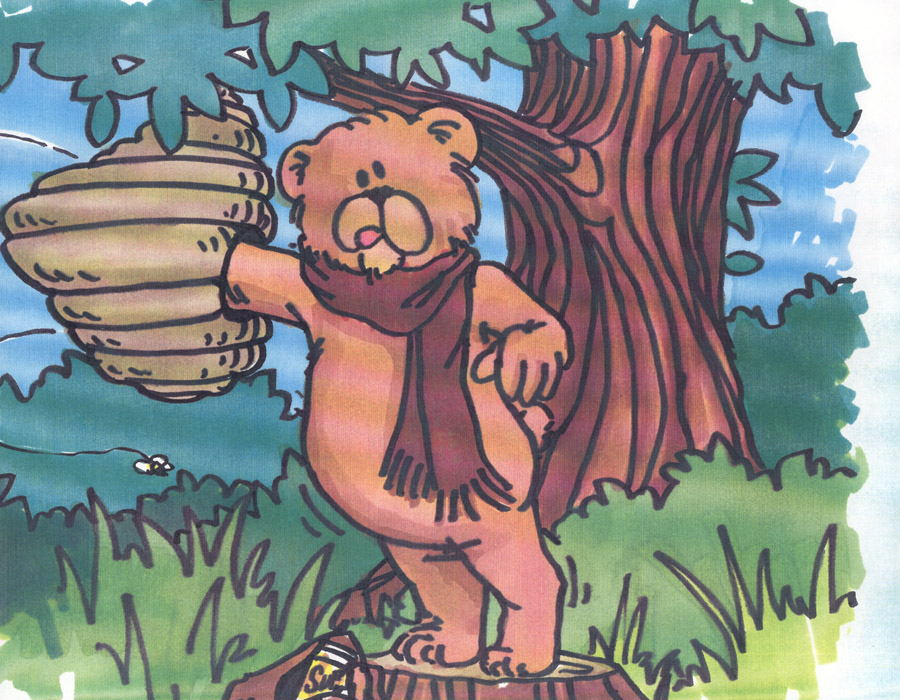 … only to find a bottle of honey inside.
This commercial showed him enjoying Sue Bee® honey on all kinds of foods and focused on his favorite saying, "Sue Bee is For Me!"
He appeared on the cover of numerous cookbooks that featured original recipes, like this one for the Sioux Honey Association's 75th Anniversary …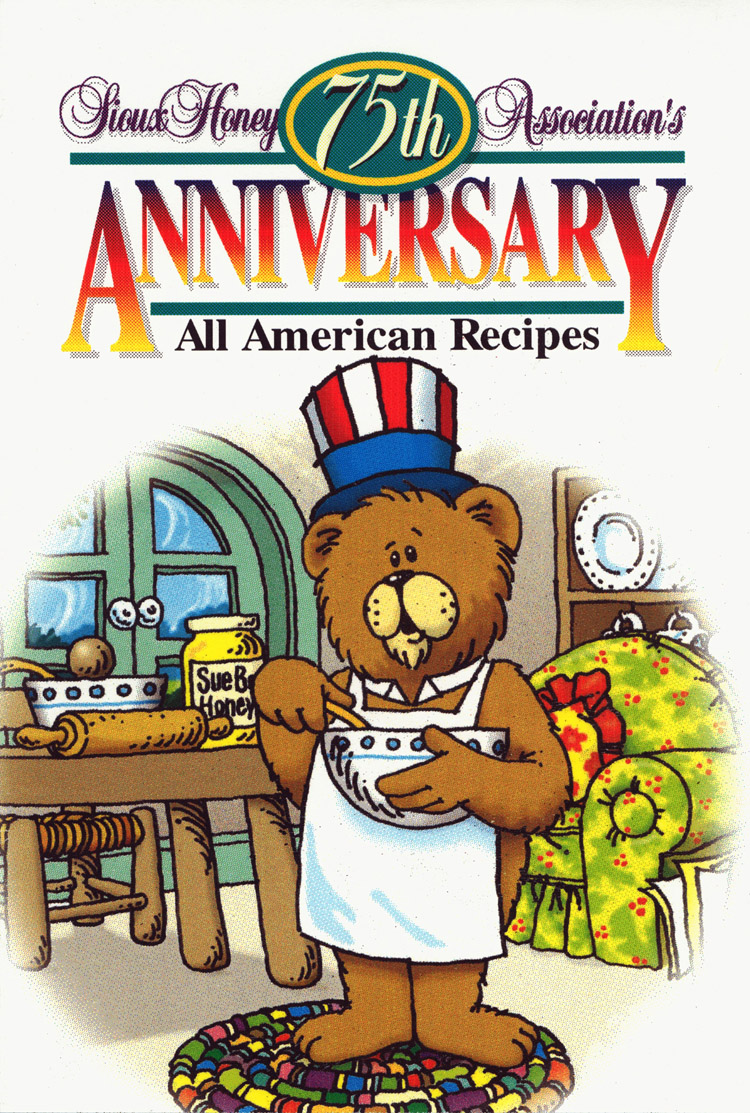 … and this colorful cookbook for children that included 29 "luscious recipes for fudge, cakes, pies, coffee cake and more!"
There were fake magazine covers made for him to help market the brand, like this example from 1994.
And there were tons of ads that featured him, too. From private label recruitment …
… to specific products and coupons for Sue Bee® honey …
… and even some cross-promotion. Like this ad with Cream of Wheat!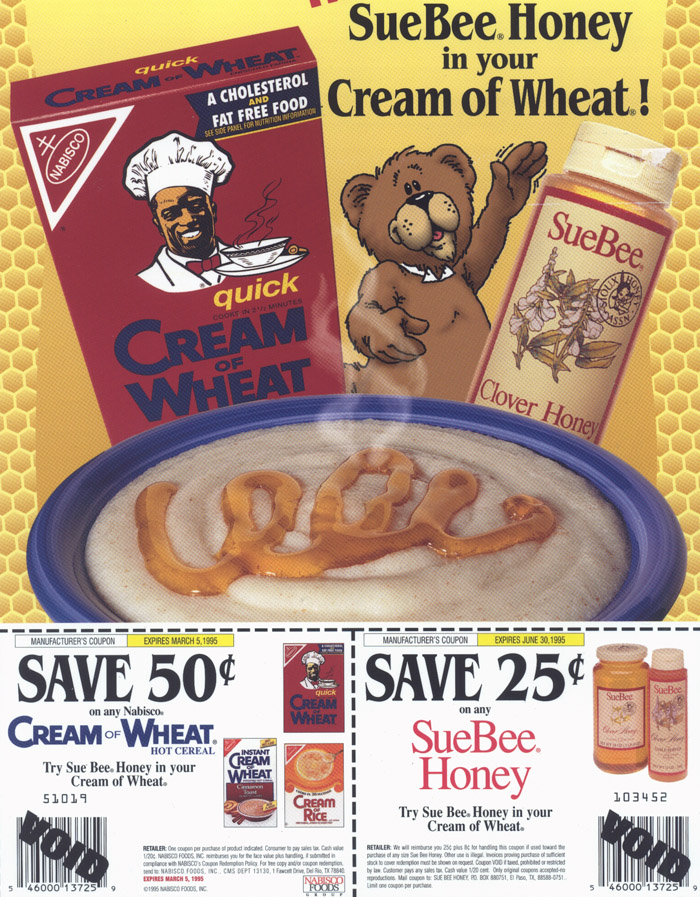 But mostly, our friend was fond of cooking with honey. He loved him some sweets …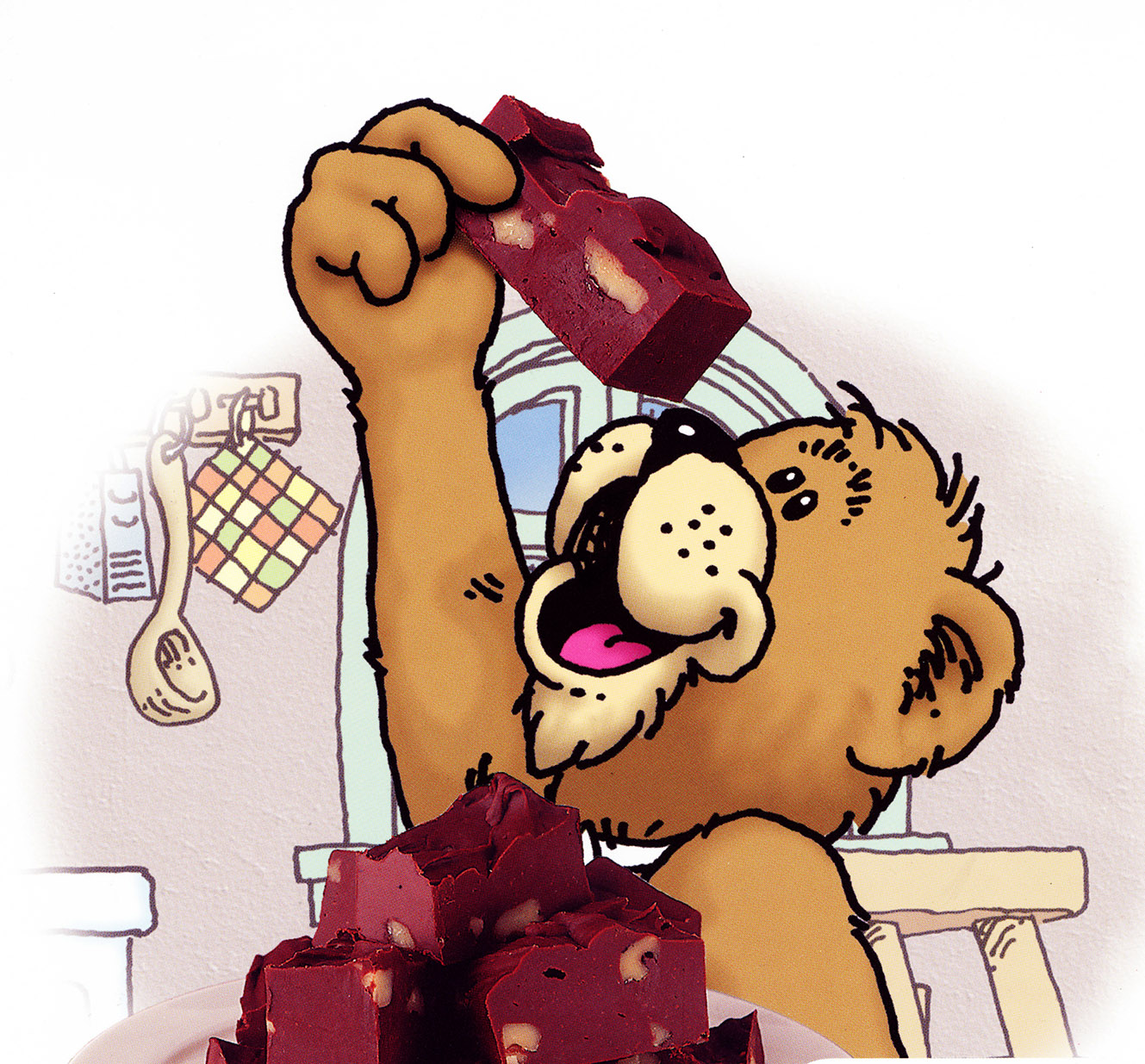 … but also went "nutty" for a sweet Sue Bee® fruit salad.
In the mornings, he didn't waffle on his favorite breakfast …
… and at dinnertime, he made sure there was nothin' left on the chicken but the bones …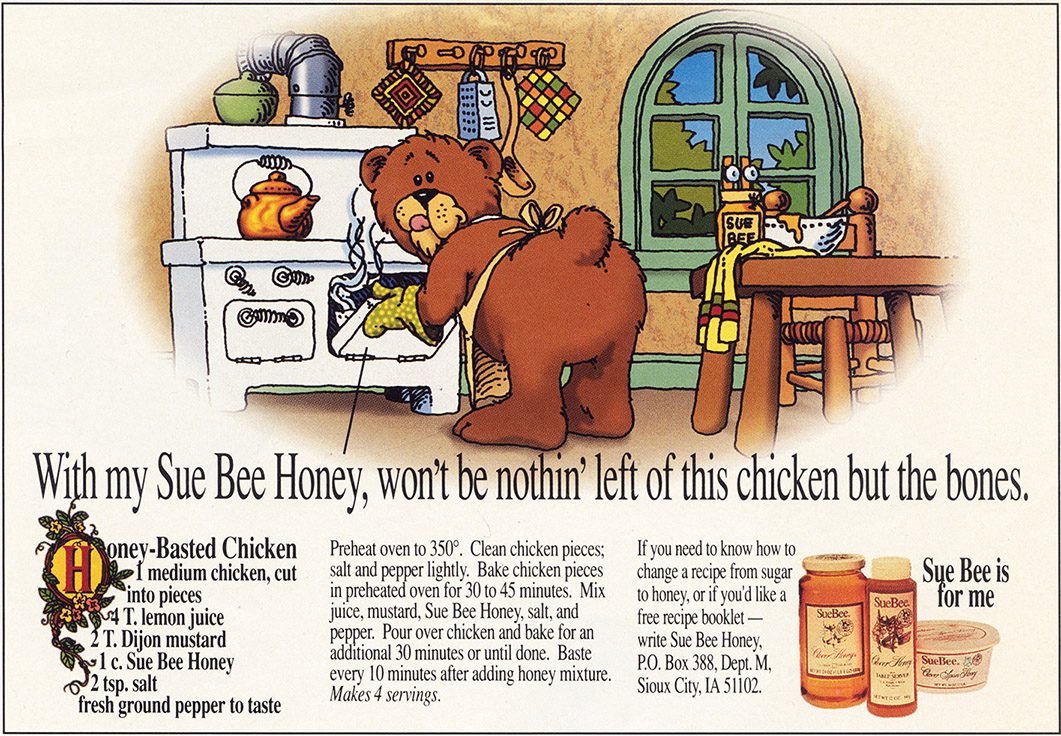 … but his sweet tooth always seemed to lead him back to the cookie jar.
Unfortunately, there was a time when he went in to hibernation from TV advertising. But it didn't last long!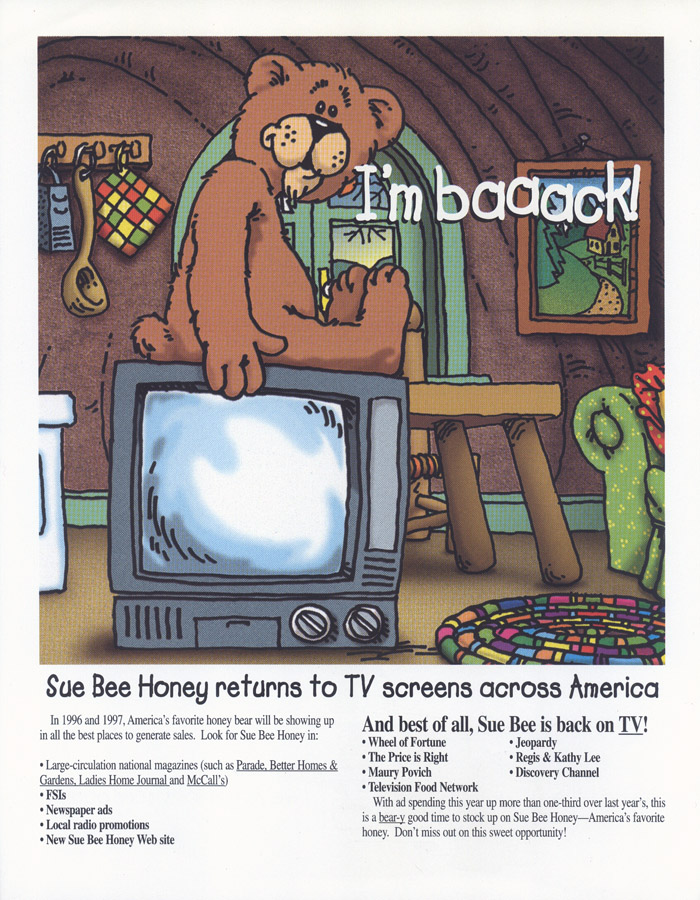 He was proud to tout Sue Bee as U.S. Grade A Clover Honey and went as far to call it "Premi-YUM" whenever he had the chance.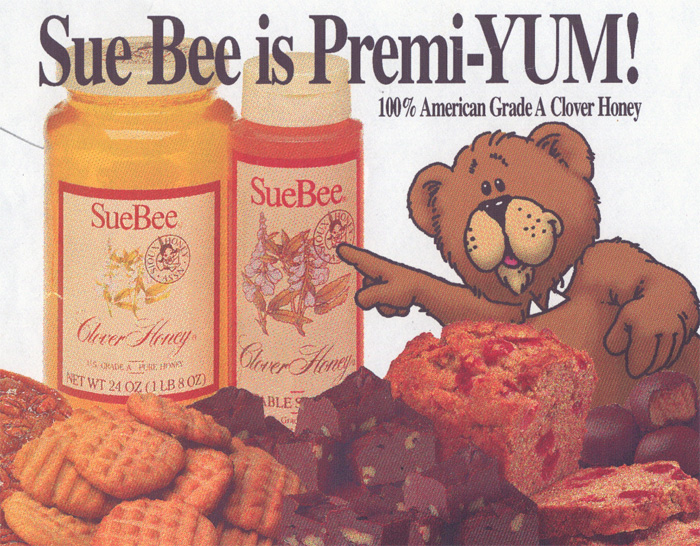 He liked to sweeten his tea with honey …


… and his sweet holidays always started with it, too!
Speaking of the holidays, his cookie jar could never seem to stay full as he was always eating Sue Bee® cookies by the pawful.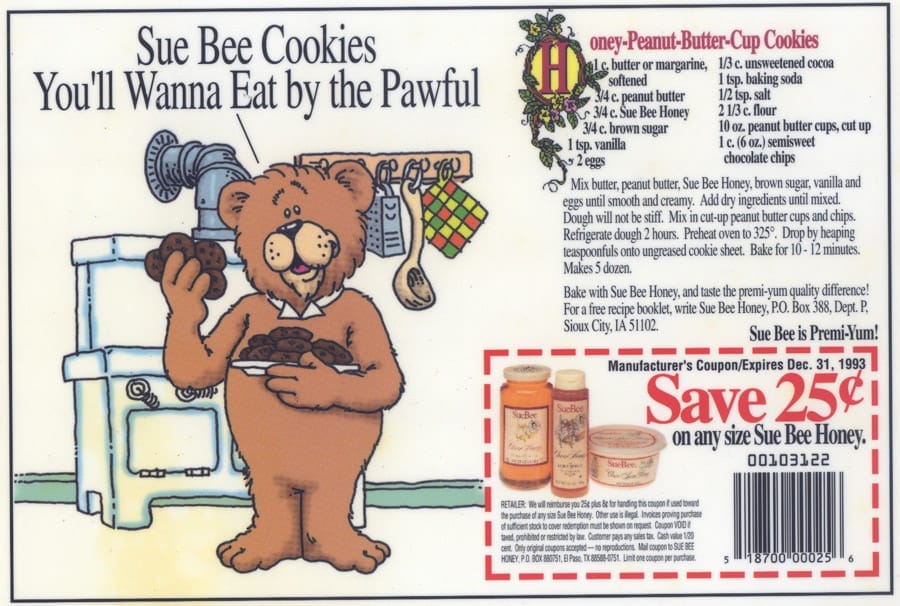 We'll always miss our good friend and remember him fondly. Until next time …