Dried Fig, Goat Cheese and Arugula Salad
Easy to make, surprisingly elegant.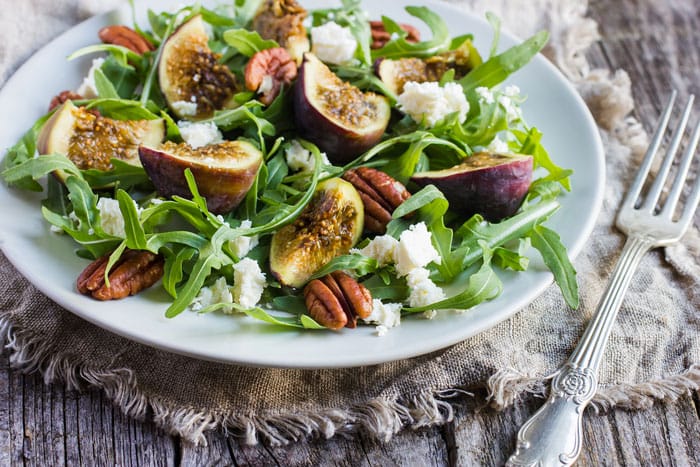 Ingredients
1 tablespoon Sue Bee® Honey
1/4 cup walnuts
6 white dried figs
6 ounces arugula
4 teaspoons extra virgin olive oil
1/8 teaspoon pepper
1/8 teaspoon salt
1 teaspoon Dijon mustard
1 tablespoon water
2 tablespoons sherry wine vinegar
1 1/2 sprigs rosemary
4 tablespoons goat cheese
Directions
Toast walnuts on a baking sheet in the oven at 300 F until they are just fragrant, about 4-5 minutes. Transfer to a plate to cool.
In a food processor, or metal bowl, combine Sue Bee® honey, rosemary, vinegar, water, mustard, salt and pepper. Slowly blend in the oil.
Combine arugula, figs and walnuts in a salad bowl. Give the dressing a final whisk and toss with salad.
Divide salad onto four plates and garnish with one tablespoon of goat cheese.