Chinese Hot and Sour Soup
This delicious soup is quick and easy to make.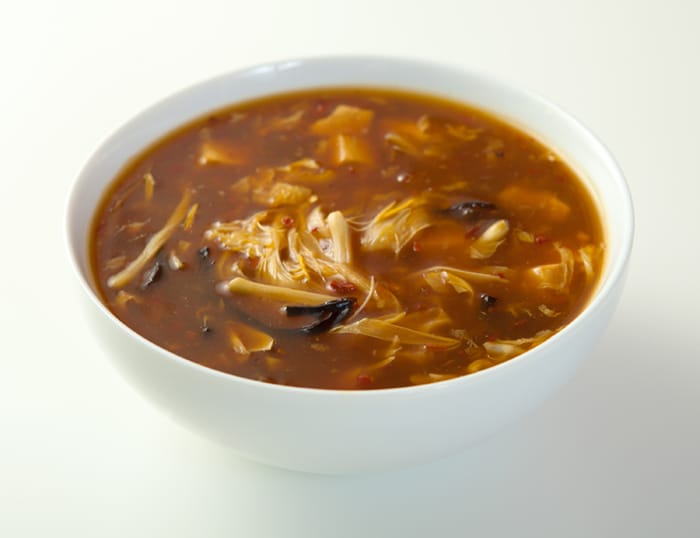 Ingredients
2 teaspoons Sue Bee® Honey
1 1/4 cups water
2 tablespoons rice vinegar
8 ounces firm tofu
1 1/2 tablespoons cornstarch
2-3 tablespoons soy sauce
2 1/2 cups chicken stock
1/3 cup green onion
2 cups fresh mushrooms
8 ounces boneless skinless chicken breasts
2 teaspoons dark sesame oil
4 large dried shiitake mushrooms
3/4 cup canned bamboo shoot
1/4 teaspoon hot red pepper sauce
Directions
In a small saucepan, bring 1 cup of the water to a boil.
Place the bamboo shoots in a small heatproof bowl and pour 1/2 cup of the boiling water over them; let soak for 5 minutes then drain.
Add the dried mushrooms to the water to the water remaining in the saucepan and let soak for 15 minutes. Drain the mushrooms through a sieve, reserving the soaking liquid.
Slice the mushrooms, discarding the stems.
In a large saucepan, heat the oil over moderate heat.
Add the chicken and saute for 4 minutes or until no longer pink on the outside.
Add the soaked mushrooms, fresh mushrooms, Sue Bee® honey, green onions, stock, soy sauce and mushroom soaking liquid. Bring the sauce pan mixture to a simmer.
Meanwhile, in a small bowl, mix the cornstarch with the remaining 1/4 cup water.
Stir the cornstarch mixture into the simmering soup and cook for 5 minutes.
Stir in the tofu, vinegar, and red pepper sauce.
Cook until the tofu is heated through.