Pancake Recipes with Honey
Breakfast is often referred to as the most important meal of the day, and pancakes are a favorite of people of all ages! So with September 26th being celebrated as National Pancake Day, there's no better time to compile a list of delicious pancake recipes made with honey – in the batter, syrup or spread on top!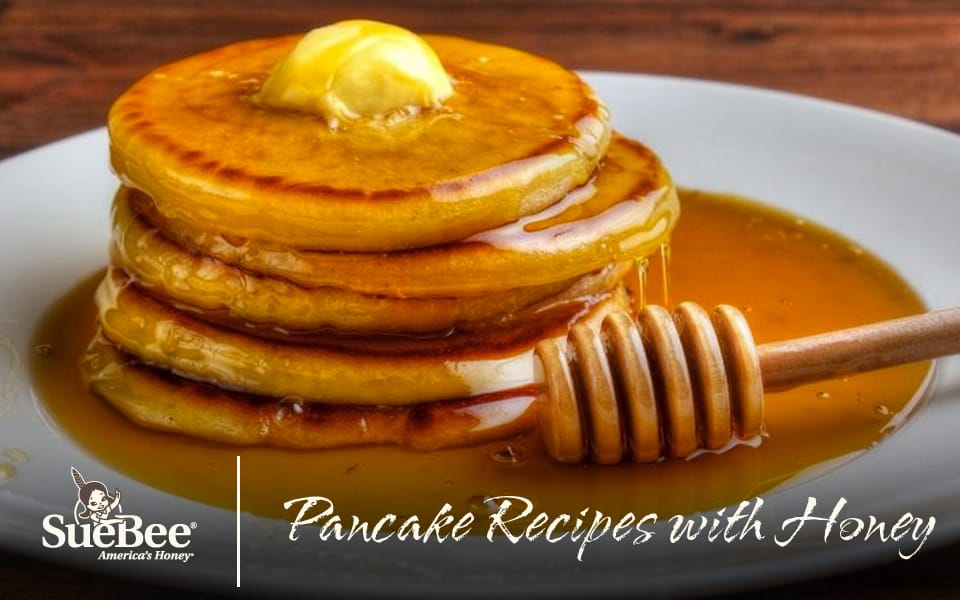 We've got all kinds of pancake recipes here that features common ingredients, such as bananas, peanut butter, chocolate chips even poppy seeds! You've also got to try our Honey-Cinnamon Syrup as a topper!
These Honey Apple Pancakes from MrBreakfast.com are great for kids and adults! Top 'em with fresh fruit and additional honey for a wonderful breakfast!
A unique twist on pancakes comes in the form of these Cornbread Pancakes with Honey Butter Syrup from Cooking Classy!
It wouldn't be fall without tons of pumpkin recipes and that includes pancakes! Real Food Enthusiast has a tasty recipe for Grain-Free Pumpkin Pancakes with Cinnamon Honey Syrup that you need to try!
Prep your breakfast the night before and wake up to a wonderful smelling kitchen – and ready-made food – with these Overnight Cinnamon Oatmeal Pancakes from Fabulously Frugal!
These Blueberry Ricotta Pancakes from Cooking in Stilettos definitely break from the traditional pancake mold but the taste is out of this world!
There might not be a ton of honey in this recipe for Peanut Buttery and Honey Pancake Tacos from Mountain Mama Cooks, but the idea and ingredients sure are tempting!
Yet another simple recipe for Honey Pancakes … this one is made without eggs or any dairy products.
Cranberry Honey Butter from Taste of Home. We've also got a variety of different Whipped Honey Butter recipes that incorporate vanilla, cinnamon and orange!
What did we miss? Share your favorite recipes with us on Facebook, Twitter and Pinterest!