Honey + Oats = Mmm!
3 overnight oats recipes (with honey) that are oh-so yummy
Overnight oats are nothing new. But, my goodness, there seem to be a dozen new overnight oats recipes posted on the internet every day.
That's because there probably are. Just google "overnight oats," and the list of recipes is seemingly endless. "Cinnamon Roll Overnight Oats," "Blueberry-Cashew Cream Overnight Oats," "Strawberry Cheesecake Overnight Oats," "Jim's PB & Honey Protein Punch" – the list of recipes goes on and on. Best of all, there is no right or wrong way to make overnight oats, and the customizable toppings make this health-minded meal one of the most versatile around.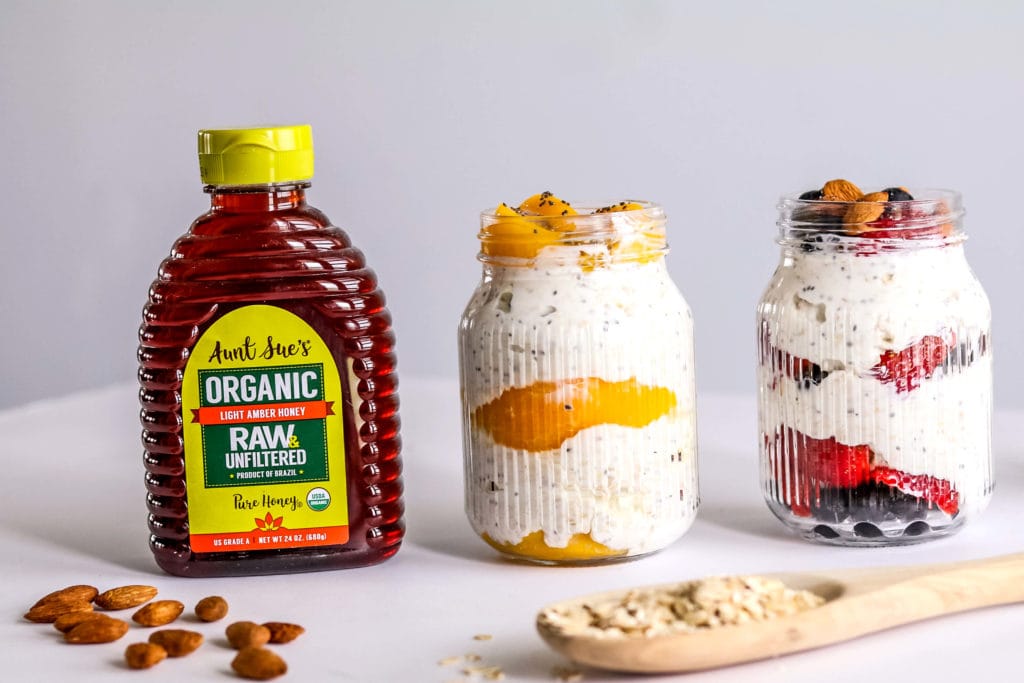 Create your base
No matter which kind of overnight oats we make, we always have a few must-have ingredients:
Oats: It's in the name, right? Rolled oats offer fiber, protein, magnesium, potassium and omega-3 fatty acids, among other things.
Honey: Oats by themselves are a bit plain, so we always add a natural sweetener like AUNT SUE'S® Raw & Unfiltered Honey. We like the naturalness of honey rather than refined and overprocessed sugar. Keeping it natural and pure is our motto.
Almond milk: You can use any milk, but this is our favorite because our beloved honeybees are the primary pollinator for the U.S. almond crop.
This is an ideal base to get you started. In fact, this is all you need for the "overnight" part. After that, the toppings are endless.
To get the "overnight" part, stir these ingredients together in a jar, top it with a cap or a food wrap and place it in the refrigerator. Let the oats soak for at least two hours. Overnight is best, but we often make ours in the morning before heading to work. We'll place it in the refrigerator at work and by lunchtime, voila! We have a delicious and nutritious-minded lunch.
Add toppings
As we mentioned, there are no rules, so you can add your toppings all at once, or after your oats have had time to soak. Those toppings can range from fresh fruit and dried fruit to nuts; seeds; coconut flakes; yogurt; peanut butter; protein powder; chocolate chips; spices like cinnamon and nutmeg; etc.
3 combinations we love
Everyone has their favorite combinations; here are three that we enjoy:
Jim's PB & Honey Protein Punch
Ingredients:
1 cup rolled oats
1/2 cup AUNT SUE'S® Raw & Unfiltered Organic Honey
1 cup almond milk (unsweetened)
1 tbsp chia seeds (rich in nutrients, including fiber, magnesium, protein, calcium and iron)
2 tbsp peanut butter (or 12g of powdered peanut butter) for more magnesium and protein
2 tbsp of plain nonfat Greek yogurt (great source of calcium, magnesium and phosphorus)
1/3 cup chocolate chips
1 scoop (30g) protein powder
Directions: For this one, Jim adds all the ingredients together in a 1-quart Mason jar, shakes vigorously and then refrigerates overnight. In the morning, it's ready to be devoured! So good!
Strawberry Cheesecake Overnight Oats (from fitfoodiefinds.com)
Ingredients:
1 cup rolled oats
1 cup strawberries, diced
1 tbsp chia seeds
Pinch of salt
1 cup almond milk (unsweetened)
1/2 cup nonfat Greek yogurt
1 1/2 tbsp honey (we prefer AUNT SUE'S® Raw & Unfiltered Organic Honey)
1 tsp vanilla extract
Graham crackers, crushed
Directions:
Place strawberries, almond milk, Greek yogurt, honey, and vanilla into a high-speed food processor (a blender works, too) and process on high until the strawberries are pureed.
Transfer the mixture to a large Tupperware and add the rest of the ingredients. Combine with a spoon.

Cover the Tupperware and transfer it to the refrigerator for at least 2 hours or, for best results, overnight. The longer it sits, the thicker the overnight oats will be.
When you're ready to eat, add more almond milk, as desired, and top with crushed graham crackers, strawberry jam, fresh strawberries and a drizzle of honey.
Almond Butter Overnight Oats with Bananas and Honey (from laurafuentes.com)
Ingredients:
2 to 4 teaspoons honey (we use AUNT SUE'S® Raw & Unfiltered Organic Honey)
2 tsp ground flax
2 cups old-fashioned oats
3 cups unsweetened almond milk
4 tbsp almond butter
2 bananas, divided
Directions (for 4 servings):
On a flat surface, place 4 bowls or lidded glass jars. Fill each with ½ teaspoon ground flax, ½ cup oats, ¾ cup milk, and 1 tablespoon almond butter.
Peel and mash one banana. Divide mashed banana into the four oat mixtures. Pour milk over the banana and oat mixture and, with a spoon, combine the ingredients.
Refrigerate for eight hours or overnight.
When ready to eat, serve cold or warm it up for 30 seconds in the microwave. Slice the remaining banana, top each oat mixture with banana slices and drizzle 1 teaspoon of honey over the top. Combine and enjoy.
Need more overnight oats ideas? Try "12 Overnight Oat Recipes Made with Honey."