Sweet Heat for Your Flame
Spice up Valentine's Day with our NEW SUE BEE® INFUSIONS™ Hot Honey
Have you tickled your taste buds with our SUE BEE® INFUSIONS™ Hot Honey? For this magical mix, we've taken our beloved, naturally pure SUE BEE® honey and infused it with chilies to create a taste experience you won't soon forget.
You can order it now on our Amazon store, and, with Amazon Prime delivery, you should get it in time to make your sweetheart a special, zesty meal for Valentine's Day. (HOT recipes below!)
Our chili-infused honey adds pizzaz to your pizza; zing to your wings; sizzle to your stir-fry; fire to your ribs; a "Boom!" to your burgers; a va-va-voom to your veggies … you get the idea.
Speaking of ideas, need any for a Valentine's Day dinner? These popular, easy-to-make recipes will win the heart of your Valentine – and because they all include SUE BEE® INFUSIONS™ Hot Honey, you might even get a spicy kiss!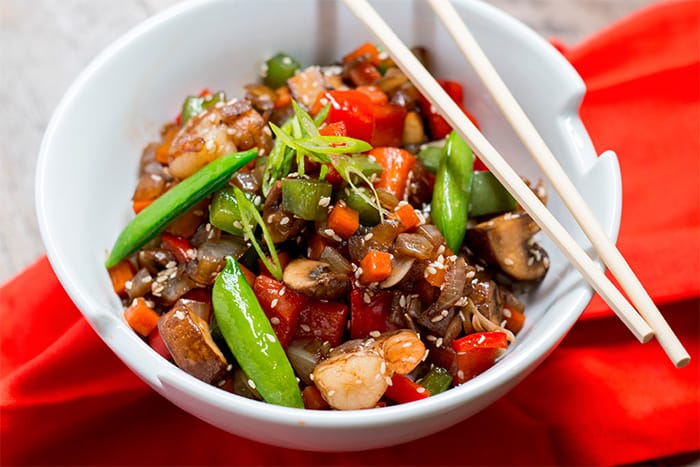 Hoy Honey Shrimp Stir-fry
Ingredients
1 tbsp soy sauce
1/2 tbsp fish sauce
1/2 tbsp sesame seeds
1 tbsp cornstarch
2 tbsp SUE BEE® INFUSIONS™ Hot Honey
1/4 cup chicken stock
4 cups prepared white rice
1 each red, green and yellow bell pepper, chopped
1 onion, chopped
1 cup button mushrooms, chopped
1 carrot, chopped
1/2 zucchini, chopped
1/2 cup sugar snap peas
1/4-lb peeled, deveined shrimp
2 cloves garlic, finely minced
1 tbsp canola oil
chopped scallion, to garnish
Directions
Whisk together soy sauce, fish sauce, sesame seeds, cornstarch, honey, and chicken stock. Set aside.
Heat canola oil in a large skillet over medium-high heat.
Add chopped peppers, onion, mushrooms, carrot and zucchini to skillet and sauté for about five minutes, or until vegetables have begun to soften and take on color.
Using tongs or a spatula, push vegetables to the sides of the skillet.
Add shrimp to the center and sauté till pink and translucent, about three minutes.
Add garlic to the skillet and cook for about a minute.
Add soy sauce honey mixture and sugar snap peas.
Cook for another two minutes.
Serve over steamed rice, topped with chopped scallion.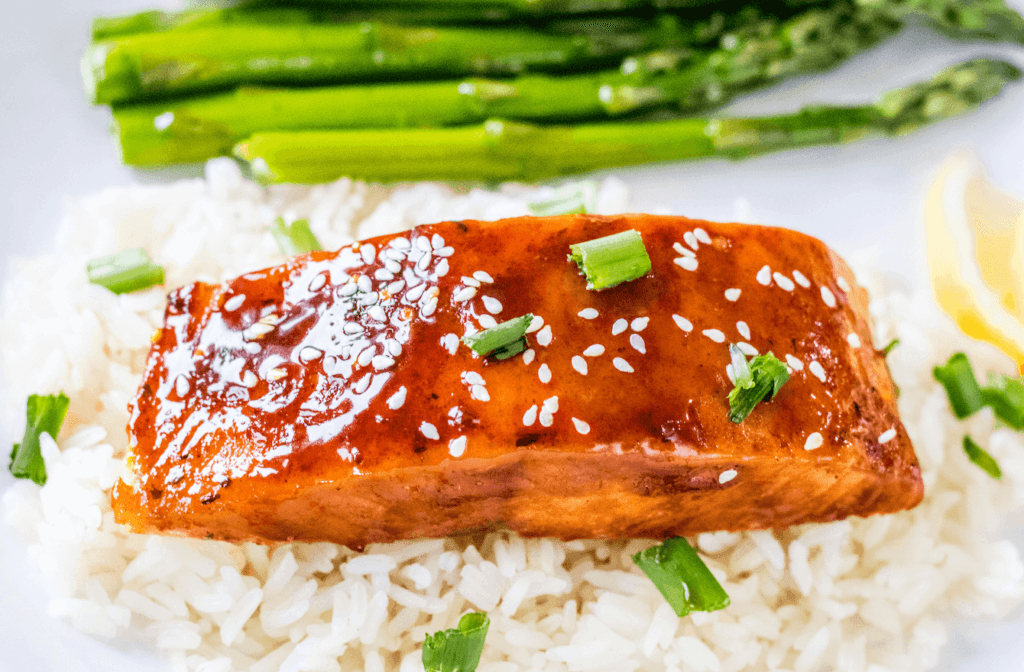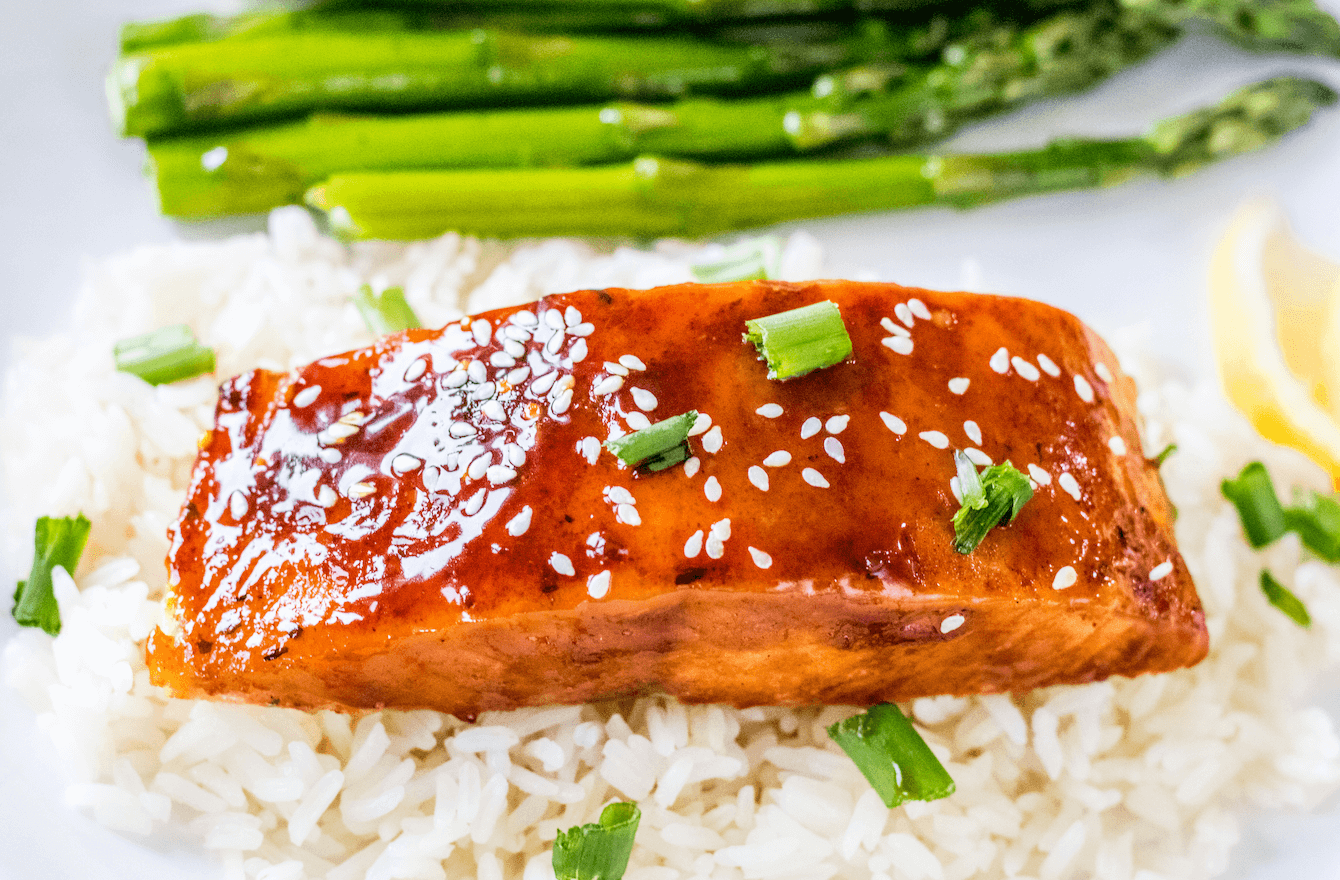 Spicy Honey Lime Salmon
Ingredients
2 salmon fillets
1 clove garlic, minced
1/4 cup olive oil
Juice from 2 limes
4 tbsp SUE BEE® INFUSIONS™ Hot Honey
Salt and pepper
Directions
Whisk together olive oil, honey, lime juice, garlic and salt and pepper.
Pour into a large zip-top bag with salmon fillets and marinate for at least two hours.
Preheat grill over medium heat.
Brush grill lightly with oil.
Grill salmon for about five minutes on each side, or till flesh flakes easily.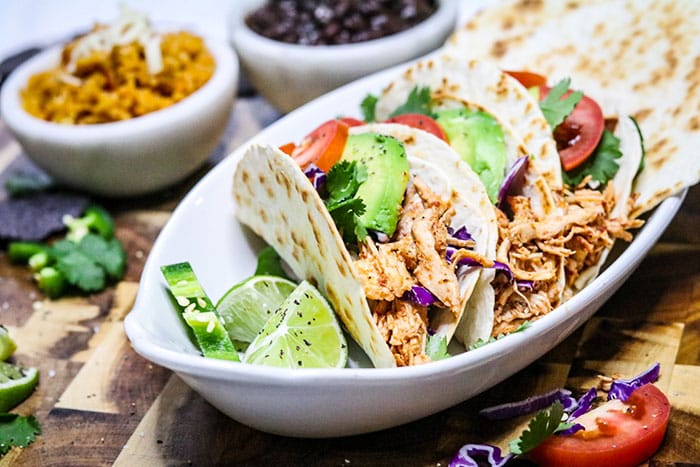 Hot Honey Chicken Tacos
Ingredients
2 lb skinless, boneless chicken breasts
3/4 cup SUE BEE® INFUSIONS™ Hot Honey
3 tsp chipotle in adobo sauce
1 tbsp ground cumin
1 1/2 tsp paprika
1 1/2 tsp garlic salt
1 tsp onion powder
1/2 tsp pepper
Taco-sized corn or flour tortillas
1/2 cup pepper jack cheese, shredded, if desired
Red cabbage, diced
Avocados, sliced thin
Lime wedges
Directions
Puree honey and chipotle in food processor or blender until smooth.
Lay chicken breasts in Crock-Pot and season.
Pour honey chipotle mixture over chicken and cook on high for 3 hours or low for 5–6 hours until chicken is done and shreds easily.
Remove chicken from slow cooker. (Keep juices in Crock-Pot.)
Shred chicken with forks and return to Crock-Pot to absorb the remaining juices.
Serve on tortillas with your favorite taco toppings. Also works well for nachos.