'Charcuterie' – Fancy Word, Simple Snack
A few tips to give your charcuterie board flavor and fun
The two best things about charcuterie:
There are no rules – it can include whatever you want it to include.
Honey goes well with ANY kind of charcuterie.
So, what exactly is "charcuterie"? Pronounced "shar-coo-ta-ree," the term comes from two French words: "chair," which means "flesh," and "cuit," which means "cooked." And it typically entails the art of organizing various cuts of cured meats and cheeses on a tray or board in a beautiful, edible display.
But that's just the basic definition. Again, the beauty of charcuterie is that it can be whatever you want it to be. If you desire pickled herrings on your charcuterie board, go for it. If you want chocolate-covered hot dog bites, by all means. Just remember whatever you decide, it's always going to taste better when drizzled with honey – from sweet AUNT SUE'S® Raw & Unfiltered Organic Honey to zesty SUE BEE® INFUSIONS™ Hot Honey to spreadable SUE BEE® SPUN® honey.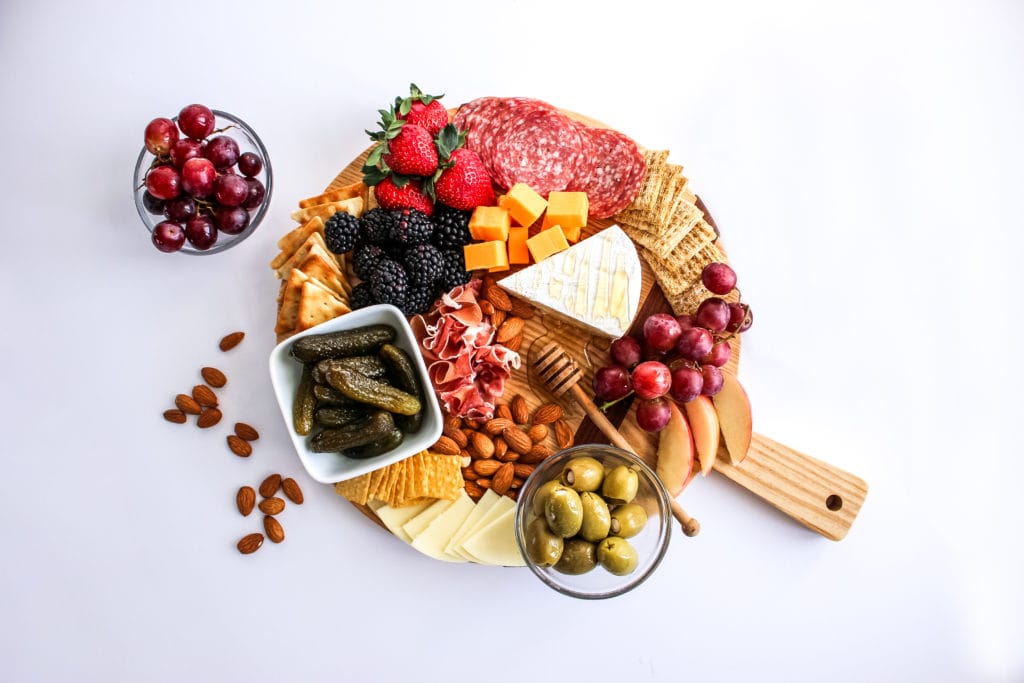 But, if you're looking for some best practices when it comes to charcuterie, here are some tips from our experts:
Try brightly colored fruits (berries, olives and grapes) and vegetables (carrots, celery, cucumber).
For meats and salamis, go with a variety – use at least three or four different kinds.
Use an assortment of cheeses, too – some soft and some hard.
Include sweets, such as chocolates, to your board.
Don't forget to go nutty – a mix of nuts (cashews, walnuts, pistachios) add a nice salty flavor.
Dill, sweet, spicy – pickled cucumbers, olives and veggies are a popular choice.
And, of course, honey! From fruits and veggies to spicy meats, cheeses and chocolates, honey drizzled on top is the perfect finishing touch to these charcuterie treats.
Finally, you want your charcuterie board to look fun. Get creative with how you organize and arrange everything on the board.
When you get it all put together, set your wood cutting board inside a tray that has raised edges when transporting to a party. That will help keep all those various goodies in place.
And to wash it all down? Wine is a popular go-to for charcuterie, but you can serve whatever beverage you like. YOU make the rules!