Easter Dinner Delights
Sink your teeth into these honey-blessed recipes
All the Kenny Rogers Roasters in the United States have closed, but there are still dozens of the chicken roasters in Asia, so if you are craving those famous Kenny Rogers Roasters corn muffins, you'll have to travel out of the country to find some.
Or will you?
Luckily for muffin-lovers, we have a recipe that tastes just like those famous yum-yums. These muffins will be the talk of your Easter dinner this year, and they're a cinch to make. The not-so-secret ingredient? SUE BEE® honey!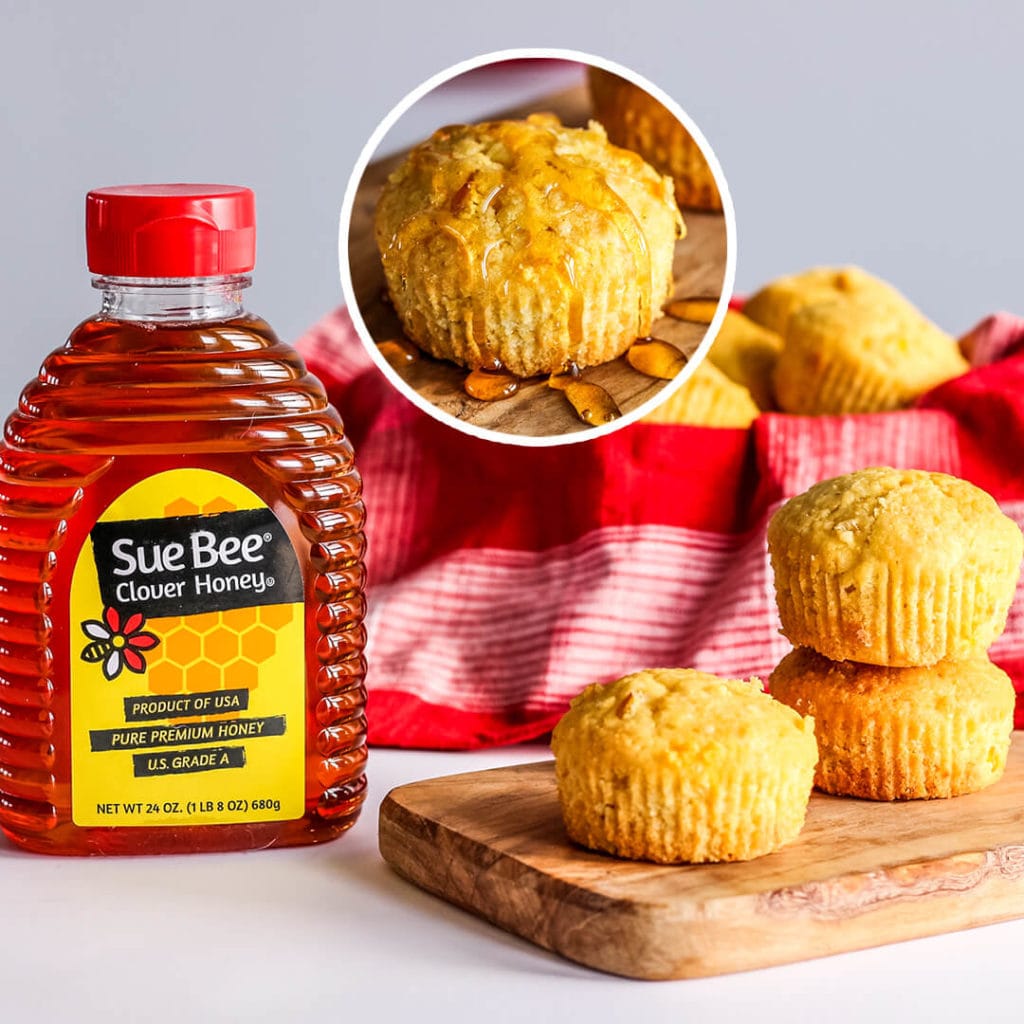 Honey Corn Muffins (Like Kenny Rogers Roasters)
Ingredients
1/4 cup SUE BEE® honey
1/2 cup butter
1/2 cup milk
1/2 tsp baking powder
3/4 cup yellow cornmeal
1 1/2 cups all-purpose flour
1/2 tsp salt
2 eggs
2/3 cup sugar
3/4 cup frozen corn
Directions
Preheat oven to 400 F.
Cream together SUE BEE® honey, butter, sugar, eggs and salt in a large bowl.
Add flour, cornmeal and baking powder and blend thoroughly. Add milk while mixing.
Add corn to mixture and combine by hand until corn is mixed in.
Grease a 12-cup muffin pan and fill each cup with batter.
Bake for 20–25 minutes.
Honey-Glazed Orange Ham
Another must-have at Easter dinner is a juicy honey ham, and we've got the ultimate recipe for that, too. Our AUNT SUE'S® Raw & Unfiltered Honey-Orange Glazed Ham is above and beyond what you might expect from an Easter ham recipe. It's the ideal blend of flavors, and, best of all, it's easy to make.
Ingredients
1/2 cup AUNT SUE'S® Raw & Unfiltered Honey
5–7 lb precooked ham
1/2 tbsp cornstarch
1/4 tsp cinnamon
1/2 tsp cloves
2 tbsp spicy brown mustard
1 6-oz can orange juice concentrate, thawed
1 orange, sliced
Directions
Using a paring knife, score ham in a diamond pattern, making cuts about 1/4-inch deep.
Mix remaining ingredients, except orange, and bring to a boil while stirring. Continue boiling and stirring for 1 minute.
Brush ham with glaze and bake 1 1/4 to 2 1/2 hours at 325 F, brushing with glaze every 30 minutes.
The last 45 minutes, top ham with orange slices.