DIY Galaxy Bear Bottles
Astronomy has never been so sweet! Get the wonder and the mystery that is the galaxy with an easy do- it-yourself project. This galaxy honey bear is the perfect craft for all your little space cadets. Let their creativity soar by mixing their favorite colors with glitter inside an adorable Sue Bee® honey bear bottle. This activity is sure to make a "Big Bang" with your family. It's fun to make and even more fun to watch afterward. Give the honey bear a gentle shake to see the galaxy come to life in your hands!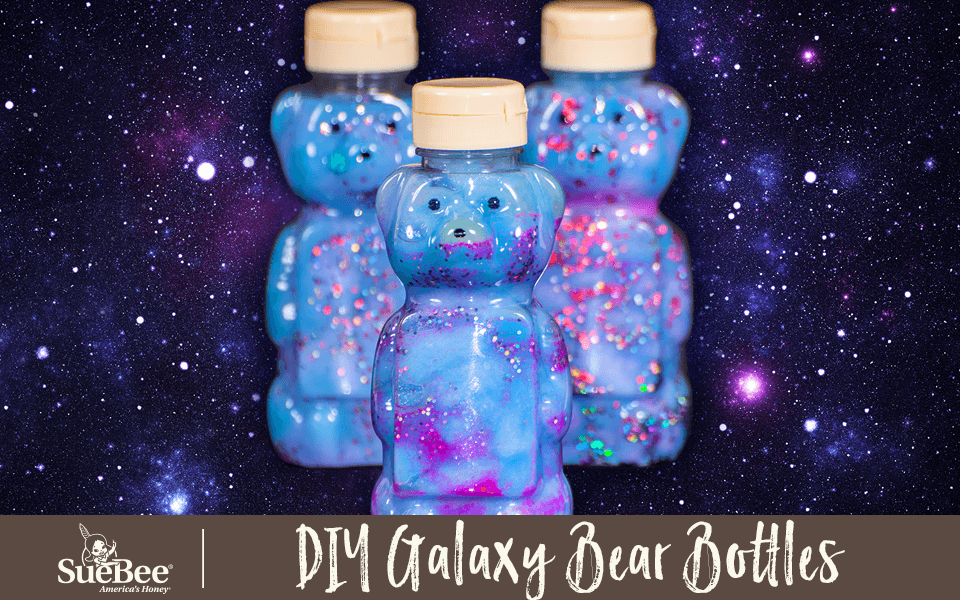 Things you'll need:
Clean Sue Bee® honey Bear bottle
Tempura paint (at least two colors)
Cotton balls
Glitter
Water
Instructions:
Fill 1/3 of honey bear bottle with water.
Add several drops of paint to the water, replace lid on the bottle and shake.
Add a bit of glitter; shake again.
Stretch out cotton balls and add to the bottle, pushing them down until cotton fills the bottom; shake.
Fill another 1/3 of the bottle with water, add contrasting paint and repeat steps 2-4.
Fill the final 1/3 of the bottle with water. Again, repeat steps 2-4.
Viola! Your very own galaxy honey bear.
This activity can be a stellar lesson, too! Teach your mini astronauts that the glitter acts as the stars, the cotton acts as the interstellar dust and the paint acts as the nebula. You can also teach them that recycling your old Sue Bee® honey bottles is the perfect way to help save our planet while creating a galaxy far, far away.
To re-create our luminous galaxy, mix blue, pink and purple paint. However, there are endless color combinations to try that will make the honey bear unique. Amplify the afterglow of your children's galaxy bear by adding even more glitter! Whatever you do, be sure to snap a photo and tag us on Twitter, Instagram and Facebook using the hashtag #DIYGalaxyBear. We can't wait to see your out-of-this-world creations!