DIY Christmas Gifts Made With SUE BEE® Honey
This holiday season, give gifts that are made with a whole lot of love and a little bit of honey!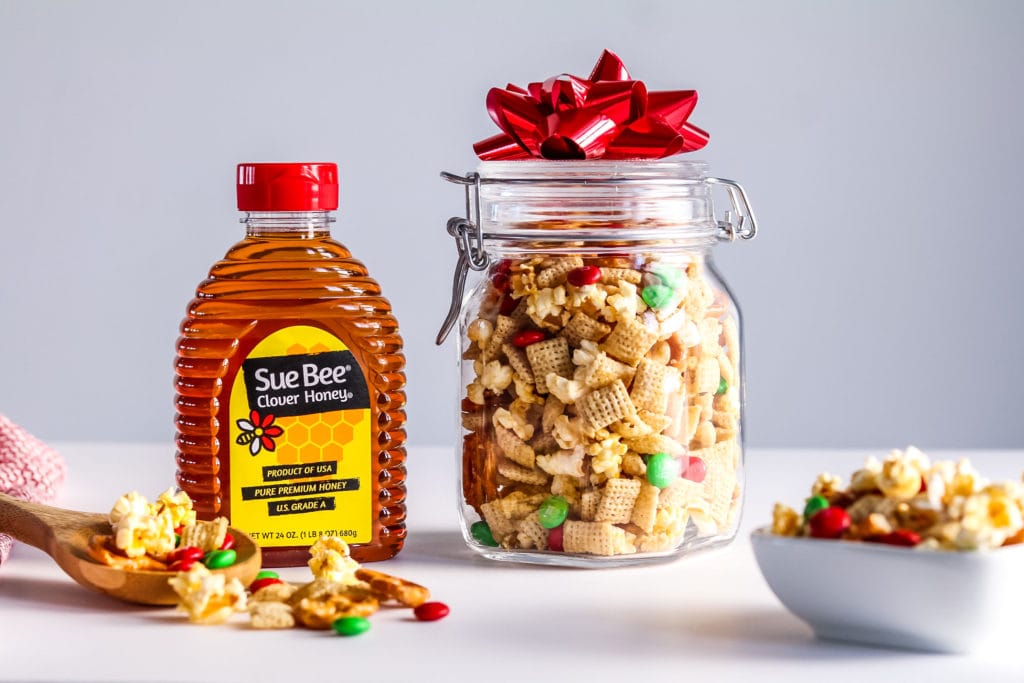 Whip up any of these easy and affordable DIY Christmas gifts made with SUE BEE® honey. Place them in cute jars and finish them off with some holiday bow or ribbon.
Our festive Honey Cranberry Butter is the perfect spread for the holidays! Its tangy and sweet flavor goes perfectly on a piece of toast or an English muffin, making for one yummy gift to share. But don't forget to save a little for yourself to enjoy, too.
Try not to eat all of our Santa's Honey Snack Mix while you're making it! Whip up a few batches of this delicious treat and share with your loved ones. It's perfect to snack on while watching Christmas movies or to serve during your holiday party!
An easy-to-make peanut brittle recipe? Yes, please! Our Microwave Honey Peanut Brittle is sweet and salty perfection. Not only does it come together in less than an hour, but it's sure to wow your friends and family.
Our Candied Almonds make for a great host or hostess gift. Coated in a honey glaze, these nuts are a delicious gift to keep in mind if you're attending a holiday party.
Our Honey Peppermint Lip Scrub is the perfect way to help soothe chapped lips. It tastes good, smells great and is made with Mother Nature's super food – honey. Pair it with our Honey Peppermint Lip Balm (below) and you've got one great gift or stocking stuffer!
Made with honey, coconut oil, shea butter and other wonderful ingredients, our Honey Peppermint Lip Balm is a winter essential. Try it along with our Honey Peppermint Lip Scrub (above) for a special lip care package for your friends or family.
What did we miss? Share your favorite DIY Christmas gift recipes with us on Facebook, Twitter and Pinterest.