Cold Weather Uses for Honey
As the temperatures gradually fall and the sun sets earlier, it's not uncommon to feel the effects. Things like chapped lips, dry skin and sore throats are nothing out of the ordinary this time of year. But did you know that honey can be used to help fight these and other cold-weather issues that may arise? It's true. Honey is one of the most versatile products out there and great to have on hand as winter approaches.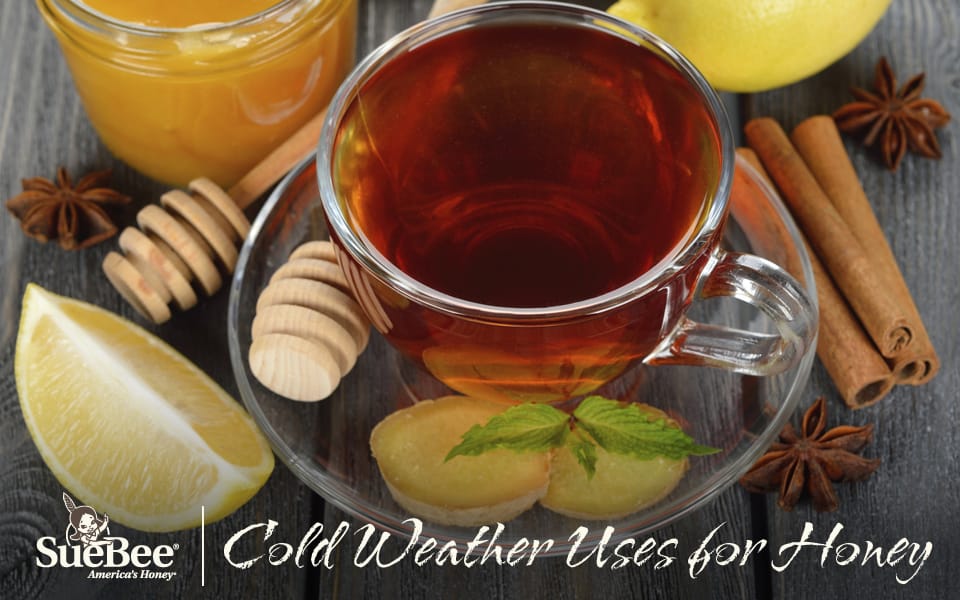 Here are a few cold weather uses for honey to try:
Make Your Own Lip Balm
Dealing with chapped lips during the winter months? Avoid spending money every time you're at the checkout line. Instead, make your own lip balm. There are tons of instructions and recipes out there to try, but our favorite is this DIY Rose Petal Lip Balm from Popsugar. In addition to honey, it only requires a few ingredients – coconut oil, olive oil, vanilla extract, rose petals and beeswax – and the final product is a soothing and fragrant balm that will help keep your lips hydrated.
Help Soothe Dry Skin
Combine honey with milk and orange juice to create your own moisturizer for dry or cracked skin. To make the moisturizer, combine 1 cup of slightly warmed Aunt Sue's® Raw & Unfiltered Honey with two tablespoons of whole milk and the juice of a small orange. Mix the three ingredients well and apply thoroughly to the dry skin for approximately 45 minutes twice per day before rinsing away the moisturizer with warm water.
Help Soothe a Sore Throat
If you're dealing with a cold or sore throat, try trickling honey down your throat and letting it slowly slide down for relief. Or add honey to a cup of hot tea. While the honey alone will not "cure" a sore throat or cold, it can help relieve some of the discomfort.