100 Years of Beekeeping
Third-generation beekeeper Rob Buhmann carries on family tradition
Sioux Honey Association Co-op beekeeper members come from every corner of the United States – even a remote area in northern Montana.
Rob Buhmann, a third-generation beekeeper, lives "about 20 miles south as the crow flies from the Canadian border" in Zurich, Montana. Because he's also the Chairman of the Board of Sioux Honey, he travels to the honey company's Sioux City, Iowa, headquarters four times a year for meetings.
We caught up with Rob at a recent gathering of board members and, while we were there, Rob took us on a tour of the Sioux Honey bottling facility, which you can see in the video below.

A kid and his beehive smoker
Rob's grandfather, Reinhart Buhmann, began beekeeping with his brothers, Lawrence and Clarence, in 1918. That's 100 years of beekeeping for the Buhmanns, a tradition that Rob and his wife, Gloria – and their daughters and sons-in-law – are continuing today.
The Buhmann honey business started in Oregon, but moved to northern Montana in 1929. They shipped their hives by rail car and eventually settled in an area near Zurich, Montana, in 1937. The family has been running hives in that location ever since.
Rob was introduced to the family business early on; when he was 5, he said.
"I can remember I was with my dad and mom," Rob recalled. "He was checking the bees and I got to get out with him and put on a veil and he handed me the smoker. As any beekeeper knows, when they hand a young kid – boy or girl – the smoker, we're fascinated.
"I can vividly recall my father trying to get me to tone down a little bit on the smoker because I was loving working that smoker. That's really one of my first recollections of actually going out to a bee yard."
From there, Rob was hooked.
"It just became the natural thing that I wanted to do, and it's what I continue to do. I enjoy the work and the challenge and everything that comes with it. I guess I never really considered doing anything else.
"And I'm honored to be able to be a third-generation beekeeper and to continue something that was started by my grandparents. It has given me the opportunity to work with them and my father, and then I had a brother that was involved in the business with me for a number of years. Now I have three daughters and sons-in-law, along with my wife, so I'm optimistic to be able to continue and pass it on."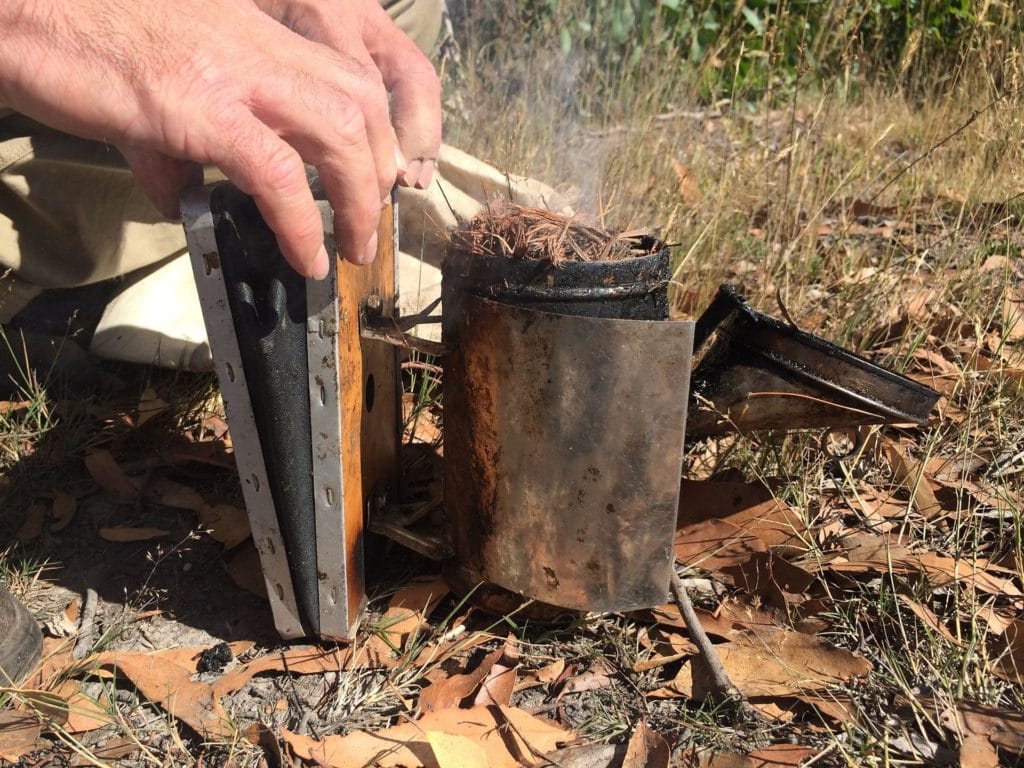 Growing the family business
When Rob's grandfather moved the Buhmann honey operation to Montana, he brought with him about 150 colonies. Today, Rob has grown the business to about 3,500 colonies.
Rob runs his bees in northern Montana in the spring and summer and then takes them to California in January and February to help with the almond pollination.
Two of Rob's daughters, and their husbands, work in the Buhmann family with Rob and his wife, Gloria.
Joining the Sioux Honey co-op
A lot has changed since 1921, the year a handful of inspired beekeepers united to create the Sioux Honey Association Co-op. But there is one thing that hasn't changed – Sioux Honey is still a co-op, not a corporation, and the same original goal remains: Keeping the focus on what's best for Sioux Honey's customers, its beekeepers and its honey.
Rob's grandfather and father joined Sioux Honey in 1947. There were a few years in the late 1960s and early 1970s when the Buhmanns weren't members, but they rejoined in 1974 and have been delivering honey to Sioux Honey for the past 44 consecutive years.
"That's the special aspect of this cooperative," Rob said. "It's more of a family, and we all have the same goal: To provide the best, most natural and pure honey available anywhere in the world.
"We truly care about the product we're putting on the shelf."