14 Brownie Recipes With Honey
Chocolate lovers unite! Dec, 8 is National Brownie Day … as if you needed an excuse to indulge a little with a delicious, heavenly treat. Honey is often used as a key ingredient in many recipes as a substitute for sugar.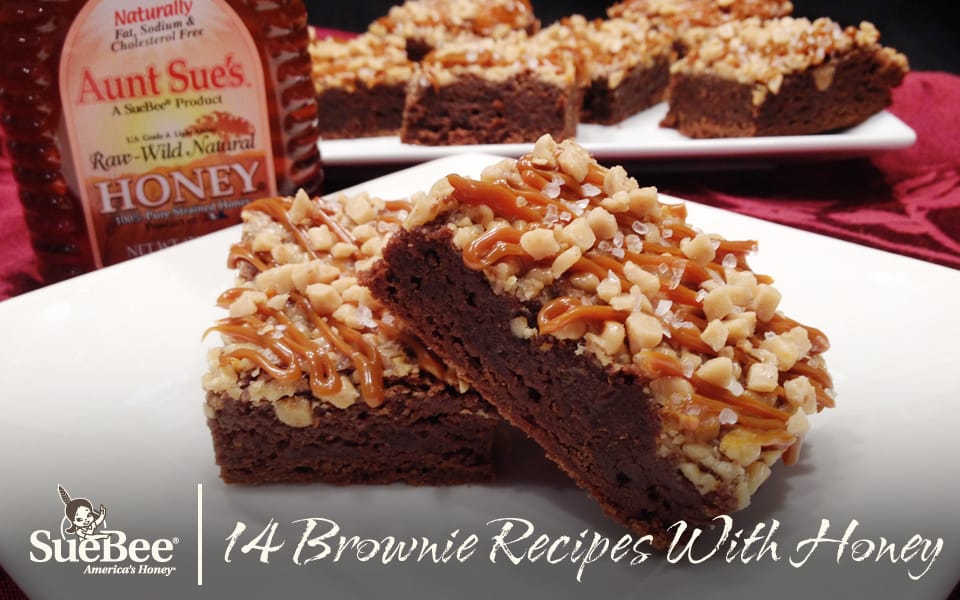 Try one of these 14 amazing brownie recipes with honey today – like Jannine Fisk's recipe for Salted Caramel Honey Brickle Brownies (pictured) that was an entry in the Sue Bee® Honey Sweet Eats Recipe Contest!
Those with gluten allergies can still enjoy brownies! These Ultimate Gluten-Free Fudge Brownies from Whole & Heavenly Oven are one of our favorites.
These Honey Brownies from Krithi's Kitchen are simple, moist and yummy!
You can't go wrong with these Honey Nut Brownies from Laura's Sweet Spot!
These Goat Cheese and Honey Brownies from Thrifty and Green are a little unconventional but still delicious!
Are you drooling looking at Hungry Happens Flourless Pumpkin Caramel Latte Brownies?
A fun twist on two classic desserts … Pecan Pie Brownies from Just a Taste!
These Jillian Micheals Skinny Brownies from Cinnamon Spice & Everything Nice will have you sneaking a bite or two. Or four!
This is one recipe you've got to try … No Flour (Black Bean) Brownies from Practical Stewardship!
For a flourless brownie recipe, we suggest looking to Gina's Skinny Recipes for these tasty PB2 Flourless Chocolate Brownies.
The name says it all! The Best Made From Scratch Brownies In Katrina's Kitchen have plenty of honey in the decadent frosting!
Our Sue Bee® Honey Sweetheart Brownies are perfect any time of year!
Of course, our Double Chocolate Brownies With a Crust are, too!
Finally, these Peanut Butter Honey Brownies from Jif Peanut Butter are full of flavor that you'll love!
What'd we miss? Share you favorite brownie recipes with us on Facebook, Twitter and Pinterest!