13 Drink Recipes With Honey
Why use artificial sweetener or spoonfuls of sugar to sweeten your drink when you can use honey? Honey's naturally sweet flavor enhances any beverage. Get creative with your drink recipes and make anything from lemonade to iced tea to sports drinks!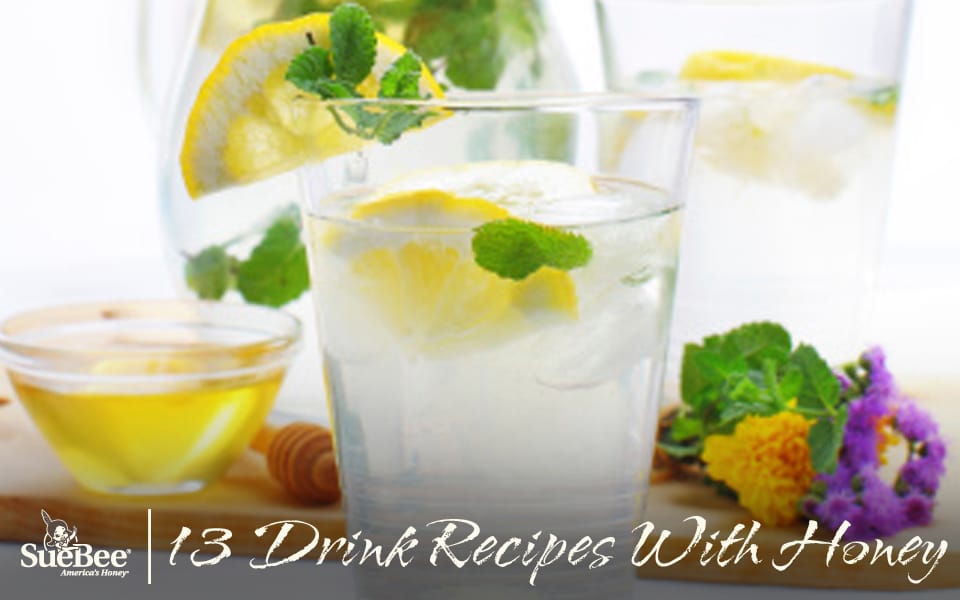 Nothing says summertime like a glass of ice cold lemonade! Try a few of these sweet, lemony recipes to cool you off:
Our Honey Lemonade With Raspberry Cubes adds a little fun and color to your drink.
Try adding some herbs for a refreshing taste with our Rosemary-Raspberry Lemonade.
Another great recipe to try is our Green Tea Lemonade. It puts a different spin on a classic drink.
Mint Lemonade With Raw Honey and Mint Ice Cubes from Super Healthy Kids also has some fun with ice cubes and is a great alternative to sugary beverages.
This Strawberry Lemonade by Flavorite uses berries to sweeten the drink in addition to the soft taste of honey.
The great thing about lemonade is that you can essentially make almost any flavor you want. Simple Bites shares a Honey-Sweetened Peach Lemonade that strays away from berry flavors and uses the soft, luscious flavor of peaches to balance the bitter lemon taste.
If lemonade isn't your drink of choice, try making some sweet tea using honey!
Our recipe for Honey Raspberry Iced Tea is satisfying without overwhelming you with a sugar rush.
You can also try our Fruit Blast Sage Iced Tea for a mouthful of flavor!
Have some fun with your drinks and get creative with our Strawberry Slush or Honey Banana Raspberry Slush.
Make your own energizing and replenishing beverage with this Sports Drink from Simple Roots Wellness.
Just need a little refreshing? Try Big Oven's Ginger Honey Drink or Detoxdiy's Apple, Cinnamon and Honey Infused Water.
What did we miss? Share your favorite honey beverage recipes with us on Facebook, Twitter and Pinterest!