12 Bread Recipes With Honey
Sure, you can buy a simple loaf of bread at your local grocery store. But does anything really compare to the taste of fresh baked, homemade bread? Honey can be used to help sweeten bread and give it an extra flavor that is unique but subtle. We rounded up a dozen of our favorite homemade bread recipes for you to try yourself.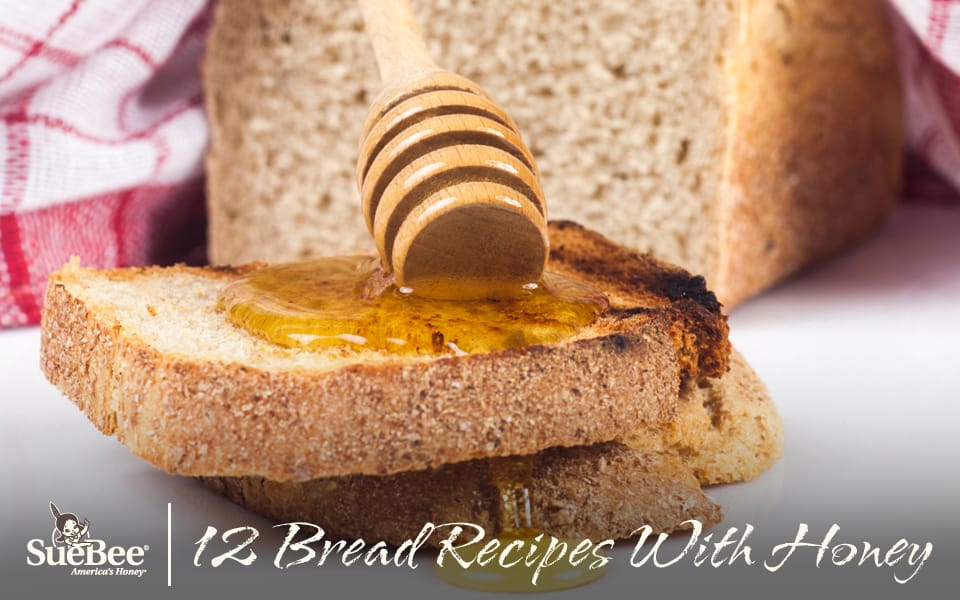 Make a batch of our Sue Bee® Honey-Whole Wheat Bread and start your day off right by cutting off a slice, toasting it and spreading some delicious honey on for the perfect breakfast.
If you're a fan of Outback Steakhouse's bread basket that comes with most meals, be sure to try this Outback Copycat Honey Whole Wheat Bread from Carmel Moments.
Love pumpernickel bread but having a hard time finding it in stores? Try our recipe for Pumpernickel Bread made with 1/4 cup Sue Bee® honey.
Shirley's French Honey Bread from Bake At Midnite is an excellent addition to your next pasta night!
This Zucchini Bread from Skinny Ms is almost impossible to stop after just one slice.
Try Restless Chipotle's delicious Honey Buttermilk Bread as the bookends of a tasty homemade club sandwich.
Our Honey Oatmeal Bread is another recipe that is simple to make and tastes great.
For the beer bread fans, Averie Cooks' has an awesome recipe for Honey Maple Beer Bread that is packed full of flavor.
Tasty Kitchen also has a fantastic way to make your own Honey Beer Bread.
Momables recipe for Grain Free Cloud Bread is "airy, tasty and the perfect addition to any school lunch!" It's definitely a recipe that kids will love.
Cooking up some tasty comfort food for dinner? Be sure to add The Taylor House's Sweet Honey Corn Bread to the menu!
These adorable Sweet Honey Bread Bears from Not Quite Nigella will be a new favorite go-to.
What did we miss? Share your favorites bread recipes with us on Facebook, Twitter and Pinterest!