11 Meatball Recipes With Honey
Meatballs can be the perfect accompaniment to any meal. Whether you throw some on your pasta or serve them as appetizers, meatballs give you the right amount of substance and flavor. Speaking of flavors, they are so versatile! Try some with a honey barbecue sauce or perhaps a rich bourbon flavor. Make any of the following meatball recipes with honey and let us know what you think!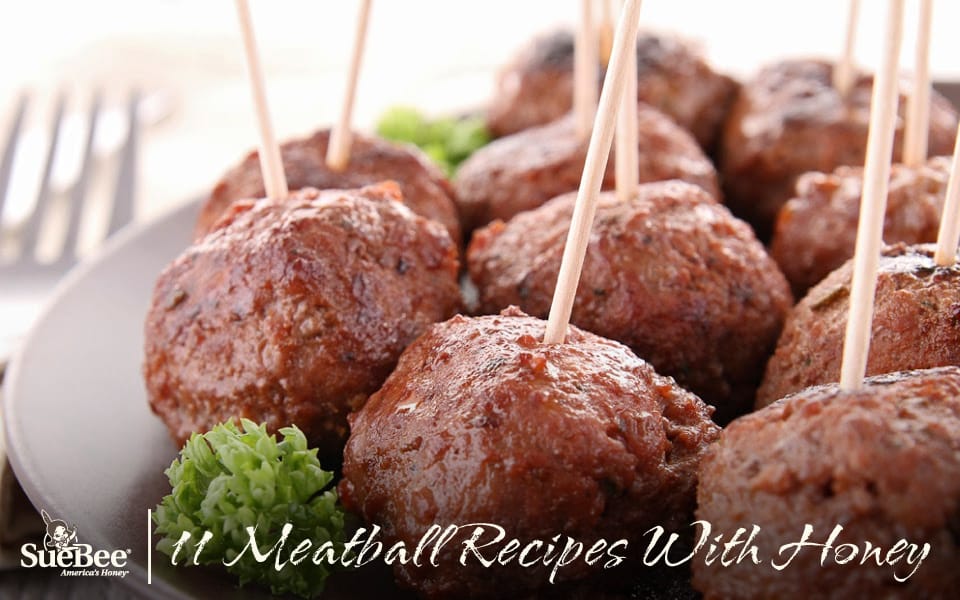 Let's start with a few meatball appetizers like this Sue Bee® Honey Mini Meatball Recipe. The glaze is made with honey to give a smooth, sweet taste.
The Sue Bee® Honey Petty Party Meatball Recipe adds a little garlic and ketchup to spruce up your spread.
This Hoisin-Honey Glazed Cocktail Sized Meatballs from Curry and Comfort are perfect for your next gathering. A great blend of spicy and sweet packed into a bite-sized appetizer.
Though mini-meatballs as a side are always a good idea, here is a recipe for Honey Chipotle Turkey Meatballs from Tracey's Culinary Adventures that makes the meatball the main focus of the meal.
The Slow Roasted Italian shares a Sriracha Honey Slow Cooker Meatball Recipe that will get you fired up!
Looking for another recipe that calls for marinating so you can prepare other dishes? Throw together some Sue Bee® Honey Overnight Meatballs.
The Honey-Mustard Turkey Meatballs from Taste of Home provides a simple meatball recipe with a flavorful honey mustard sauce that is a great snack for now or can be frozen and served later.
Sweet & Savory also offers a meatball recipe that provides an alternative to using beef. Try the Teriyaki Salmon Meatballs to experience a blend of salmon and honey that is light and savory.
If you are a fan of wild game, try this Honey-Garlic Moose Meatball recipe from AllRecipes.com that uses moose meat for flavor.
Iowa Girl Eats shares a Honey-Balsamic BBQ Meatball recipe that is not only sweet and saucy but gluten-free.
For another saucy meatball, try our Sue Bee® Bourbon Meatballs recipe. It mixes barbecue, bourbon and honey for a smooth, rich taste.
What did we miss?  Share your favorites recipes with us on Facebook, Twitter and Pinterest!