11 Granola Bar Recipes With Honey
Who doesn't love granola bars? Did you know that making your own at home is super simple, too? Making your homemade granola bars gives you the creativity to add whatever ingredients you want. Love chocolate? Use Nutella and M&M's. Can't get enough peanut butter? There's a recipe for that. Trying to add more dried fruit to your diet? Add raisins, cranberries or whatever your prefer!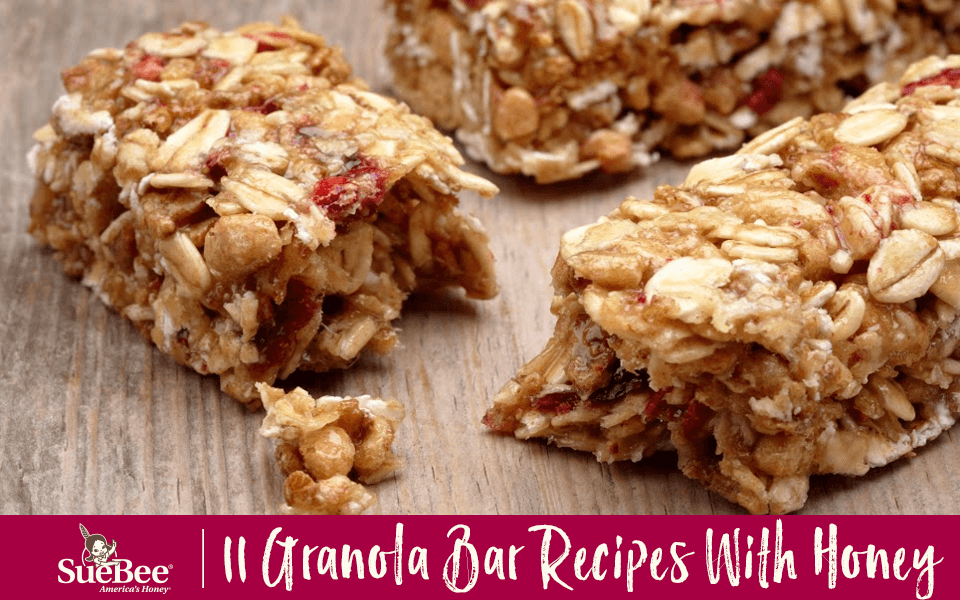 We rounded up 11 delicious granola bar recipes for you to try for yourself:
1.  Sue Bee® Honey's Chewy Granola Bars
This recipe is versatile and so fun to make! Whether you choose chocolate chips and coconut or raisins and sunflower seeds, these granola bars are completely customizable.
2.  No Bake Monster Cookie Granola Bars
Kids will absolutely love these granola bars from Heather's French Press with chocolate chips, M&Ms, peanut butter and more!
3.  No Bake Nutella S'mores Granola Bars
Everyone loves Nutella, right? Good, because it's the star of these bars from Inside Bru Crew Life!
4.  Chewy Quinoa Oat Bars
Eyes on the Source has a fantastic recipe that is oh so very tasty!
5.  Brownie Granola Bars
If you've never thought of brownies and granola bars going together, today is your luck day. Thanks to Minimalist Baker, you can have both of them in one tasty treat!
6.  Chewy No-Bake Granola Bars
These no-bake bars from Money Saving Mom are perfect for a yummy snack at the bottom of a lunch from mom!
7.  Oats 'N Honey Granola Bars
If you're a fan of Nature Valley granola bars then you have to try these copycat bars from My Happy Place!
8.  Homemade White Chocolate & Goji Berry Granola Bars
Busy Mom Blog has an awesome recipe that all ages will love.
9.  Lunchbox Granola Treats
Tina Jensen entered this recipe in the Sue Bee® Honey Sweet Eats Recipe Contest and they are delicious!
10.  Honey Nut Date Granola Bars
Try this recipe from Shrinking Kitchen for a wholesome snack option that will help give you a little energy, too!
11.  No Bake Homemade Chewy Granola Bars
And, finally, Happy Money Saver has a tremendous recipe that your whole family will love!
What'd we miss? Share you favorite granola bar recipes with us on Facebook, Twitter and Pinterest!