10 Chili Recipes With Honey
Winter isn't over yet! Try these savory chili recipes made with a hint of honey to get you through these wintery months.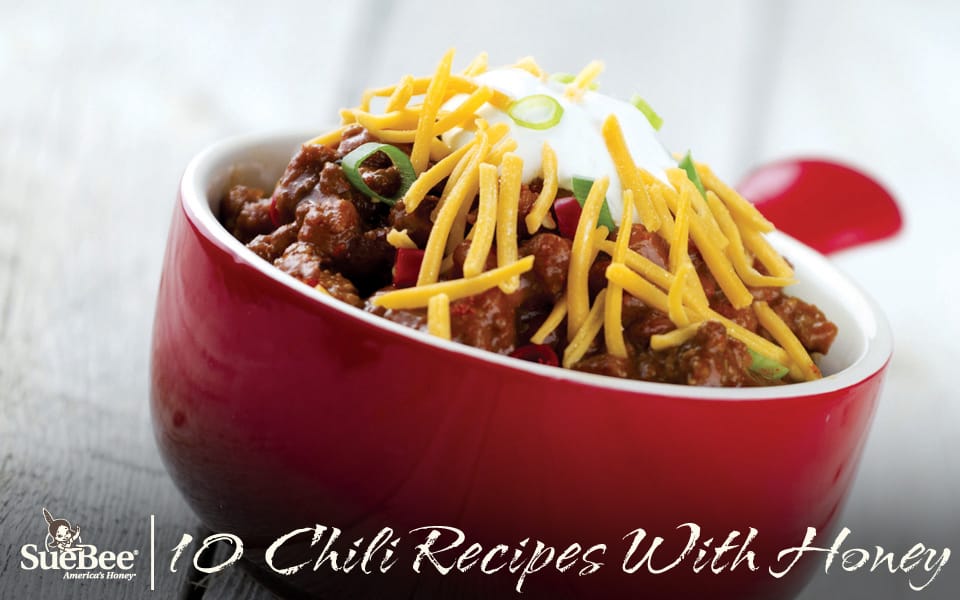 1.  Sue Bee® Honey Easy Chili
Let's start off with a recipe that is easy to make and doesn't require you to walk down every aisle of the grocery store. And what's more, it's delicious, too! 
2.  Paleo Chili
If you're looking for a paleo version of chili, look no further! Life Made Full shares this tasty recipe.
3.  Granny Schmidt's Award Winning Chili
Mama Knows has a chili recipe that is sure to win you over. This chili recipe won second place in the Chili Cook-off in Ontario, Canada, and will win your tastebuds' approval.
4.  Sassy Sweet and Spicy Chili Recipe
For those who like a little spice in their lives, try our sweet and spicy chili recipe!
5.  Spicy Sweet Potato and Black Bean Chili
Organize Yourself Skinny also shares this recipe that combines the sweetness of honey and sweet potatoes with the spiciness of chili powder.
6.  Honey and Beer Chili
This recipe from The Nest has a great mix of ingredients to bring out the richest of flavors.
7.  Bill's Chili
This recipe from Cupcakes and Kale Chips combines not only honey into this chili recipe but bacon, as well!
8.  Bread Bowl Chili
For some delicious chili and a fun, edible presentation, try our recipe for Bread Bowl Chili!
9.  Sue Bee® Super Bowl of Chili
Here's another recipe to share with family and friends! It is loaded with ingredients that are sure to warm you up and fill your stomach.
10.  A Honey of a Chili
The National Honey Board gives you a recipe that all of you non-meat eaters out there will enjoy. Made with tofu and a dash of honey, this chili recipe is sure to fill you up!
What did we miss? Share your favorite dinner recipes with us on Facebook, Twitter, Instagram and Pinterest!