From One USA Team to Another
Sioux Honey® makes military members' lives a little sweeter
Just a few months ago, we were in the kitchen with an Angel Baker making a batch of Sue Bee® Pumpkin Spice Muffins as part of a holiday care package for our armed forces serving abroad. Things sure have changed since then.
And yet, some things never change.
Today, despite a transformation to the world's landscape as a result of COVID-19, the goal for the Sioux Honey® Association Co-op and Soldiers' Angels remains the same: Help make the lives of our brave military members a little sweeter, whether they are waging a battle in a foreign country, recovering at home or joining the fight against a global pandemic.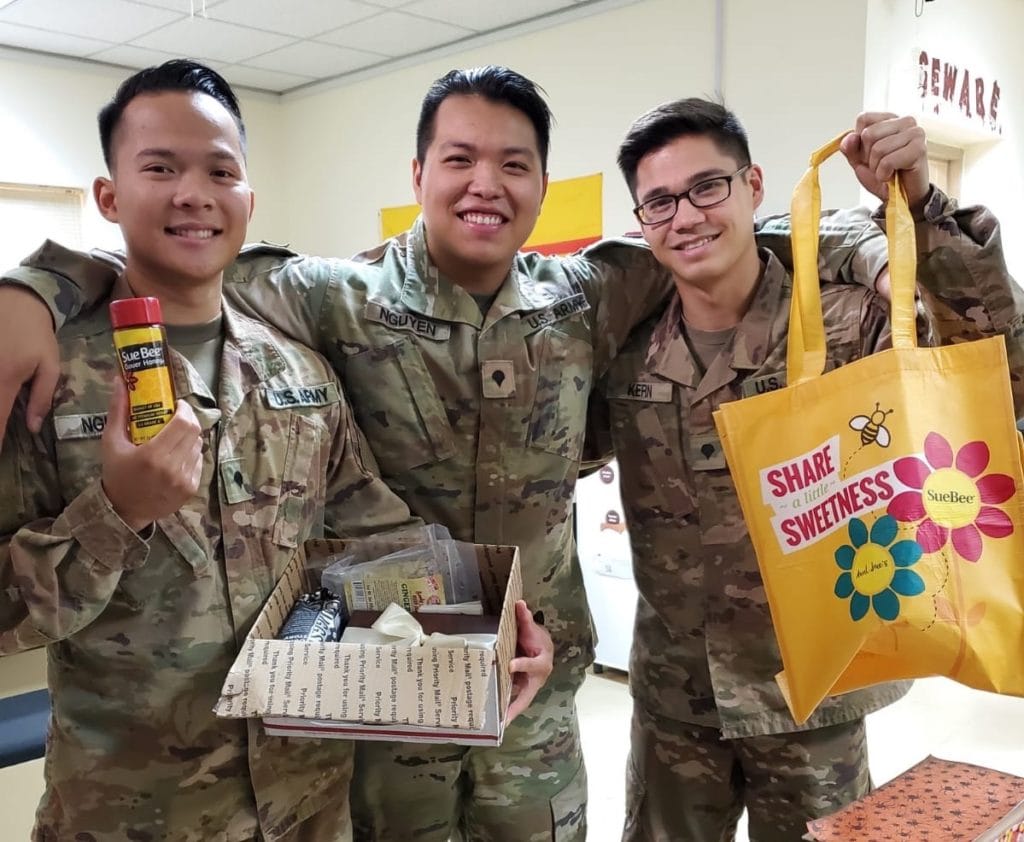 For Soldiers' Angels, it means aiding wounded heroes, military families, deployed service members and veterans of all eras. For Sioux Honey, it means a partnership with donations in the form of honey and money to help support Soldiers' Angels' efforts.
A beekeeper and an Angel Baker
A few weeks before Thanksgiving, Houghson, Calif.-based Sioux Honey beekeeper Matt Beekman – yes, that's his real name – joined Angel Baker Kitty Harmon to bake up a batch of honey-kissed pumpkin spice muffins. Thanks to Angel Bakers in the U.S., our troops receive care packages on a regular basis through Soldiers' Angels. In the past five years alone, Angel Bakers have sent 11,230 care packages of baked goods to 9,640 deployed service members. To help them with their efforts, Sioux Honey donated cases of honey to help the bakers make their goodies just a little sweeter.
Matt, a third-generation beekeeper, was happy to join Kitty, who has been an Angel Baker for the past year-and-a-half. Matt enjoys cooking and baking himself, especially when honey is one of the ingredients.
"I honestly think that honey is probably one of the most magical agricultural commodities that you can find. If you just look at all the aspects of food – texture, aromatic, sweet – honey really possesses a lot of these things," Matt said during the baking session.
Added Kitty: "Honey is natural. It's good for you. I love that honey is just the one ingredient. Nothing has been added to it, and it's sweet. I love sweet. And almost every recipe that calls for sugar in baked goods you can substitute honey for."
A new enemy
Of course, life has changed since Matt and Kitty baked up those muffins last November. A deadly new disease known as COVID-19 has disrupted lives and forced the world to radically adjust to the deadly pandemic. For the U.S. military, it's a new type of battle, but one they readily take on.
"In this pandemic, our military continues to serve us at home and abroad," said Mark Mammen, President of the Sioux Honey co-op. "With deployments extended and the National Guard assisting communities, our service members are doing what they always do by serving the American people with heroic sacrifice."
Amy Palmer, Soldiers' Angels president and CEO, says it is "more important than ever that we band together and show our support for our military – many of them, such as the Guard and Reserves units deployed across the United States, are putting their own health at risk as first responders to this crisis."
As a special thanks to our military heroes, and in observance of Loyalty Day on May 1 – when we reaffirm our loyalty to the United States and recognize and celebrate American freedom – the Sioux Honey co-op showed its support by making a $5,000 donation to Soldiers' Angels.
Sioux Honey beekeepers are getting involved at an individual level, too, and have been sending postcards and baking treats for deployed service members.
"This is just a small thank you from a group of beekeepers who appreciate the sacrifices made for our freedom and how that service continues in this time of upheaval," Mammen said.