8 Turkey Recipes With Honey
The cornerstone of any Thanksgiving dinner is, of course, the mouthwatering turkey placed right in the middle of the table. Honey can be used in a number of ways to help cook your turkey this Thanksgiving season.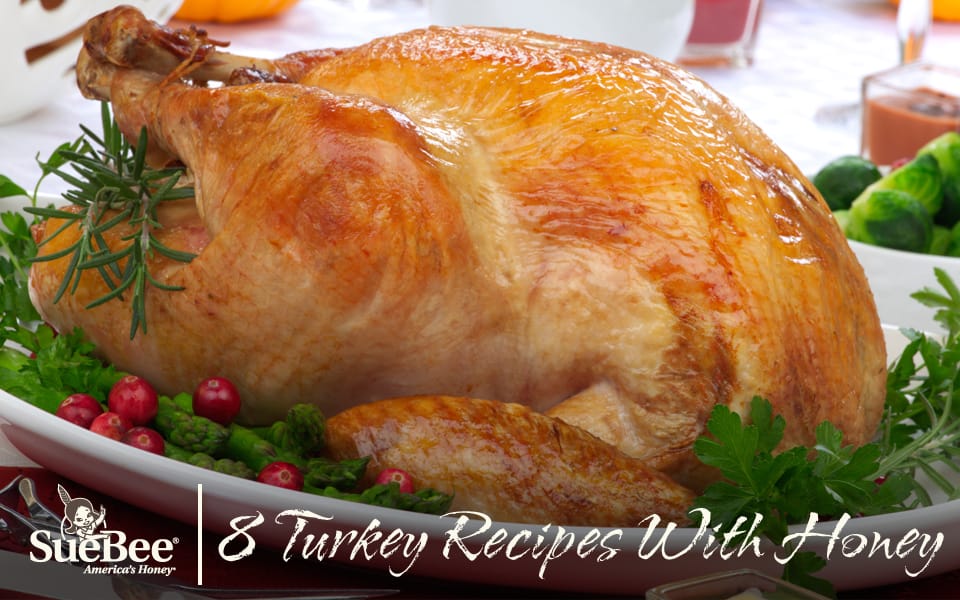 We've compiled eight turkey recipes with honey to help inspire you, starting with our Sue Bee® Honey-Glazed Turkey (pictured above).
Our recipe for Honey Brined Herb Roasted Turkey is fairly simple and the flavor you'll get is delicious!
Another variation that uses honey while roasting the turkey is Better Homes and Gardens recipe for Honey Roast Turkey.
Whole Foods has their own recipe for using honey to brine the turkey … give this Honey and Rosemary Brined Turkey a try if you like the freshness of rosemary.
This Soy-Sauce-and-Honey-Glazed Turkey from Food & Wine is perfect for those who have a bit more of a sophisticated taste!
My Gourmet Connection uses a dairy product to help with the brine in this recipe for Buttermilk-Honey Brined Turkey!
If you've got a smoker, be sure to try this Honey Brined Smoked Turkey courtesy of Alton Brown and Food Network …
Or you can use this recipe for Honey-Brined and Smoked Turkey from SeriousEats.com instead!
Need help completing your Thanksgiving feast? We've got you covered!
9 Dinner Roll Recipes With Honey
11 Thanksgiving Sides Dishes With Honey
What did we miss? Share your favorite recipes with us on Facebook, Twitter and Pinterest!