8 New Year's Party Recipes With Honey
Ring in the New Year with friends and Sue Bee® honey! That are plenty of ways to use delicious honey when making appetizers, snacks and finger foods for your celebration. We compiled eight of our favorite New Year's party recipes.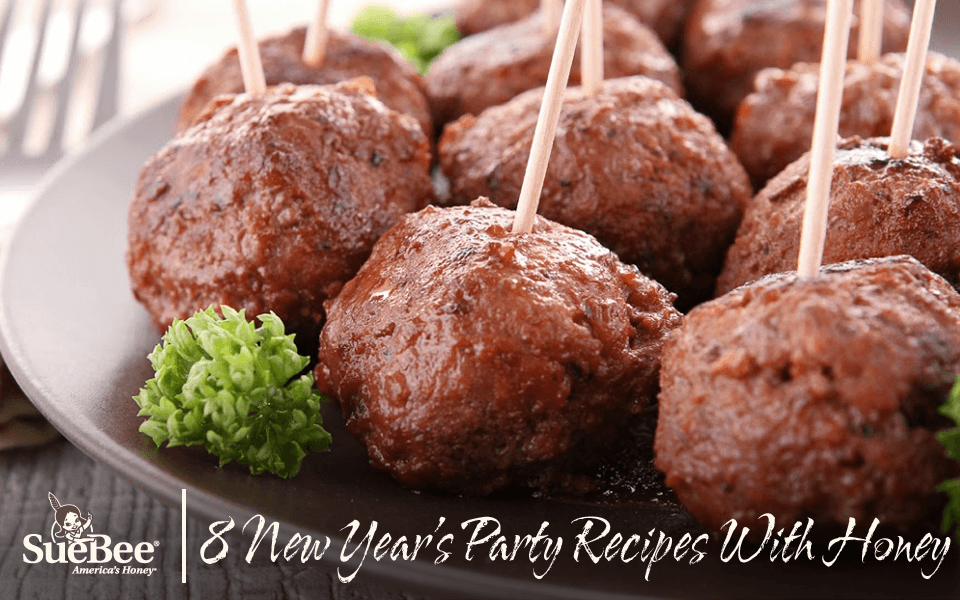 1.  Sue Bee® Honey Mini Meatballs 
Pictured above, this appetizer is perfect for any party – large or small! Covered with a delicious glaze made using Sue Bee® honey that is simply irresistible!
2.  Honey Fig Crostinis with Goat Cheese & Basil
Sue Bee® honey is the perfect pairing with the tangy goat cheese and the sweet figs bringing together the contrasting flavors and textures in perfect harmony. These beautiful crostini are so easy to put together and can be made pre-party and served at room temperature.
3.  Hot Honey Stingy Snack Crackers 
The perfect finger-food with a kick to bring along to parties.
4.  Sue Bee® Honey Snack Mix
For a sweeter snack mix try this easy recipe made with pretzels, chocolate-coated candies and your favorite breakfast cereals!
5.  Sue Bee® Honey Grilled Shrimp
Shrimp cocktail is always a holiday favorite. If you're looking to take it to the next level, though, we recommend getting the grill out and making this recipe. Use a warming tray to keep the shrimp warm!
6.  Tortilla Pinwheels
This recipes is quick, easy and tastes delicious.
7.  Sue Bee® Ham Roll-Ups
Combine a handful of ingredients you may already have in your fridge to make this yummy treat.
8.  Sesame Honey Snack Mix.
Another classic snack mix that friends will enjoy.
What'd we miss? Share you favorite New Year's party recipes with us on Facebook, Twitter, Instagram and Pinterest!