#ShareSweetness Tour Visits Children's Hospital Colorado
Lisa, our VP of Sales and Marketing, and her team of worker bees had a wonderful time buzzing around the Children's Hospital of Colorado on July 13. Many smiles and sweet moments making new friends.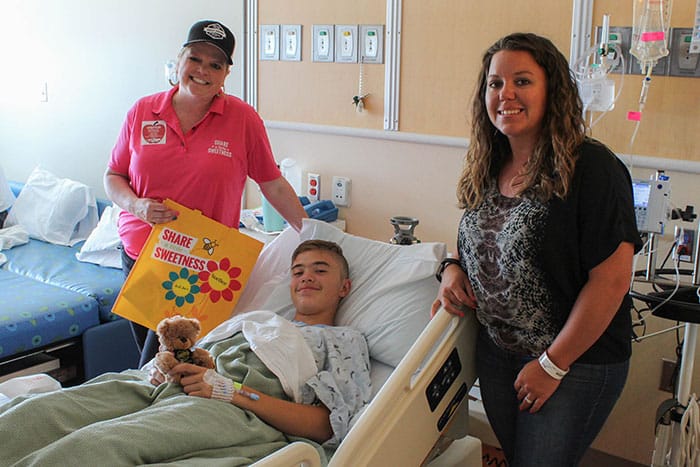 Along with our super cuddly Sioux Honey teddy bears, we gave our friends 100 Cheer Cards, thanks to the help from the Colorado community.
Many of the kids were happy to see us, and certainly loved the teddy bears.
The #ShareSweetness tour crew felt humbled by the experience, but were thrilled by the opportunity to share a little sweetness with the kids and their families. They got to know the patients on a personal level – the patient above is a Kansas City Chiefs fan! – and were shown the kids' favorite toys.
In addition to spending time with the kids, the tour crew was able to share honey samples, recipe books and grocery bags with family members and hospital staff. Room by room, the team was able to spread smiles and share sweetness.
To see where the #ShareSweetness tour is headed next, visit www.sharesweetness.com. And be sure to follow the action on Facebook, Twitter and Instagram!