Bake the World a Better Place
How pie might save humanity (and 'dogmanity')
Can a pie bring world peace? Perhaps. After all, stranger things have happened. One thing is certain, though: AUNT SUE'S® Chocolate Lovers Pie might be our best chance.
At the very least, we should be less stressed after a savory slice of this easy-to-make pie. As renowned playwright David Mamet wrote, "We must have pie. Stress cannot exist in the presence of pie."
How true. And how deliciously decadent our beloved AUNT SUE'S® Chocolate Lovers Pie is. And what better time to enjoy it than in February, which happens to be National Pie Month.
But humans aren't the only ones who can celebrate. We have a special recipe for a pet-friendly pie, too, so your furry family members won't feel left out. It's called Pumpkin Pie for Pooches, and our dogs love it!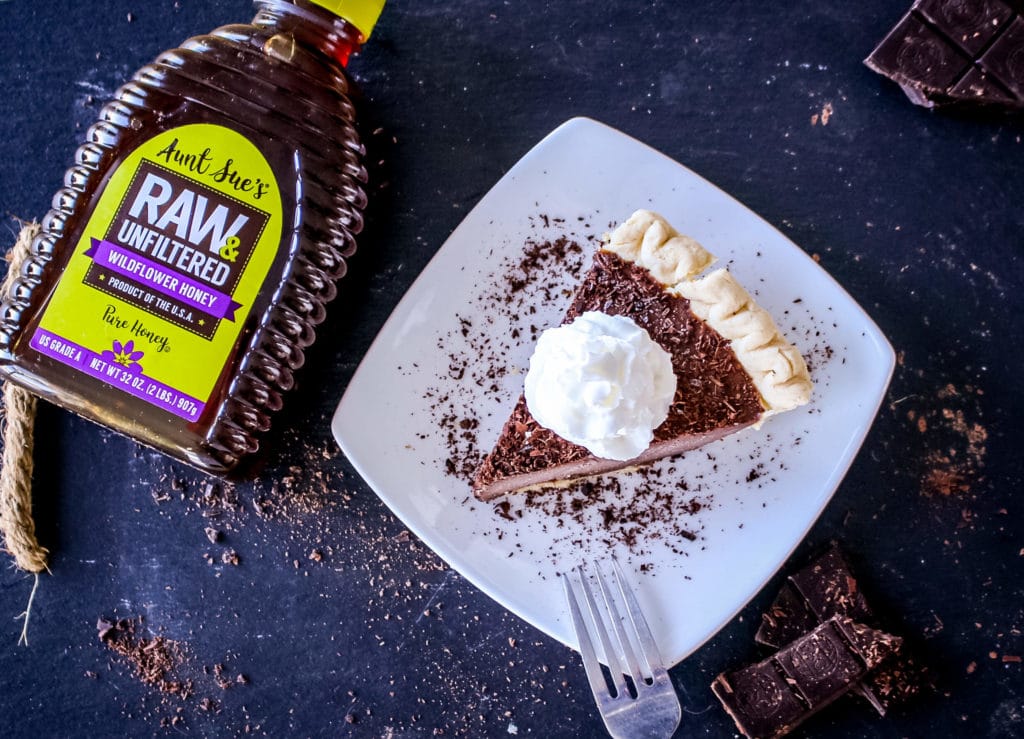 AUNT SUE'S® Chocolate Lovers Pie
Ingredients
1 Pre-made graham cracker crust
For the Filling
1/3 cup AUNT SUE'S® Raw & Unfiltered Honey
2 large eggs
1/2 cup sour cream
1 cup dark chocolate chips
1/4 tsp salt
For the Chocolate Curls
1 chocolate bar of your choice
Instructions
For the filling
Separate the eggs. Break the whites into a large bowl or mixer. Put the yolks in a small bowl and set nearby.
Spoon the sour cream into a measuring cup and have it nearby.
Fill a double boiler with about 2 inches of water. If you don't have a double boiler, fill a small saucepan with about 2 inches of water and set over high heat on the stove. Place a metal or glass bowl on top of the pan. Let the water come to a bowl. Make sure you use hot pads when you touch the bowl. (This works the same way as a double boiler.)
Add 6 ounces of chocolate (1 cup) to the bowl and stir occasionally until melted.
As soon as the chocolate is melted, remove it from the heat (leave the pan boiling), add the yolks and whisk vigorously.
Replace the bowl of chocolate over the pan of boiling water and whisk for about 30 seconds, or slightly more, until the mixture forms a ball and pulls away from the sides of the pan.
Immediately remove the bowl from the heat. Stir in the sour cream and beat with a whisk until smooth.
While the chocolate is melting, begin preparing the egg whites. Add the salt to the whites in the bowl.
Beat the whites, then gradually add the honey while continuing to beat for 4 or 5 minutes. Then fold them into the chocolate mixture.
Spoon the mixture into the prepared crust and spread to the edges.
Poke toothpicks all over the pie so that they stick up. Cover with plastic wrap and store the pie in the fridge for at least 3 hours, overnight is better.
For the Chocolate Curls (optional):
Grate chocolate bar over pie as desired.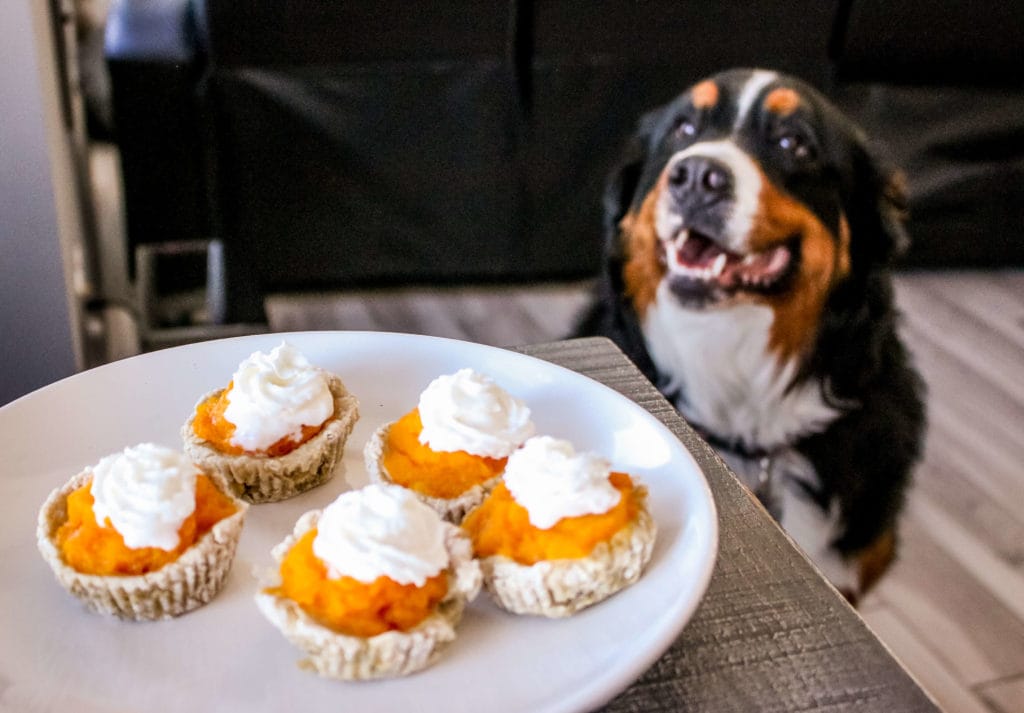 Pumpkin Pie for Pooches
Ingredients
16 oz can of pumpkin
2 tbsp SUE BEE® honey
8 oz plain low-fat yogurt
3/4 cup all-purpose or whole wheat flour
1/2 cup oatmeal
1/4 cup applesauce, unsweetened
3 tbsp water
Directions
Preheat oven to 350 degrees.
Mix oatmeal and flour together in a food processor.
Add applesauce and honey and continue to mix in the food processor.
Add water slowly, using only enough to make a ball (too much will make the dough sticky).
Spray wax paper and muffin tin with vegetable oil cooking spray.
Roll out dough onto wax paper and divide dough into 8 small balls before rolling out.
Press individual circles into bottom and sides of muffin tin.
Bake for 8 minutes.
Let crusts cool, then remove from the muffin tin.
Fill each crust with about 1/4 cup canned pumpkin.
Top with a dollop of yogurt (optional).