National Waffle Day
National Waffle Day is Aug. 24 – the day the waffle iron was issued a patent in the United States! Waffles are typically enjoyed for breakfast but have also been known to be consumed anytime throughout the day while being paired with classic like chicken, ham, berries and more. No matter how you like to eat waffles, there are plenty of ways to add a little sweetness with the help of honey. We've compiled some of our favorite waffle recipes that use honey either in the batter or as the topping. First off is our delicious Sue Bee® Honey Waffles that can be topped with a delicious Honey-Cinnamon Syrup, also made with Sue Bee® honey!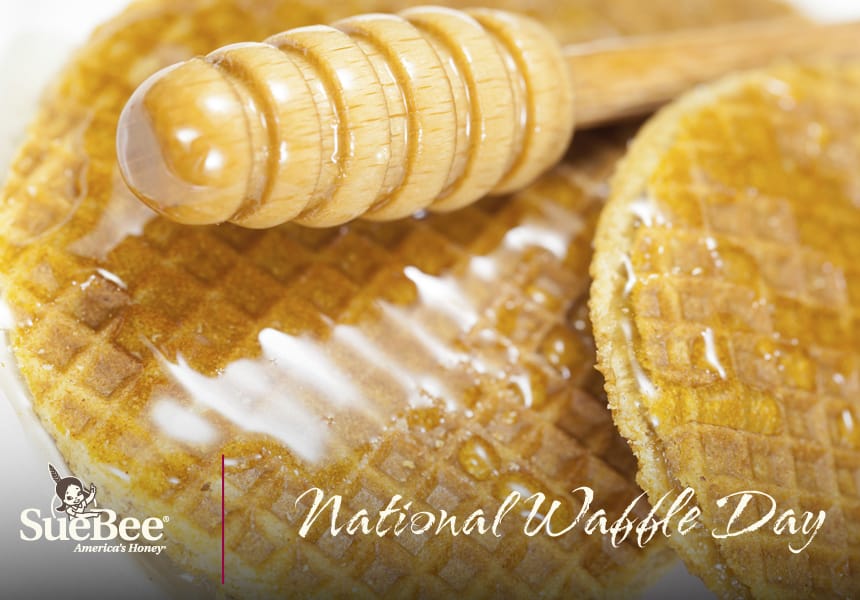 The perfect way to start your day is with these Toasted Oatmeal Honey Waffles from My Little Celebration!
Edible Perspective combines two classic breakfast treats into one amazing dish with these Honey Dipped Doughnut Waffles! Bet you can't stop at just one!
Here's another delicious take on Oatmeal Honey Waffles comes from Pass the Sushi.
If you're looking for something that's got a little bit more going on than the traditional syrup or berries toppings, give this Peanut Butter Banana Honey Waffled Sandwich from The Neighborhood Moms a shot. It's packed full of energizing foods and is a great way to start the day!
Another version of the Grilled Peanut Butter Honey Banana Waffle Sandwiches comes from Mom on Timeout. And it's not just for breakfast – these sandwiches are great any time of day!
If you're looking to top your delicious concoction with something other than syrup from the store, get creative and whip up this Roasted Blueberry Honey Syrup from Half Baked Harvest!
You can also take your syrup to the next level with this Buttered Honey Syrup from Taste of Home!
Another variation on classic waffle tastes combines nuts and creamy yogurt. Check out these delicious Almond & Yogurt Waffles from Roost Blog for an unforgettable bite!
Chicken and waffles is a comfort food classic! These Chicken and Waffle Sliders with Maple Honey Mustard Sauce from Sarcastic Cooking bring those classic flavors together and tops them off with an irresistible sauce that will undoubtedly make you reach for seconds!
Not a breakfast person? No problem! These Ham & Cheese Waffles with Honey Mustard Sauce from ChefsCatalog.com will be a hit at lunch or dinner time!
We can always counts on the National Honey Board to have a great recipe, and Waffle Day is no different. This simple and delicious Honey Berry Waffle Sandwich is perfect for kids to whip up in no time before school or activities!
What did we miss? Share your favorite recipes for waffles, toppings and more with us on Facebook, Twitter and Pinterest!