National Cheesecake Day
July 30 is National Cheesecake Day and we're celebrating the only way we know how … by making delicious treats made with Sue Bee® honey! We've rounded up some of the best cheesecake recipes from across the Web – each sweetened with a little bit of honey, of course – for you to try at home! So whether you enjoy classic New York style cheesecake topped with cherries or like to get creative with goat cheese and pistachios, there's a recipe for you!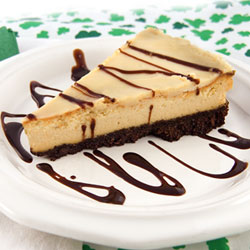 While our Sue Bee® honey Irish Cream Cheesecake is typically a St. Patricks Day novelty, the flavors are scrumptious any time of year! It's made with a chocolate graham cracker crust, infused with honey and Irish cream, and can be drizzled with chocolate syrup mixed with more Irish cream.
Elegant and delicious is the best way to describe these Honey Almond Mini Cheesecake with Raspberries from Pinch My Salt! They work perfect as individual treats at a party for both kids and adults!
Everything from Bon Appetit is amazing and this Crème Fraîche Cheesecake with Honey-Rum-Roasted Pineapple is no exception! It's a contemporary twist on the classic cheesecake dish that will leave any foodie wanting more!
Another twist on the classic cheesecake dish are these Goat Cheese, Honey & Pistachio Mini Cheesecakes with Meyer Lemon Cream from The Kitchn. The flavors combine to form one of the most amazing desserts you could possibly experience!
If you're a fan of a little citrusy flavor in your dessert, be sure to give this Orange-Honey Cheesecake From Kraft Foods a try! It's simple to make and will be enjoyed by all ages!
This Non-Dairy Paleo Strawberry Cheesecake from The Healthy Foodie is a tasty recipe that lets you enjoy classic cheesecake flavor with a twist!
This recipe from Sweet and Savory by Shinee for Lemon Raspberry Cheesecake Bars offers tons of flavor in bite-sized bars! The raspberry and lemon combine to make a treat that's impossible to stop at one.
Classic flavors are combined to make these delicious Strawberry Cheesecake Bars using this recipe from Better Homes and Gardens!
If you're in the mood for good old New York-Style Honey Cheesecake, this recipe from the National Honey Board is all you need!
And, finally, our Sue Bee® Pumpkin Cheesecake is a hit in the fall but another great alternative any time of year!
What are your favorite cheesecake recipes using honey? Share them with us on Facebook, Twitter or Pinterest!