Sioux Honey Co-op's Rob Towler keeps beekeepers on track
Rob Towler didn't know much about honey when he began working at Sioux Honey 17 years ago. But he knew how to schedule honey pickups for the co-op's 200+ beekeepers, get it to distribution centers where it's bottled and packaged, and then get it delivered to grocery shelves in stores across the United States in a timely and efficient manner.
That's because Rob has a degree in transportation and logistics from Iowa State University. At Sioux Honey, Rob works in the Member Relations Department where he helps coordinate collecting millions of pounds of honey each year from Sioux Honey beekeepers – ranging from bee yards in Hawaii to California to Florida.
"One of my main focuses is lining up trucks for the beekeepers to ship their honey and delivering them empty drums or totes," he says. "Anything related to raw honey, our department handles."
Rob, the assistant VP of membership and community, was born and raised in Sioux City, Iowa, where the honey co-op began, and where its headquarters is located today.
Rob might not have known much about honey when he started at the co-op, but he certainly does now. From determining honey color profiles and various floral sources, to being able to detect the difference between clover and wildflower honey, Rob is one of our honey experts today, which is why we wanted to sit down and ask him a few questions we thought our honey lovers might find interesting.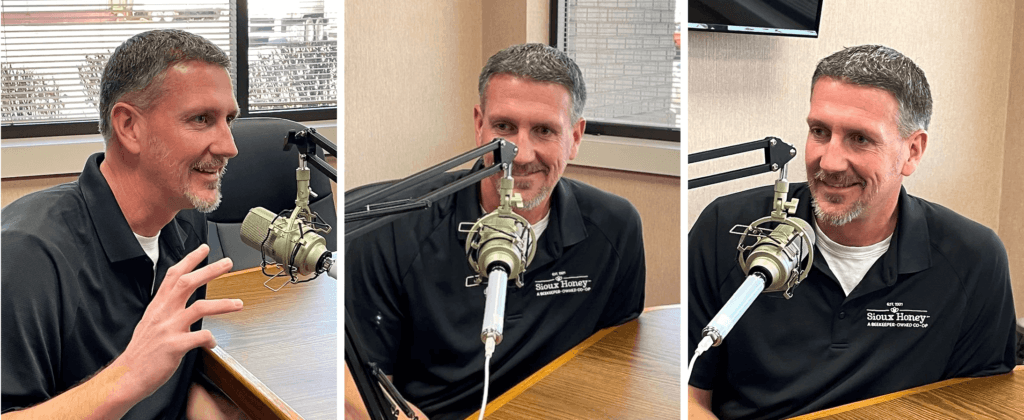 Q: Where does Sioux Honey get all its honey, and where are the majority of co-op beekeepers located?
Rob: Well, most of the honey in the United States is produced in the upper great plains – South Dakota, North Dakota, Montana, Wyoming, Minnesota. … So that's where a large concentration of our members are. But we have member beekeepers all over the U.S., including some in Texas, some in Florida, California – we've got a pretty good number out there – and some up in the Pacific Northwest – Oregon, Washington, Idaho.
Q: Is it hard to become a beekeeper member of the Sioux Honey Co-op?
Rob: We take applications, but we are very selective. First, we conduct stringent testing on all member honey. We have an in-house lab where we test the honey to make sure it's pure honey and that the quality is the best available. We also want to get to know the beekeepers personally and to understand their beekeeping practices. That's one of the differences between us and other honey packers. We know the beekeepers, we're familiar with them and their families. Most of them are 2nd, 3rd, 4th generation beekeepers that have always been members of Sioux Honey.
Q: Are any family members of the original five Sioux Honey beekeepers still part of the co-op?
Rob: We don't have any kin of the original five, but we do have a member up in Minnesota whose family's membership certificate number is 44. I believe they are on their 4th generation of family members. To put that in context, we're now on membership certificate number 3,083 as far as how many beekeepers we've had over the years.
Q: Are these long-lasting relationships with the beekeepers part of what makes Sioux Honey so special?
Rob: Certainly, the relationships we have with the beekeepers, but also the fact that they are all based in the U.S. Our SUE BEE® and our AUNT SUE'S® honeys are all domestic honey – it's all produced by U.S. beekeepers and we're very proud of that. That's why our testing is so extensive, so that we make sure that we've got the purest honey on the shelf.
Q: What have been some of the biggest challenges for beekeepers in recent years?
Rob: One of the biggest challenges each year for beekeepers is keeping their bees alive. The varroa mite is an issue every year and destroys thousands of hives. And colony collapse disorder – where entire colonies of bees disappear overnight for unknown reasons – is a big factor in honeybee populations being down in recent years. But beekeepers continue to rebuild hives and create new hives to make up for ones that are lost. If it weren't for the beekeepers, bee populations wouldn't survive.
Q: So-called "fake" honey has been in the news in recent years. Can you explain what it is and where it's coming from?
Rob: Fake honey can be a few different things. Adulteration is where corn syrup would be added to the honey. Corn syrup is a lot less expensive than pure honey, so, sometimes, whoever it may be, they may dilute the honey with corn syrup, which like I said, we would call it adulteration.
Q: How many pounds of honey is collected by beekeepers in the U.S. in a given year?
Rob: The domestic honey crop can vary from 140 million pounds up to probably 200 million pounds. And that obviously depends on any given year with crop conditions, and this year it was a drought around most of the country. So the overall domestic crop was down.
Q: Did the recent COVID pandemic affect the honey business the way other commodities were affected?
Rob: The demand for honey went up quite a bit during COVID; everyone was eating at home, baking at home, restaurants weren't open. So we did see consumption and sales go up during COVID. As for the supply, that's based so much on crop conditions. And, like we said, drought this year made for a short crop. So COVID didn't really affect that end of the business, the production end. But our sales were strong through COVID because people were forced to stay home and bake.
Q: How does Sioux Honey keep up with trends, like changing tastes and new flavors?
Rob: We've got a few new products that we've released over the last year. We've got three flavored honeys – a vanilla, a lemon and a strawberry – and that's, again, a 100% pure U.S. honey with natural flavorings. And then also we've got a hot honey, which is, like it says, hot. It's spicy.
Q: Before we let you go; we need to know: What's your favorite way to eat honey?
Rob: On ice cream, for sure.