Kid. Patriot. Knowledge Seeker.
Meet a young beekeeper wise beyond his 11 years
PowerPoint proposals are for conference rooms. Or college lectures, and webinar tutorials. But a living room near the cozy town of Persia in rural Iowa?
That's where 11-year-old Tucker Olsen presented his dissertation on why he should be allowed to start a beehive. Did he prove his theory? Judging from the sixth-grader's recent 60-pound haul of delicious, golden honey, that's an emphatic "Yes!"
Tucker's parents, Mike and Patti Olsen, told the budding beekeeper to make a case – show them why they should make an investment in the supplies needed to start a honey operation.
"So I made a PowerPoint," Tucker explains. "We learned how to do them in school … I talked about cost, lumber, benefits, how we can make back our money, how this could turn into a business, and all kinds of stuff. I had a 15-slide PowerPoint that I presented to them. It worked."
Blame it on the teachers
Tucker's love for all things honeybees grew out of a classroom lesson by his teacher, Justin Milliken and his paraprofessional assistant, Doug Deuel. Both of the teachers keep honeybees of their own, and they have shared their interest in beekeeping with their students. The day Mr. Milliken shared a video of himself capturing a swarm of bees was the day that Tucker's quest to take up the craft began.
"I love looking at them and always learning and seeing what they're doing and seeing how thousands of bees inside of one hive can know the same thing, and what to do, and when, and why, and just go out and have a system," says Tucker. "It's like a well-oiled machine inside of there. It always amazes me."
Learning the trade
Once Tucker showed an interest in beekeeping, his teacher encouraged him to read books, watch videos and learn as much as he could about the amazing honeybee. One of the books he gave Tucker: "Beekeeping for Dummies."
"It was a 300-page nonfiction book, and it just explained everything you need to know about bees to get started. It took me a month to read it. I spent hours in that book," says Tucker. "It was a good book to read. I watched a lot of YouTube videos on bees, too."
As his apiary studies progressed, Tucker asked more and more questions – questions Mr. Milliken was more than happy to answer. "I actually stayed in for recess a few days to just talk to him about bees."
Setting up the first hives
Last March, Tucker ordered two packages of honeybees from Lappe's Bee Supply in Peru, Iowa, near Des Moines. The young beekeeper and his dad built wooden hives from scratch, each holding eight frames. Tucker currently has two hives, one with two supers and one with three. (During a honey flow, beekeepers stack honey supers onto a hive so that the bees have enough storage space. It's like adding a second and third floor to a house.)
Tucker's teachers have continued to help out and offer advice as his hives have progressed. They visit Tucker, answer his calls and texts. And they help him inspect his hives regularly to make sure they are healthy.
So far, Tucker has harvested his hives for honey twice, once in June and once again in the middle of August. The first harvest netted 40 pounds of fresh honey, and on the second go, Tucker collected about 60 pounds.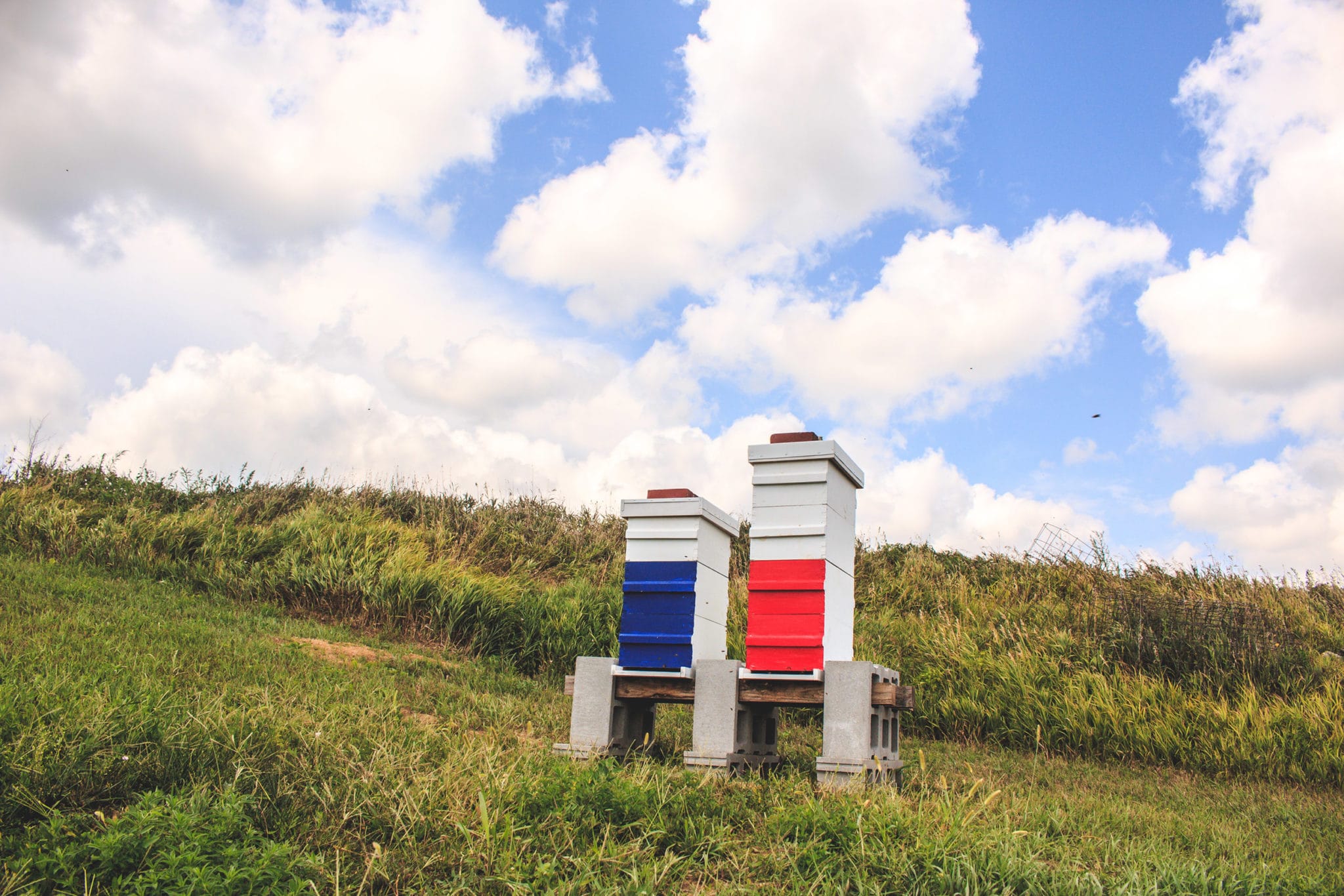 A bounty of floral sources … and using propolis
Tucker and his family live a few minutes outside of Persia on a farm acreage. The fields and farms surrounding their property offer a variety of floral sources for his bees.
"We have the soybeans, we have corn. Next door, there's an alfalfa field. That alfalfa over there, the bees like it," Tucker explains. "They just cut it not too long ago. But when that flowers, you can tell when you go in the hive, because it's just a straight nectar flow. They just love it. That's where it gets all its floral.
"There's a pasture over there that wildflowers are in and they love that. And then now, in the ditches, there'll be goldenrod blooming around this time of year (August–September), so their whole fall source will probably be from goldenrod."
The more you listen to Tucker talk about honeybees, the more you have to remind yourself that he's 11. Especially when he starts talking about the medicinal elements that honeybees produce. Like his next project: bandages made from propolis, which is a glue-like mixture that bees produce by blending saliva, beeswax and exudate fluid gathered from tree buds or sap flows. Bees use propolis to seal tiny gaps in their hives.
"The process is taking the excess propolis out of the hive, then you put it in a quart mason jar. You put half with that, and then you put pure alcohol in it. And then you put food wrap over it and then put a lid on it and you shake it," Tucker explains.
"You have to shake it once a day for three months. Out of all those days, you have to blend it once. And then, eventually, it will be like milk and cream, it'll separate. The propolis tincture – it's called a propolis tincture – it'll come to the top, and then you take it and you just put it in these little bottles with little eyedroppers in it.
"Basically, it's a sterilizing liquid bandage that's all natural. If you have like a cracked lip, you can put it on your lip. Or if you have a cut, you put it on there. The alcohol will sterilize it, and then the propolis, once the alcohol is evaporated, it'll just make a liquid bandage over it and harden. And it's basically pretty much a natural bandage."
Again, this kid beekeeper is 11. And how did he learn about this propolis bandage idea?
"An Amazon Prime documentary," says Tucker. Adds mom, Patti: "He never ceases to amaze with new, interesting facts about honeybees and honey. He just loves it, and he never stops learning."
What's next for Tucker?
So far, this kid beekeeper has shared his first two honey harvests with friends and family. Some neighbors, too – specifically the lady down the road.
"She likes to use it in elderberry syrup. We traded a bottle of honey for a bottle of elderberry syrup," Tucker says.
"We have some people that we sell it to, like friends that are basically family," Tucker explained. "Just a lot of local people, we sell it to them. We give it to family, and we keep some for ourselves, because we found that when we actually have our own honey, and have a lot of it, we use it a lot more than we thought we would. We can go through a two-and-a-half-pound jar in a month.
"I like to put it on English muffins, toast them and put butter and honey on them. That's my favorite. I know mom uses it in her barbecue sauce. We just use it in all kinds of different things, cooking wise."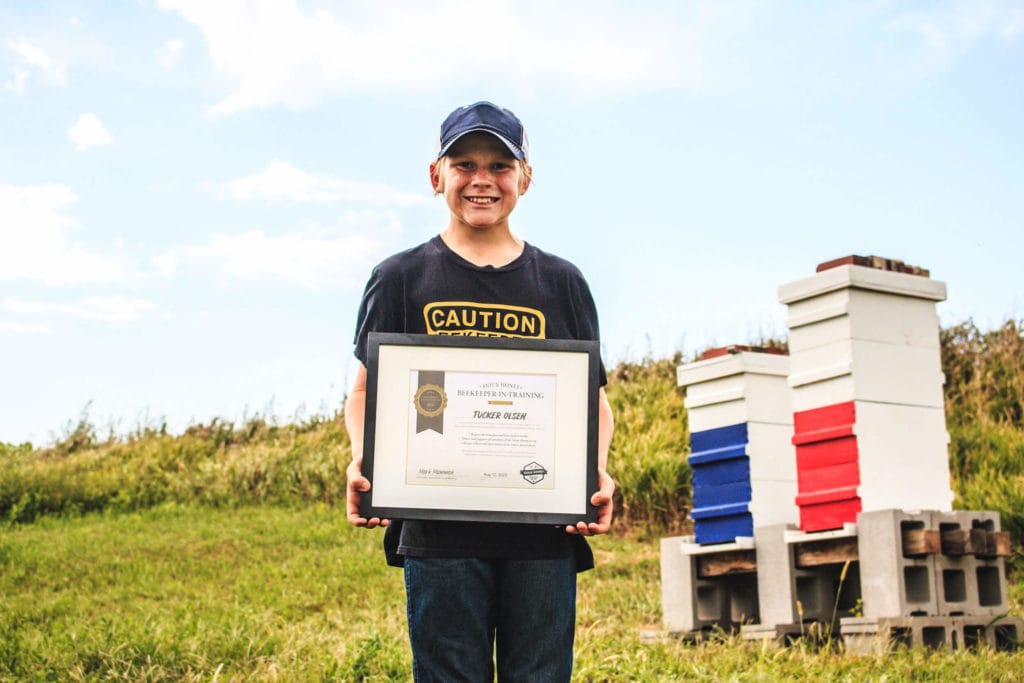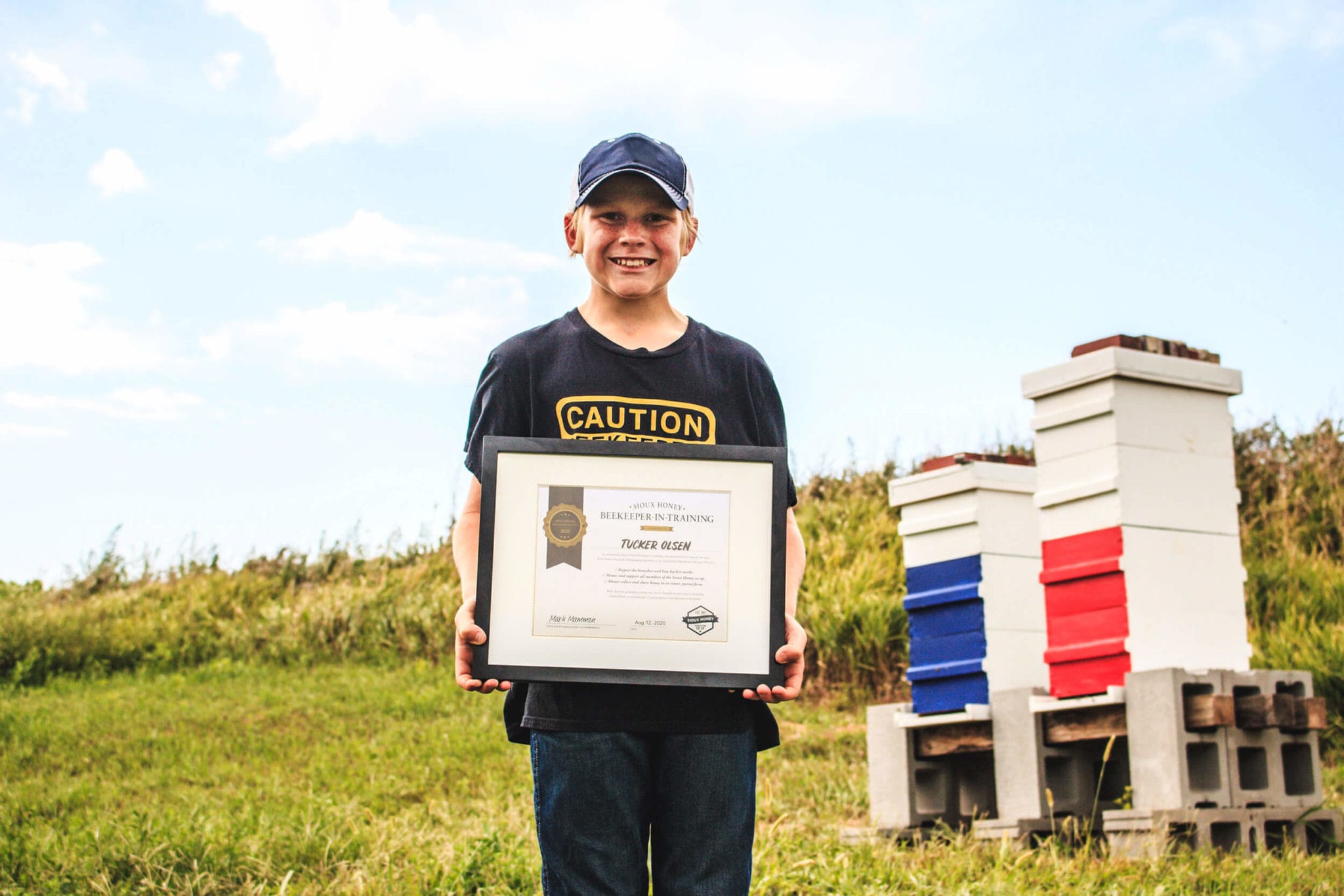 Honorary Sioux Honey 'Beekeeper-in-Training'
When we visited Tucker recently, we presented him a special beehive smoker with his name engraved on it, along with a certificate from the Sioux Honey Association Co-op, which named him an honorary "Beekeeper-in-Training" – as long as he promised to abide by the same Sioux Honey standards of beekeeping that every co-op member has followed for the past 100 years:
Respect the honeybee and how hard it works.
Honor and support all members of the Sioux Honey co-op.
Always collect and share honey in its truest, purest form.
We're pretty sure Tucker won't have a problem keeping any of those promises. The 11-year-old is well on his way to becoming a quintessential Sioux Honey beekeeper.
"I think it would be something to really get into and it'd be just a good thing to be in and be a part of, and just help out with it," Tucker says of the co-op.
We're also confident that Tucker will enthusiastically promote his honey – like all of the beekeepers in the Sioux Honey co-op – as being an all-American, made-in-the-USA product. Just look at his red-white-and-blue beehives for proof.
Why paint them so patriotically?
"I think it's important, especially with these beehives," says Tucker, pausing for a moment and suddenly becoming quite serious.
"If I lived in another country besides America, some countries probably wouldn't allow me to even have these bees and make this happen and be able to sell my honey … America's a good country to be in. If you want to get into this. It's like, if we weren't in America right now, this wouldn't happen. So that's kind of a tribute to it, the way I painted my hives, red, white and blue."