Craft Cocktails with a Buzz
New SUE BEE® INFUSIONS™ honeys make merry mixers for flavorful drinks
Sure, you can grab a can from the fridge and crack open a beer. Or pour whiskey into an ice-filled glass. Those are tried-and-true go-tos during the summer when you and your pals are hanging out in the backyard, taking sips in between a beanbag toss.
But summers are made for adventure. Why not mix it up a bit this year and try a new libation concoction? Especially when you have flavorful mixers like SUE BEE® INFUSIONS™ – strawberry, vanilla and lemon – which are blended to perfection with natural flavoring and our famous SUE BEE® clover honey. We've told you all about drizzling these tasty honeys over everything from waffles, toast and desserts to coffee, chicken and so much more. And now we've discovered a new way to use SUE BEE® INFUSIONS™: in craft cocktails! Ready to jazz up your backyard hootenannies? Try these new drink recipes at your next get-together.
Strawberry Bellini
Packed with strawberry flavor and fun, fizzy bubbles, these Italian-rooted wine cocktails are perfect for weekend afternoon cookouts.
Ingredients
10 oz of frozen or fresh strawberries
1 1/2 tsp SUE BEE® INFUSIONS™ Strawberry honey
1 tsp lemon juice
4 cups chilled prosecco
Directions
Place strawberries and SUE BEE® INFUSIONS™ Strawberry honey in a blender and puree.
Stir in lemon juice.
Fill champagne flutes with 2 tablespoons of strawberry mixture and top with prosecco. Salute!
Vanilla Paloma
Ideal for grilling season, this vibrant and citrusy Mexican-inspired drink (paloma is Spanish for "dove"), gets its zip from tequila and grapefruit soda. But we've added our SUE BEE® INFUSIONS™ Vanilla honey, which gives the cocktail a wonderfully smooth taste, as the vanilla-flavored honey helps balance the tartness from the citrus.
Ingredients
1 1/2 tsp SUE BEE® INFUSIONS Vanilla honey
1/2 cup pink grapefruit juice
1 tbsp lime juice
1/4 cup club soda
1 oz tequila
Directions
Add grapefruit juice, SUE BEE® INFUSIONS™ Vanilla honey, lime juice and tequila in a mixer with ice and shake. Strain over ice and add the club soda. Cheers!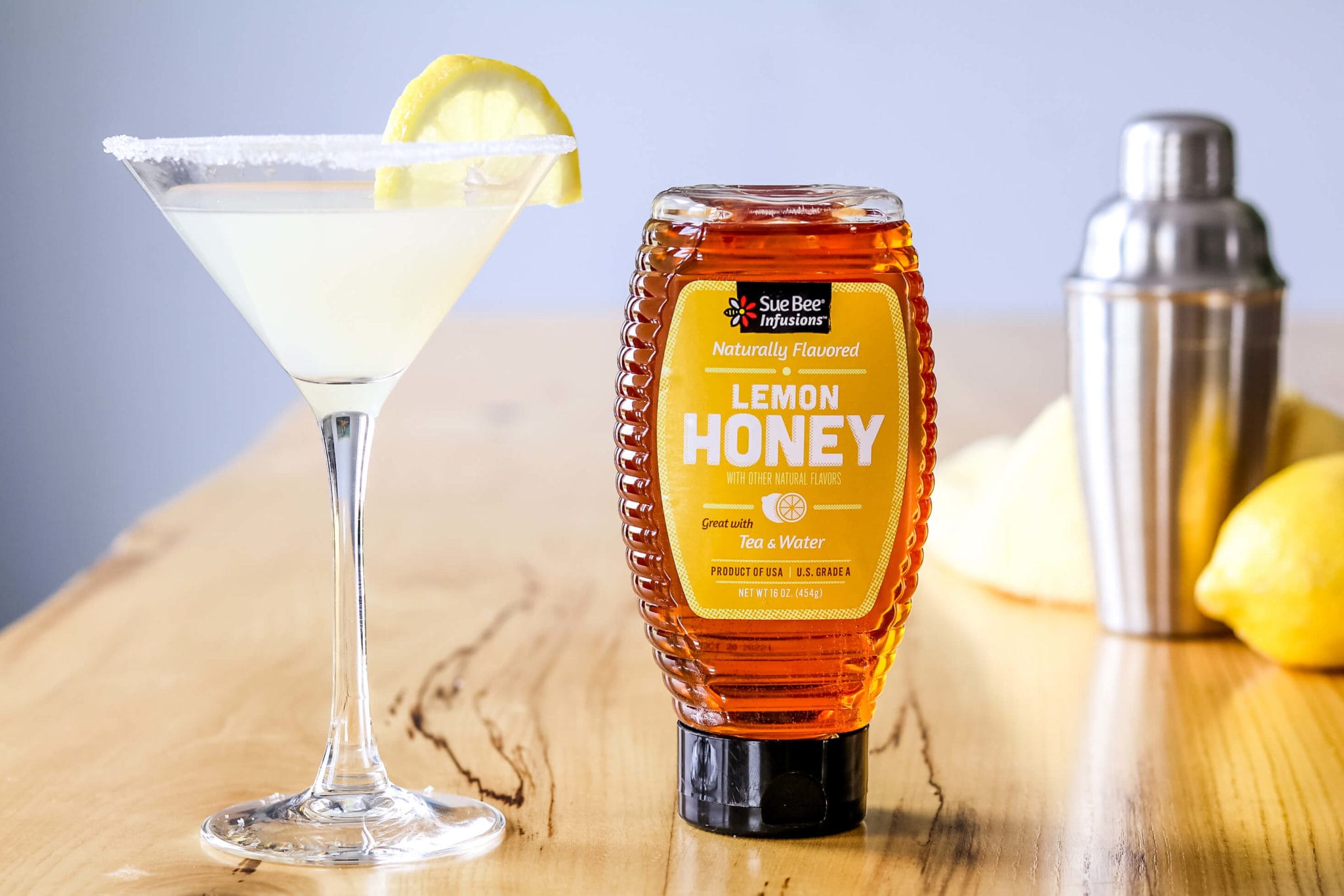 Lemon Drop
Another summery drink that is best enjoyed outside while having fun under the sun, the famous Lemon Drop was invented in the 1970s in San Francisco. It's a balanced blend of sweet and sour, and we've given it a new twist by adding our SUE BEE® INFUSIONS™ Lemon honey!
Ingredients
2 oz vodka
1/2 oz triple sec
1 oz lemon juice
1/2 oz SUE BEE® INFUSIONS™ Lemon honey
Garnish: sugar rim
Directions
Coat rim of martini glass with sugar and set aside.
Add vodka, triple sec, lemon juice and SUE BEE® INFUSIONS™ Lemon honey into a shaker with ice and shake well.
Strain into prepared glass. Enjoy!