9 Salad Recipes Made With Honey
Simple preparation, fresh ingredients and bold flavors make these salad recipes perfect for any time of the year, but especially spring! With all of the fresh produce this wonderful season brings, there's no better way to enjoy them than by mixing them together in a salad that incorporates honey and other savory ingredients.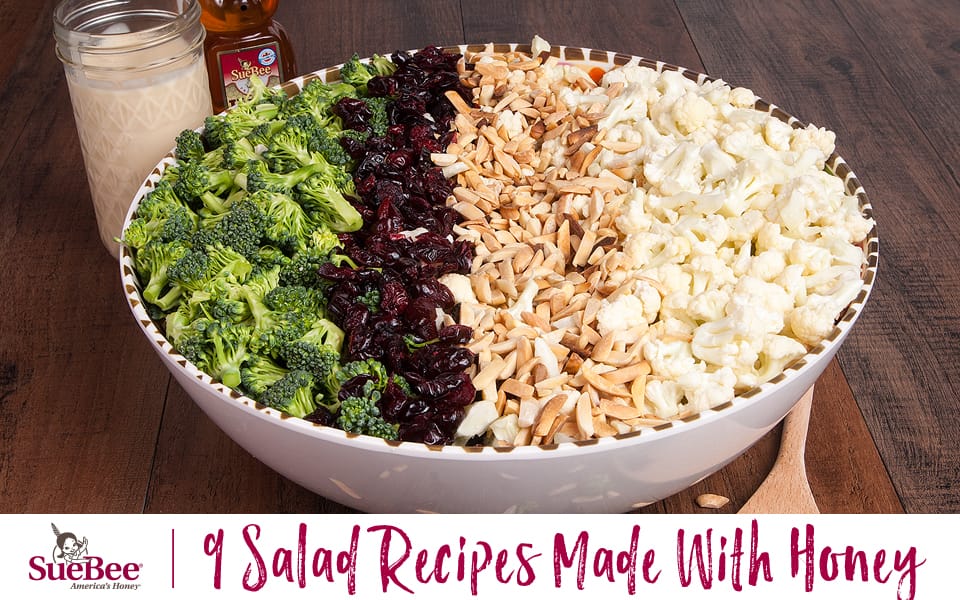 1.  Blueberry Arugula Salad With Sue Bee® Honey-Lemon Dressing
The blueberries and honey-lemon dressing add vibrant flavors to this simple salad. Top it off with honey roasted almonds and you've got a new family favorite.
2.  Blackberry Honey Walnut Salad With Easy Blackberry Balsamic Vinaigrette
Carlsbad Cravings shares a salad that is packed full of spinach, fruits and vegetables and topped with honey roasted walnuts and a delicious vinaigrette. Getting your daily dose of greens is easy and fun with a salad like this one.
3.  Broccoli & Cauliflower Salad
Mix things up with another yummy salad that replaces the usual lettuce with broccoli and cauliflower. Not only is this salad flavorful and full of texture, but it's simple and inexpensive to make.
4.  Apple Brie Salad
Crisp apples and creamy Brie cheese atop a bed of mixed greens makes for one sweet and savory salad from Lemon Tree Dwelling. Top it off with dried cranberries, pecans and a vinaigrette and serve it as a side with dinner.
5.  Peach Salad With Grilled Basil Chicken and White Balsamic-Honey Vinaigrette
Whoever said salads are boring hasn't tried this incredible creation from Cooking Classy. Ingredients like sweet corn, juicy peaches, chopped pecans and goat cheese make eating this salad an adventure.
6.  Thai Cashew Chopped Salad With A Ginger Peanut Sauce
There's no shortage of color and texture in this vegetable-filled Thai salad from The Recipe Critic! The cashews add a little extra crunch and the Ginger Peanut Dressing brings a whole new level of flavor.
7.  Mexican Chopped Salad
Chopped salads are always fun to eat but especially when they have a Mexican twist, like this salad from The Cafe Sucre Farine. And if you like a little extra crunch, be sure to pick up some corn tortillas to make the crispy toppings that complete this tasty salad.  
8.  BBQ Ranch Chopped Chicken Salad
Chew Out Loud shares this hearty chopped salad that is full of all sorts of yummy ingredients like tomatoes, corn and black beans. And what's better? Our Sue Bee® honey Original BBQ Sauce is perfect to use for the dressing!
9.  Mandarin Orange Spinach Salad with Chicken and Lemon Honey Ginger Dressing
Mandarin oranges, spinach, chicken and sweet dressing combine to make this wonderful, and big, salad from Cooking Classy that is perfect to share with friends and family.
What did we miss? Share your favorite salad recipes with us on Facebook, Twitter, Instagram and Pinterest!