11 Taco Recipes with Honey
Do you use honey when you're cooking Mexican dishes? While it's not exactly a common combination, honey can be used to sweeten marinades and sauces that go well with beef, chicken, pork, shrimp and more!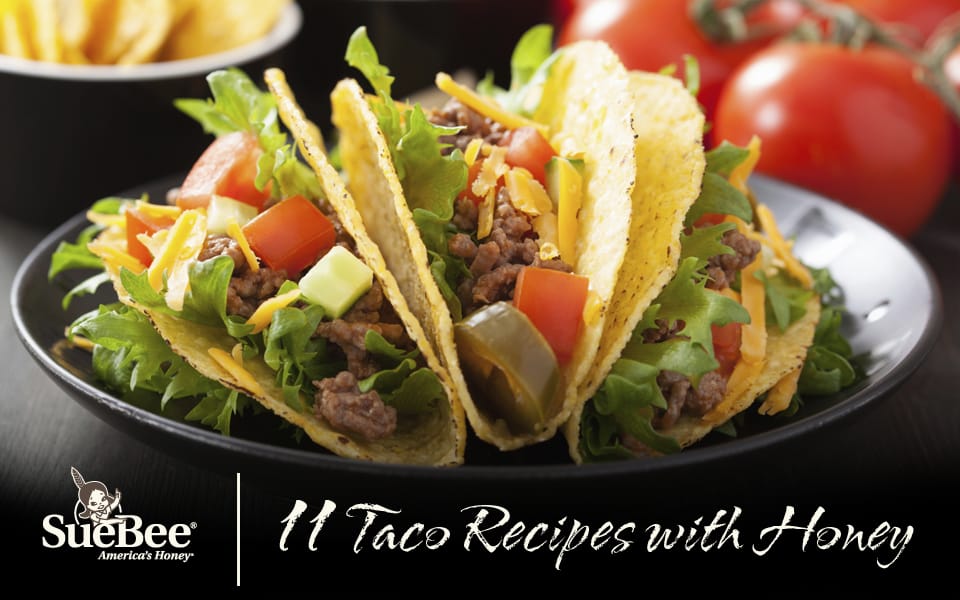 In honor of National Taco Day on October 4, we've compiled 11 taco recipes with honey, starting with our Layered Taco Dip that mixes honey with cream cheese and sour cream before topping with lettuce, tomatoes and black olives.
Gourmet fish tacos are super popular these days and these Honey BBQ Mahi Mahi Tacos with Red Onion and Crumbled Cheddar from Cooking with Cakes are sure to be a hit.
If you're looking to mix things up a bit, you can add a little Asian flair to your tacos with these Honey Sesame Pulled Pork Tacos from Mom's Test Kitchen.
Tartine and Apron Strings has a fantastic recipe for Honey Lime Tequila Shrimp Tacos with Avocado, Purple Slaw and Chipotle Crema that is like something straight off a food truck!
Vegetarians can enjoy tacos too! These Honey-Lime Sweet Potato, Black Bean and Corn Tacos from Cooking Classy combine plenty of bold flavors for one delicious bite.
Another awesome taco recipe from Cooking Classy that uses a bit of honey are these Carne Asada Tacos that use just a pinch for the delicious marinade.
More lime and honey combining for a great dish … this time with chicken! Six Sisters' Stuff has an easy recipe for Lime Chicken Tacos that's simple and quick to whip up!
If you're looking to skip the tortilla, reach for this Skinny Taco Salad topped with a Skinny Cilantro Lime Dressing made with honey from Gimme Some Oven.
While this recipe may not be specifically for tacos, this Mexican Shredded Beef from A Family Feast works great on tortillas or hard shells!
A Family Feast also has a delicious homemade Taco Sauce that uses a hint of honey you can use to top your tacos with.
For dessert, finish off your meal with these Mini Fruit Tacos from Sugar Dish Me!
What did we miss? Share your favorite recipes with us on Facebook, Twitter and Pinterest!